Lewis Cooper tried out the new inov-8 TRAILROC, inov-8's latest shoe to incorporate graphene in the sole. 
Specs
inov-8 Fit Scale (1-5): 3
Drop: 8mm
Lug Depth: 4mm
Weight: 280g
Notables: POWERFLOW+ midsole, 5th generation META-PLATE and GRAPHENE GRIP
This is the first pair of inov-8 shoes that I've had the pleasure of running in. I've always admired them from afar as a brand; the bold block colours of green and red, the unmistakeable design and logo, the aggressive and quite frankly frightening 8mm studs of the MUDCLAW. It helps, I guess, also that a whole host of current inov-8 athletes are some of the finest endurance runners around with Paul Tierney, Nicky Spinks, Damian Hall and Jasmin Paris all experiencing huge amounts of success in various races around the world and FKT attempts in recent times.
So when I was asked to trial and review a pair of the new inov-8 TRAILROC G 280 I jumped at the chance to rub shoulders, or feet (you know what I mean), with the best!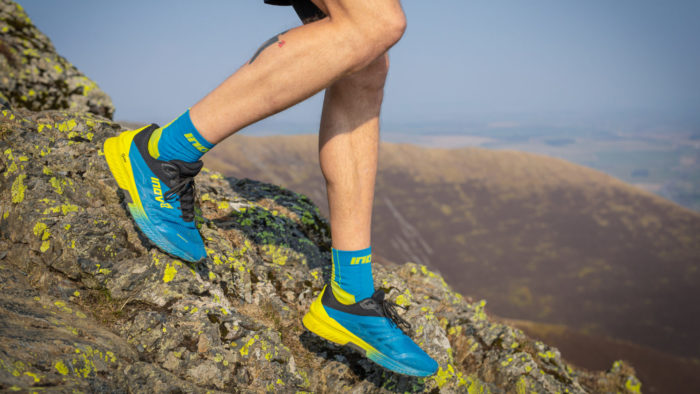 Overview
The TRAILROC G 280 is the latest inov-8 release to have had the Graphene Grip "G-GRIP" treatment. There are a number of other models from inov-8 that have the graphene infused rubber outsole – which is designed to enhance grip and increase durability – but that coupled with the extra cushioning in the design of this shoe makes for quite a combination. The plentiful 4mm studs and inclusion of the Meta-Flex rock plate mean it is primarily being sold as a shoe to combat hard packed and rocky terrain. That being said the mixture of protection, cushioning, flexibility and durability all in the same shoe means that it has the potential to be quite versatile and it would probably fare relatively well on any terrain you threw at it from flat road sections to steep rocky inclines.
First Impressions
The first thing that stands out about the G 280 is the colour scheme. The fade from heel to front is a nice touch, I think, and something different for inov-8 and I like it. It's a bold and stand out design and choice of colours. Men's – yellow / blue and women's – aqua blue to purple. It's a luminous yellow that they've used on the men's and that doesn't really come through when looking at the shoe online or in a picture, it's only when you have it in front of you that you notice the luminous hue. But it's not that over-the-top-in-your-face-look-at-me-and-my-brightly-coloured-shoe kind of luminous and it's only really a small area from heel support, down the back and through the rear of the cushioned sole, fading to the blue before just after half way. In that respect it's far from garish and blinding for other runners.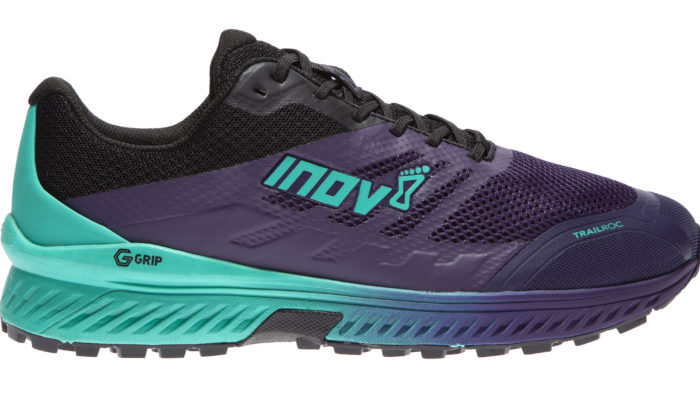 In the hand the shoe feels solid and lightweight and you can tell instantly that the majority of whatever weight you are feeling is coming from that jam packed sole region. The upper part of the shoe is a mix of breathable mesh and a thinly re-enforced plastic area around the toe. The tongue is super soft and cushioned foam and it's attached internally via elasticated bands on either side. The laces are a pretty standard affair, nothing spectacular, the holes are straight through the shoe itself and I prefer that to some shoe designs that have separate components to the lace holes.
Whenever I get a new shoe the very first thing I like to do is put them on sans-sock and wear them like that for a short while just to see if it highlights any obvious hotspots or intrusive seams. There were none. Also worth noting that the subsequent and full speed outings, complete with socks and sweat, also didn't highlight any hotspots.
The Feel
A couple of aspects instantly stood out when I put the shoe on. Firstly, the upper breathable mesh is exactly that! I could almost feel the fresh air streaming in as I moved and it was quite a reassuring thing to know that if I'm going to be out for a long time and working hard at least I know my feet are going to be well air conditioned. The other aspect was the support of the foot and the space I was getting in the toe box. I'd read other reviews which mentioned that there might've been a lack of room in the toe box but if I'm honest I felt the complete opposite. The mid-region of the shoe and laces offered complete and comfortable security across the top and middle of the foot and it felt like my toes had ample room to move about and make themselves at home. The best way I can describe the feel is to have a look at the foot on the inov-8 logo, that's pretty much exactly what I was imagining was happening to my foot in the shoe, but in a slightly less extreme and more comfortable way – thanks in no small part to that luxurious foam tongue.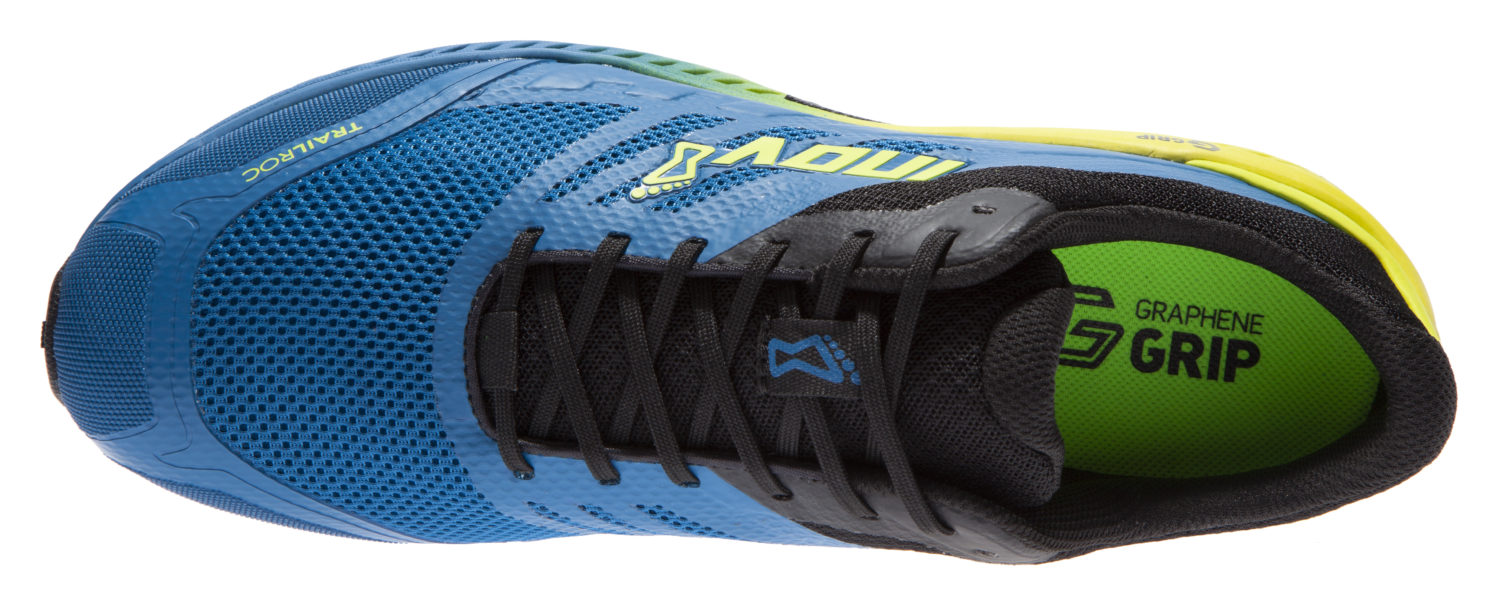 I did wonder whether or not the space in the front would mean the shoe would move around too much and I'd end up with a bit of rubbing or age old bruising of a toe nail or two, but fortunately that was not to be the case. The fitting across the mid-sole is so secure and well-designed that the shoe is held securely in place for the most part, meaning that the shoe doesn't slip forward or backward going up or downhill very much at all. However, I did notice that the heel box felt a little loose. It was nothing major, there was no annoying blister inducing friction or anything of the sort and the ankle region was always well supported. I always use ankle-lock lacing and that did restrict the movement a little but I could still notice it more than I have in other shoes but it certainly wasn't a deal breaker.
Performance
I've been using the G 280 for a number of weeks now. In that time, we've had very little rain, well certainly just outside London where I am, and it's been hot and dry. Ideal conditions I guess for running in shoes that are meant for hard and rocky terrain. I've not been training for anything specific in the past month and so I've really just been running for running's sake and to keep it ticking over for a few weeks. Most of my running has been done in parkland and cross country routes. Nothing extreme or on challenging terrain by any stretch of the imagination but it has been dry and the ground has been mottled and ridged enough to put these shoes through a little bit of a stress test. I run a route around Wormwood Scrubs in West London most weekdays, it's actually where they run the SEAA Cross Country Relays, and it's got aspects to it which mean I get a proper work out if I try to squeeze in a 10k route on my lunch break at work. The route is a little undulating meaning that it has corners and stretches that are forever soaked and waterlogged during the winter months but now that's all been thoroughly cooked and air-dried over the summer it made for a bit of interesting footing.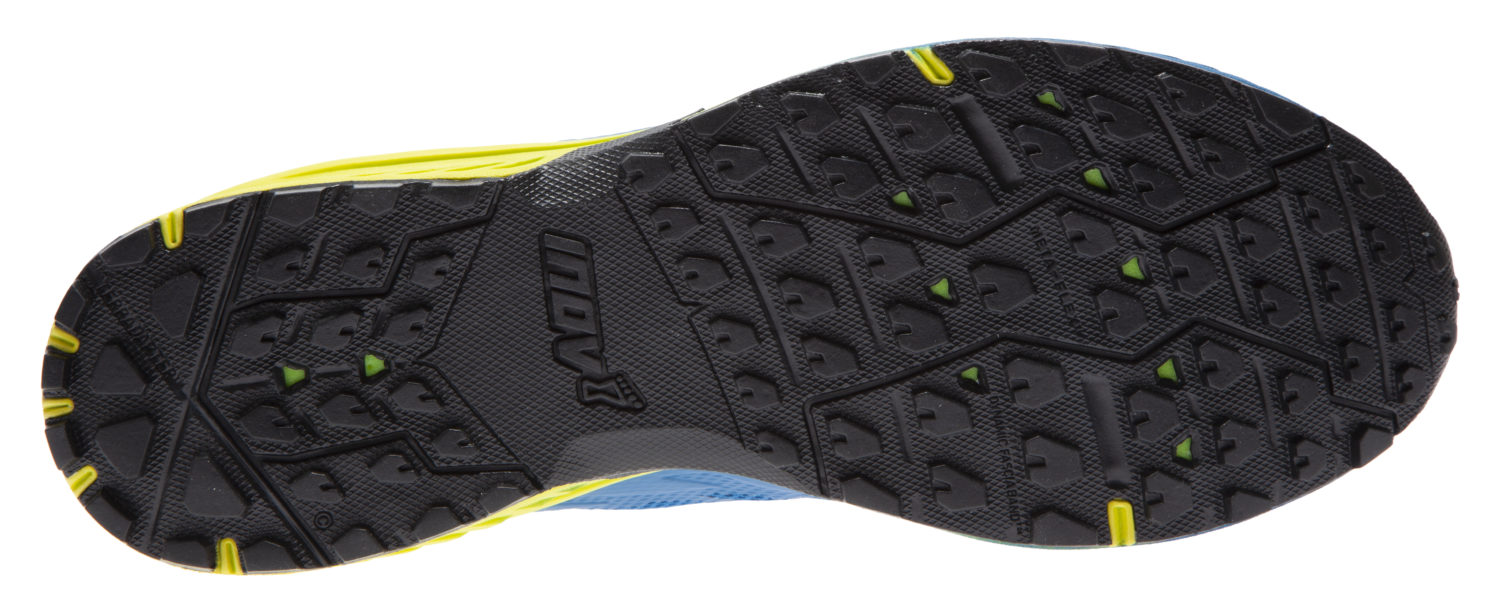 The TRAILROC handled any uncertain landing very well, with the solid outsole providing protection and support no matter what angle it was coming in at, and the graphene grip was obviously in its element. The small, but frequently placed, cutting studs worked a treat when running across any terrain with a top layer of stone or grass and they were small enough to be unnoticeable when running. I've been in shoes before where you can feel the sole or the studs back through the shoe as it lands. The flexible rock plate in the sole was a welcome addition as well and gave that extra subtle kick across harder ground. I also felt quite comfortable using these shoes when I came across any flat road sections. I mean running on tarmac isn't too dissimilar to the dried out ground anyway. Generally, I think with shoes you have a period of "wearing in" until they reach their full potential but the TRAILROC seemed to come out of the box already half way along that process. They had a flexibility and feel to them in the first instance that reminded me of a well-worn and tried and tested shoe. With that being the case it only took one or two outings for me to feel right at home in them and to feel like the performance I was getting out of them was satisfactorily at its peak.
Verdict
The TRAILROC is a top notch shoe. It's solid yet subtly lightweight and flexible in design. It doesn't draw much of your own attention to it when running in it and from a shoe that's really all you want – to know that it's there, but to not KNOW that it's there, if you get what I mean – I think that's probably easier said than done for a road shoe where you can just pile on the cushioning until you're bouncing along, but to be able to do that but for something like this, designed for trail, and hard impacting trails at that, it's certainly an impressive feat to have that much comfort, grip and support in the same shoe. In truth I've not gone further than 10 miles in the shoe over the past few weeks, of which it had no problems with I hastened to add, but I can't comment on how the shoe hold up over longer and more testing distances. Having said that Damian Hall did wear a pair in his recent win at Ultra Tour Monte Rosa. The race was abandoned half way through but by that point Damian had already reached the 82km check point (and was subsequently crowned the winner) he then laced up the G 280s again the following day for another 20Km race, so I think we can tick that one off the list.