It's almost 12 months now since inov-8 launched their first footwear with graphene. Since then they've updated some of their other shoes with this wonder material, including the MUDCLAW and now the ROCLITE. We've been testing out a couple of pairs of shoes from the new ROCLITE range.
This new range has three shoes: the 275, 290 and 315 GTX. Here's a brief overview of the differences:
[table id=30 /]
We tested the 275 and the 290 for 100 miles plus each in a real range of conditions before writing this review. This included a week of running on the Dragon's Back course, which made for a perfect test ground with its mix of rock, mud, grass, trail and even bits of road.
Fit
All of the new ROCLITE shoes are classed as a '3' on inov-8's fit scale. This puts it right in the middle, with 1 being a close-fitting fell shoe and 5 being their widest in the toe box. They are comfy right from the box, feel very cushioned and the upper on both of the shoes is soft and padded. The main difference in the fit that I found was the the tongue of the 275 is a bit chunkier than the tongue in the 290, which made it slightly more difficult to lace up comfortably for me. The tongue on the 275 also had a bit of a tendency to slip to one side or the other on the run, which I found slightly annoying. No such problems on the 290 though.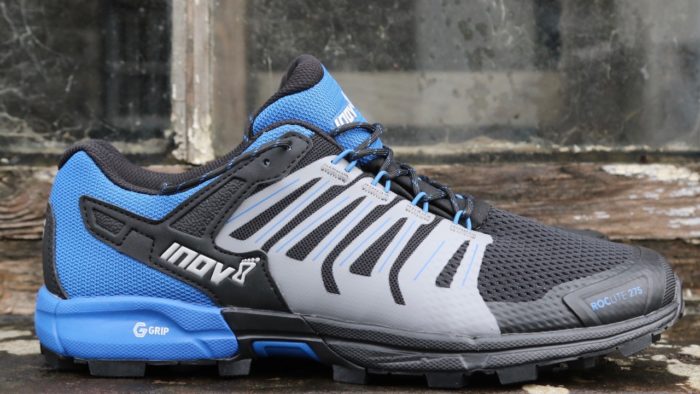 I favour wider shoes and both ROCLITES were a good fit for me and I had no problems with rubbing anywhere in the shoe. I wore them for up to 7 hours and can honestly say they didn't give me any issues. In terms of fit and comfort, apart from the tongue niggle I found them a great shoe.
Grip
The grip is exactly the same on both shoes. It's very similar to the old ROCLITE grip – there are 6mm lugs in the same pattern – but there's one crucial change and that's the addition of graphene to the rubber on the sole. This makes the soles much more durable and they also have better traction. There's no noticeable wear on the soles after 100 miles with a lot of rock (though I wouldn't really expect them to have much) and I have to say that there's still very little wear on my TERRAULTRAs after 400 miles. It does seem that the use of graphene is making the soles very durable.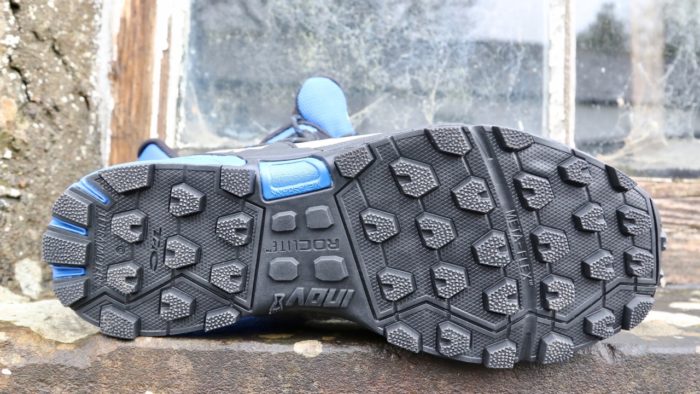 In terms of traction I found the ROCLITE soles really good on all surfaces. They cope well with mud, with grass and, importantly for a course like Dragon's Back, they were very grippy on rock. On wet rock they seemed to grip well, though obviously nothing ever feels 100% on there! If you're looking for a shoe which will grip on a wide range of surfaces, the ROCLITE definitely fits the bill. It feels comfy like a trail shoe to run in, but it will grip like a much more aggressive shoe. That's quite hard to pull off.
On the run
This is where the minor differences between the 275 and 290 emerge. The 275, despite being lighter, comes with more protection around the shoe. The mesh upper feels very durable, the toe bumper bit is slightly bigger and it just all feels slightly more heavy duty. The 290 is designed as a slightly more pared back version. There's still plenty of support and protection, but despite being slightly heavier, the 290 feels like a more responsive and fast shoe.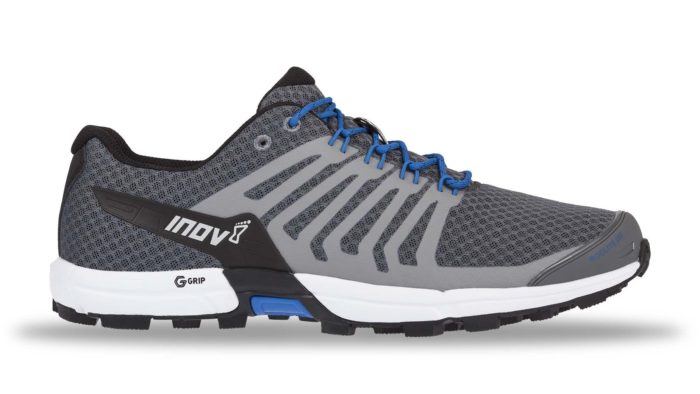 Testing both shoes, I've found that the 275 is my first choice if I'm going for a long day out where I'm going to be in lots of bogs and mud and crossing lots of rocky terrain. But the 290 is my first choice for a couple of hours, when there's still lots of mud and rock, but I don't need anything too heavyweight. For me it's a bit like with waterproof jackets. You've got your really protective, out-all-day jacket which you know will keep you dry in any weather, but you've also got your slightly lighter weight, still very protective jacket which will do you just fine for a couple of hours, whatever the weather.
Both versions were really comfortable, even after long days. They drain very quickly and the mesh dries out well overnight. The only niggles I have are the uncomfortable (for me) tongue on the 275, which takes a bit of fiddling about with to get right, and the laces. This is such a minor thing but the round laces just didn't seem to stay done up for me, especially when wet. But they're easy enough to replace.
Verdict
For me these were great all-round shoes. The 275 is the shoe that inov-8 seems to be promoting most heavily, possibly because it's got it all – the protection, the grip, the 8mm drop and high level of cushioning – and also because it's the shoe Jasmin Paris used for her historic Spine Race win. It's their work horse ROCLITE, but all in an incredibly light 275g package. But it would be a shame to overlook the 290 as the slightly more 'racey' and pared-back version, which still has good protection, grip and cushioning! It's a really personal thing and I think both versions are well worth considering if you're looking for a shoe which gives you grip, cushioning and durability.
Find more information about both shoes HERE.