Saucony has recently launched the new, upgraded version of the Ride ISO, the Ride ISO 2. This shoe is designed to provide both cushioning and comfort, using a combination of the Saucony ISOFIT and FORMFIT technologies that apparently adapt to the shape and motion of a runner's foot. A neutral shoe with moderate cushioning, an 8mm drop and a nice stretchy shoebox, this looks like an ideal shoe for road and track runners who are looking for comfort on every run or track session.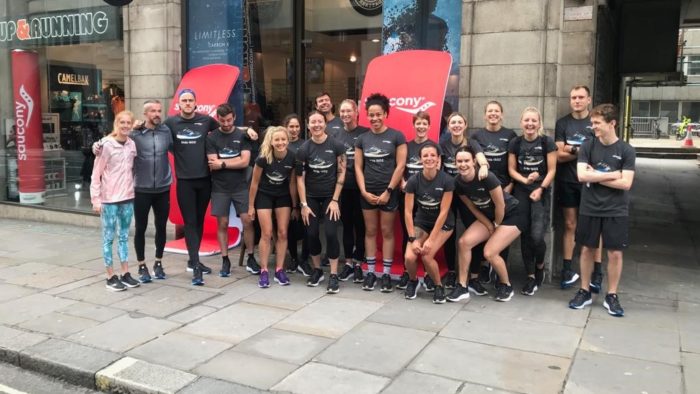 We attended a launch event at Up and Running, Fleet Street, where Charlotte Arter and Saucony coach, Nick Anderson, gave us tips on improving our 10k time. Charlotte is well qualified to be running a 10k masterclass – she is a Saucony sponsored athlete who happens to be the British 10,000m champion, with a PB of 32:15, and the parkrun record holder! She also finished 3rd at this year's Big Half.
Not surprisingly, Charlotte runs in the Ride ISO 2 shoes. They are her 'go to' shoe for running and general training (just as an aside, she also uses the Saucony Kinvara 10 for speedier long runs and half marathons and Type A9 for speed work if you want to mirror her shoe collection!).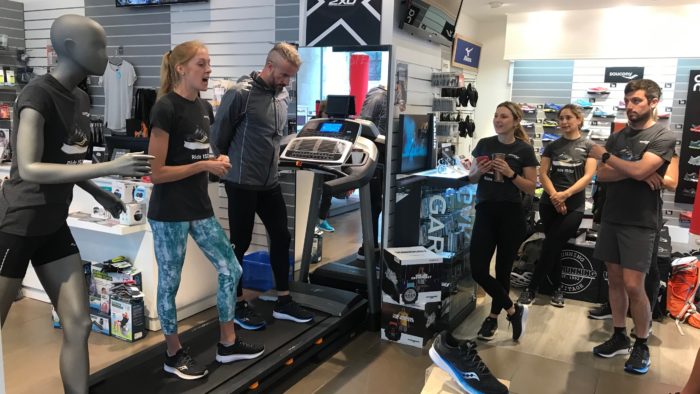 Charlotte and Nick talked us through her training routine, which was far simpler than I was expecting. Nick talked about the perils of over training, and it was really refreshing to hear that Charlotte does listen to this and incorporates plenty of rest days.
Her training consists of a speed session on a Tuesday, a threshold run on Friday, and then a longer run on a Sunday. She will also incorporate a strength session into the training days, and easier running on other days (unless it's a rest day).
Rest and recovery is an important part of her schedule, and as a result, she does her 3 sessions a week and the rest is easier running or rest. Now that said, it's fair to say when she does a session, she works very hard.
A typical speed session at the track might look like one of these:
• 20 x 400m (45 sec recovery)
• 3 x 100m, 800m, 600m, 400m (with 2-minute recovery)
The short session Nick ran with us at the launch event was based around the threshold run. After a warm up, we ran 2 minutes 'just below' threshold pace – a minute recovery, then 2 mins just above threshold pace, repeated twice (we would have done more but time was short). Switching between aerobic and anaerobic pace in short blocks such as 2 minutes pushes your VO2 max and will improve your aerobic fitness, thus giving you access more speed for longer. It hurts, but it is worth it and is an essential part of improving your 10k time.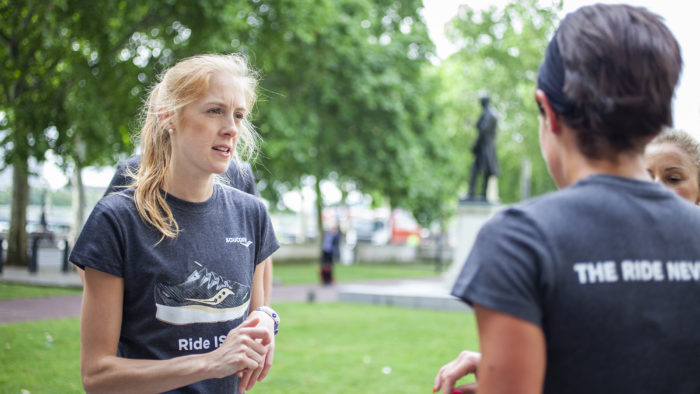 Charlotte's key 5 tips for mastering your 10k are:
1. Be consistent – establish a routine you can replicate each week
2. Speed work – incorporate one interval session a week, quicker than your 10k pace
3. Endurance – have one longer run each week
4. Run with people – join a local running club to keep you motivated
5. Set goals – short term and longer term, it helps to have something tangible to work towards
A key thing for me is how to manage the pain of the 10k. Charlotte counts steps as a way to take her mind off the suffering and keep focused… 0 – 100 the around again. And again for as long as it takes. Quite a few times for me, not so much for her.
We'll review the Ride ISO 2's in more detail as we have a chance to test them, but this is the start of my quest to beat my 10k PB time over the next few months.
Charlotte Arter is a Saucony UK athlete, she is supporting the launch of the Saucony Ride ISO 2, available to buy for £120.00 at www.saucony.co.uk
Win a pair of Ride ISO 2s
Saucony are running a competition on Instagram to win a pair of Saucony Ride ISO 2s
"From now until the end of June, we're challenging you to share your best 10k training session – upload a picture to Instagram of you post-session, follow and tag @SauconyUK and include #WeWhoRun10k in the caption to be in with a chance to win a pair of the brand new Ride ISO 2 trainers."
Read our review of the Saucony Xodus ISO 3 HERE