The top British athletes will be heading for Sefton Park in Liverpool on Saturday. The third round of the British Athletics Cross Challenge Series has become possibly the top domestic event in the winter calendar as competitors vie for places at the Spar European Cross Country Championships.
The 2019 edition takes place at Lisbon on December 8th and is a particular target because of recent British successes at the Championships where athletes can realistically target medals and titles at a major Championships.
The Liverpool course is likely to be extremely muddy but somehow always manages to remain conducive to fast paced competitive racing. Entries look particularly strong this time highlighting the recent improvements in standards across endurance running in the UK.
Charlotte Arter and Kate Avery are amongst the favourites in the senior women's race. Cardiff based Arter won here last year and is targeting another victory in a step towards the European Cross Country Championships where in her own words, 'anything can happen'.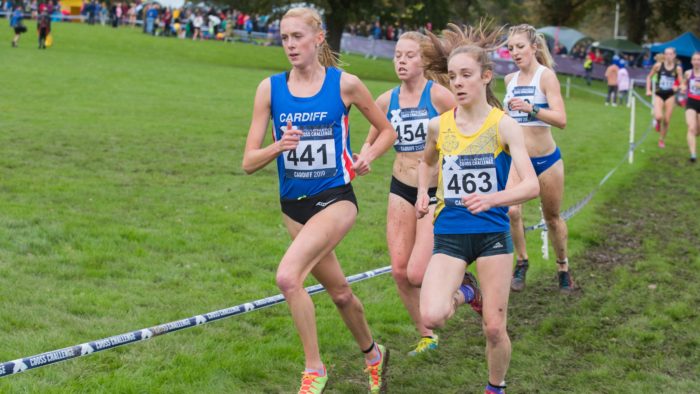 The Welsh woman warmed up for the event with a victory at the season opener in Cardiff, a win at the highly competitive Leeds Abbey Dash over 10km and most recently a seventh place finish at the Cross De Atapuerca in Burgos.
Shildon AC's Avery was a European Silver medallist in Bulgaria back in 2014 and has made a resurgence to Cross Country racing over recent seasons, placing fifth at the race last time and retaining her title at the Milton Keynes Cross Challenge two weeks ago.
Arter's club mate and training partner Jenny Nesbitt will also be in action and is the current Inter-Counties Champion and was the runner-up in Cardiff last month.
Jess Judd of Blackburn Harriers will be a serious threat and has great pedigree on the country which includes claiming the European U23 Bronze medal and a silver at U20 level. She also has speed in abundance proved by her sub two minute 800m best.
Emily Hosker-Thornhill of Aldershot, Farnham & District is a strong challenger along with club mate Amy Griffiths.
Iona Lake was third at the Challenge opener in Cardiff competing for Norwich AC and is another athlete with previous International form on the country.
Sonia Samuels of Sale Harriers brings massive experience and is joined by Naomi Taschimowitz of Shaftesbury & Barnet who was seventh at the English National Championships in February.
Scotland's Mhairi Mclennan of Preston Harriers will lead the Scottish challenge.
Cari Hughes of Swansea Harriers won the junior women's race here last year and along with Amelia Quirke of Aldershot, Farnham and District will be amongst the favourites in the U23 race. Wales' Bronwen Owen of Scarborough AC was third in the senior women's race at Milton Keynes and will also be pushing for an u23 team place.
Triathlete Alex Yee of Kent AC is likely to start as the men's race favourite and is still eligible for the U23 category in December. He was the 2018 BUCS Cross Country Champion taking the British 10,000m title later in the year on the way to a fifth place finish at the European 10,000m Cup.
Stockport Harrier Ross Millington is the returning Champion and will be looking to secure a place in the team for Lisbon, hoping to better his 30th place finish from last time.
Ben Connor of Derby AC is better known as a track and road runner but is likely to feature very close to the front along with Swansea Harrier Kristian Jones who is a consistent racer, likely to be amongst the top 10.
Jonathan Davies of Reading AC won the U23 title at the European Championships at Toulon in 2015 and will compete in the senior race here. Adam Hickey is a former English National and Uk Inter-Counties Champion who will be in action.
Cardiff man Mike Ward is likely to be in the mix along with Sam Stabler of Wreake & Soar Valley, Shafesbury & Barnet's Kieran Clements and the ever improving Jack Gray of Cambridge & Coleridge.
Tom Mortimer will move up to the U23 race, where twins Paulos and Petros Surafel will be amongst the main challengers for the outright win and places on the plane to Portugal.
The junior men's race will feature all five Great Britain and Northern Ireland team members from the IAAF World Cross Country Championships in Aarhus.
Matt Willis will be the man to beat and is currently unbeaten in the Cross Challenge Series this season. The Wrexham AAC man is the current Inter-Counties Champion and was the first British finisher in Denmark. He will look to secure selection for Lisbon where he can hope to make a real impact at the European Championships.
Morpeth Harrier Rory Leonard was second behind Willis at the Inter-Counties in March and could well be the most likely challenger to Willis in the race for the junior men's title.
Euan Brenan of Ilkley AC, Joshua Cowperthwaite of Middlesborough AC and Zakariya Mahamed of Southampton AC are the other members of the team from Aarhus and will all be in action. Joe Wigfield of Wirral AC is another significant competitor and was second to Willis in Milton Keynes.
Edinburgh AC's Eloise Walker won the Junior Women's race in Milton Keynes beating fellow Scot Olivia Mason of Border Harriers. The pair will start amongst the favourites in Liverpool and both have international pedigree which includes racing at the world championships earlier this year.
Saskia Millard of Herne Hill Harriers enjoyed some over distance training when finishing fourth in the senior race at Cardiff so should have no trouble competing well over 4,400m in Liverpool.
Bea Wood of City of Salisbury has solid credentials as the current South of England and Inter-Counties Champion and as a dominant winner in Cardiff. Birchfield Harrier Ella Semple was second in Cardiff and also racing.
Louis Small was third in Cardiff and Will Barnicott of Windsor Slough Eton & Hounslow won in Milton Keynes and the pair will now face each other in the u17 men's race..
Kiya Dee of Highworth heads the u15 girl's race entries and currently leads the u15 standings with a 100% record of victories so far this season.
Christopher Perkins of Birtley AC has current form on his side in the U15 boys race as the winner from his last Cross Challenge outing two weeks ago and will face the Cardiff victor, Lewis Sullivan of St Edmunds Pacers. Frank Morgan of Carmarthen Harriers is improving all the time and was a runner-up in Milton Keynes.
Molly Shorey of City of Plymouth and Oliver Patton of Kilbarchan AC will be likely favourites in the U13 races after strong starts to the Cross Challenge Series.
Header image: Jess Judd (2878), Mhairi Maclennan (2887), Emily Hosker Thornhill (2873). Image by Paul Stillman