To mark the launch of Nick Butter's new book, Running The World we have three copies to give away to our readers. See below to find out how to enter…
A bit about the book: The remarkable story of a world record breaking adventure to run a marathon in every country in the world.
Featuring: 196 COUNTRIES / 196 MARATHONS / 455 FLIGHTS / 120 VISA / 100% CARBON OFFSET / 10 PASSPORTS / 1 DOG BITE / 2 MUGGINGS / 1 BROKEN ELBOW / 9 FOOD POISONINGS / 1 KIDNEY INFECTION / 15 WAR ZONES…
On January 6th 2018, Nick Butter tied his laces and stepped out on to an icy pavement in Toronto, where he began to take the first steps of an epic journey that would see him run 196 marathons in every one of the world's 196 countries. Spending almost two years on the road and relying on the kindness of strangers to keep him moving, Nick's odyssey allowed him to travel slowly, on foot, immersing himself in the diverse cultures and customs of his host nations.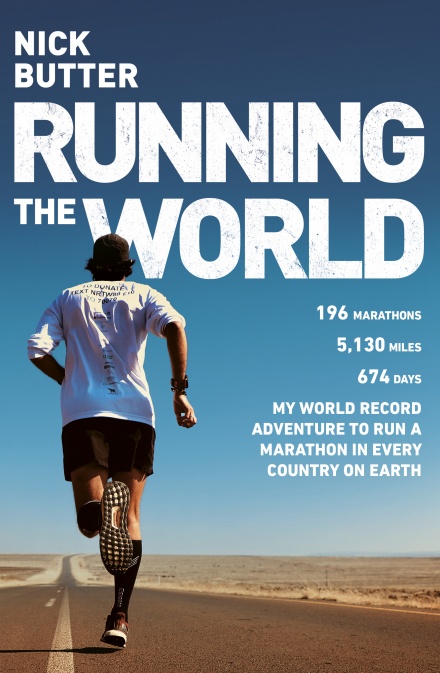 Running through capital cities and deserts, around islands and through spectacular landscapes, Nick dodges bullets in Guinea-Bissau, crosses battlefields in Syria, survives a wild dog attack in Tunisia and runs around an erupting volcano in Guatemala. Along the way, he is often joined by local supporters and fellow runners, curious children and bemused passers-by. Telling their stories alongside his own, Nick captures the unique spirit of each place he visits and forges a new relationship with the world around him.
Running the World captures Nick's journey as he sets three world records and covers over five thousand miles. As he recounts his adventures, he shares his unique perspective on our glorious planet, celebrates the diversity of human experience, and reflects on the overwhelming power of running.
How to enter
To win a copy of the book please send an email to competitions@tri247.com
Include in the subject line Running The World Competition
Closing date is 23:59 25 November 2020
Running The World is released on 12 November 2020 priced at £14.99
Terms and conditions:
• No correspondence will take place with entrants from third parties
• Only RUN247/TRI247 may contact entrants. There will be an unsubscribe option
• By entering this competition you may receive a communication from RUN247/TRI247. We won't spam you!
• The winner will be randomly selected and contacted via email for details on how to receive their prize
• We reserve the right to award the unclaimed prize to another entrant
• The judges selection of the winners will be final
• Prizes are subject to availability
• No cash alternative will be offered for prizes and prize winner must accept the prize in the form offered
• All prizes are subject to availability and are non-transferable and non-exchangeable
• Open for UK residents
• Closing Date is 23:59 25 November 2020