RUNFESTRUN EARLY BIRD TICKET OFFERS END 31st OCTOBER! 
After the incredible success of its first year, RunFestRun is back and ready to embark on the next stop of its running tour of the UK. Hosted by Virgin Radio's Chris Evans and Vassos Alexander, RunFestRun is an epic weekend of running, live music, inspirational talks, family activities and camping all set within the stunning grounds of Windsor Great Park.
Whether you're an experienced runner or a total beginner, there is something for all the family at RunFestRun. You can take part in timed races, including a 2.5K, 3K road race, 5K, 10K and Half Marathon, or focus on running for fun in the Nighttime Neon Run, Ultimate Family Fun Run and new for 2020: The Party Run (because why run and then party when you can do it all at the same time?!)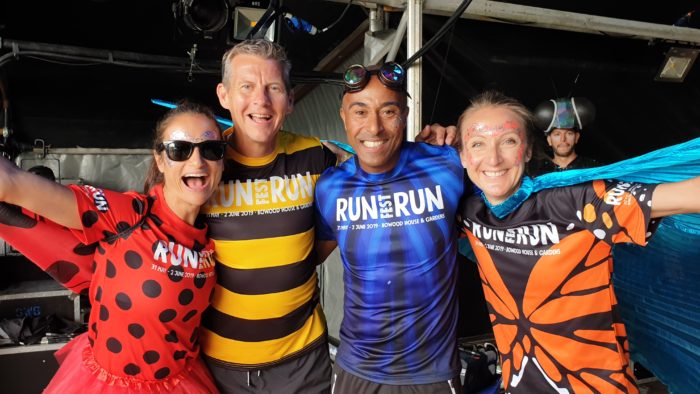 RunFestRun plays host to an impressive line-up of running royalty – Steve Cram, Paula Radcliffe, Colin Jackson and Natasha Evans are all confirmed to return as Team Captains for the 2020 event, with even more sporting stars and inspirational speakers to be announced in the coming weeks.
Paula Radcliffe said, "It's such an inspirational weekend and I can't wait for next year's event. There really is something for everyone, it was a pure joy to see so many happy faces and so many children enjoying running".
Vassos Alexander, co-host of RunFestRun added, "We're so excited to announce plans for Windsor, it's the next stop on our running tour. The first event at Bowood was beyond everyone's wildest dreams, three shiny happy days with everyone going home with a great big grin on their face."
So, how about heading to RunFestRun 2020 for a whole weekend of running! With both weekend and day tickets available, get ready to camp, run and party alongside sporting legends, achieve new running highs and dance your socks off to a great music line-up all within the grounds of the wondrous Windsor Great Park from 22nd-24th May 2020. If you're interested early bird tickets end on 31st October – so be quick! You can book HERE.