Runners are always looking for that next challenge. It might be faster, it might be further or it might be hillier. Perhaps at some point you think 'maybe more days! Yes, multiday adventures look appealing.'
We've done a few articles on finding your next challenge, from ultras and bike races, to swimrun and multiday races.  One of the things about all of these challenges is that they can be daunting for a first-timer. What if I don't have the right kit? What should I eat? That's why it's great when we come across events which are fantastically inclusive, and offer a stepping stone to bigger things. Step forward the Silva Great Lakeland 3 Day (GL3D)!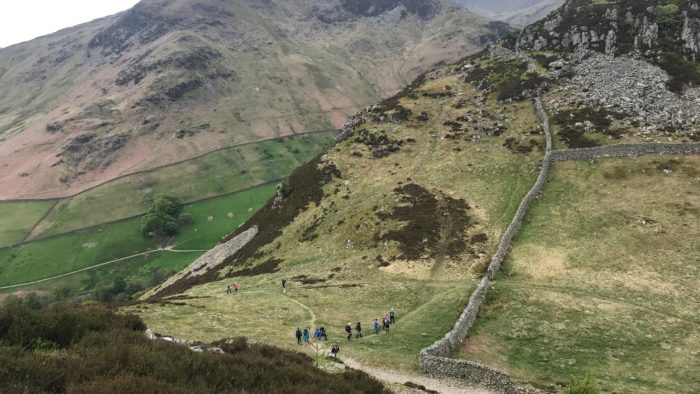 GL3D format
Now it would be wrong to say that GL3D is aimed at newbies. It's a tough mountain event, with 2 (out of 3) courses which will test any runner. But there are certain aspects of it that make it a bit more accessible than other, similar events, and it's evolved over the years to include an introductory level route.
The format of the event is that there are 3 days with 3 choices of course (expert, Wainwright and café, in hardest to easiest order). You can stick to the same one each day or you can switch between them. For example, you can do Wainwright on days 1 and 2, then if you're feeling a bit broken on day 3 you can switch down to the café course. This immediately takes the pressure off.
The other key difference  with regular mountain marathons is that the organisers at this one transport your kit for you. No need to carry it all (apart from your mandatory kit) on your back. Obviously this affords a greater level of luxury! No need to sleep on bubble wrap; you can have your nice inflatable mattress and a nice warm sleeping bag, plus a decent, sturdy tent to protect you from the elements! This was especially relevant this year, when the weather was a bit on the chilly side!
One more thing that's special about this race is that at the last couple of GL3Ds they have laid on food stands at the event! You do need to take a stove and food just in case, but the luxury of somebody cooking your bacon barm in the morning or your halloumi wrap and fries after a long day out running is incredible! It sure beats pouring hot water into a dehydrated meal.
The courses
But the main part of the event is the running and this is spectacular at GL3D. For each course the day's route is set out by navigating a set of checkpoints in order. By doing this they take each runner on a journey, rather than making you pick your own checkpoints. However, the nav between each checkpoint is up to you and there will usually be a choice of routes, which is part of the fun.
A good example of this at this year's event was day 2 of the café course. The café course is the shortest one, at around 20k and 1000m of ascent per day. It's so called because one of the checkpoints each day is at a café, allowing for a convenient refreshment stop. The first checkpoint was a nice gentle climb up to Grizedale Tarn. But then you could elect to either go the slightly longer way round, staying low and following a path by a road to the next checkpoint, or you could go up and over Helvellyn! Needless to say the pull of Helvellyn proved irresistible for most runners. This summed up the café course for me. Most runners were more concerned with enjoying the journey, than competing for a time.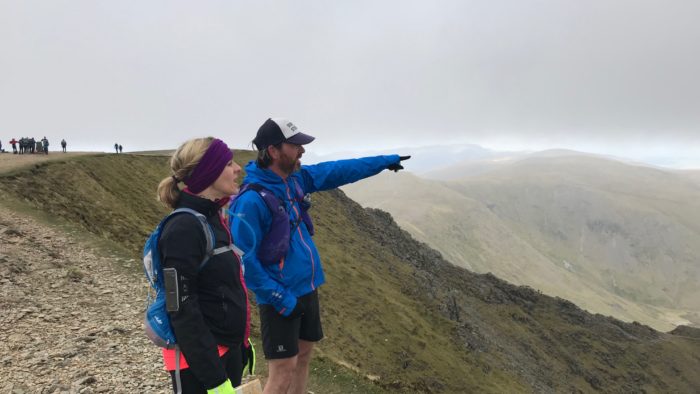 GL3D is a fantastically sociable event. On almost every climb we got chatting to others about the spectacular views. Everybody seemed to help each other out with navigational quandaries and the catering tent was buzzing from mid-afternoon until late. It felt very inclusive. Whether you were competing at the sharp end of the expert course, or walking the café course there was a feeling of all being in it together.
If running is a drug then GL3D is definitely a gateway event. Whatever your level you can use it to step up your game. If you've got basic nav and hill skills and you want to challenge yourself a bit more, to see if mountain marathons or self-navigated multidays are for you, it's ideal. Similarly, if you're pretty confident at nav and want to up your distance, it's a great stepping stone. It can be a great weekend away with friends with some leisurely running, or a super-tough test-your-limits kind of smashfest if you prefer. And however hard your day on the hill has been, you can relax with food, a beer and new friends in the evening.