Skyline Scotland has grown and grown over the years and it's now a major highlight of the UK running calendar. Runners come from all over the world to test themselves against some of the hardest and most technical courses in the UK. This year the Ring of Steall Race was also the penultimate race in the Salomon Golden Trails Series, deciding who was going to the grand final in Nepal, offering an added incentive for the top runners.
The weather plays a big part in this weekend of racing – there are predetermined bad weather route options for the major races – but this year it just couldn't have been better. It was blue skies and warm temperatures for the Friday and Saturday races, and just light rain on Sunday.
First up was the Salomon Ben Nevis Ultra at 7am on Friday. This is a tough race at 52k with 4000m of ascent and despite the good weather it was still pretty boggy and hard-going. While it isn't as technical as the Ring of Steall or Glen Coe Skyline races it still requires runners to brave the infamous Càrn Mòr Dearg Arête, leading to the summit of Ben Nevis. It also has some very strict cut-offs. The difficulty of this race can be illustrated by the fact that only about 50% of the 300 starters completed the race.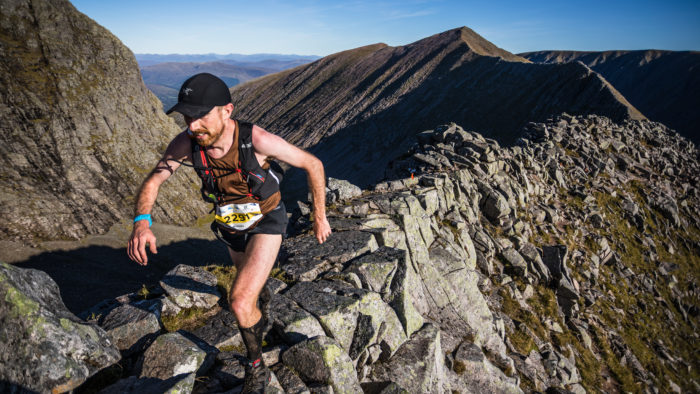 The men's race was won by Scot Murray Strain in 7.51, with Spanish runner Francisco Javier Cabrera Valdes in second in 8:00:54. Then the story of the day was Katie Kaars-Sijpesteijn winning the women's race and coming third over all in 8.05. In doing so she absolutely destroyed the women's field – Megan Arauzo from the US was second in 10.13 and England's Katie Sloane third in 10.28. In the men's race Vincent Richrath of Germany was third in 8:14:56.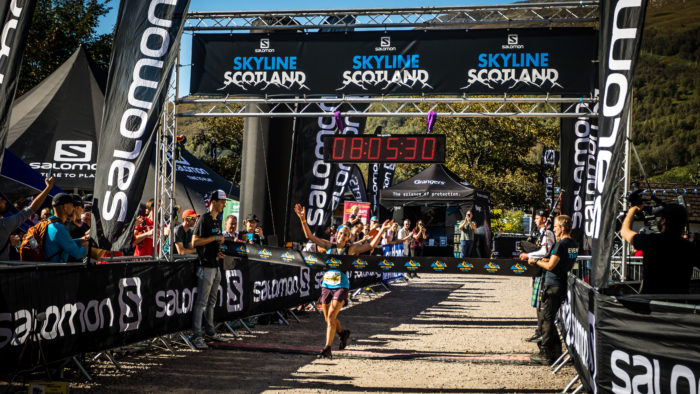 On Friday evening it was time for the Salomon Mamores Vertical Kilometre. Runners set off at 30 second intervals in a time trial of them vs 1000m of ascent over the course of 5k up Na Gruagaichean. It attracted some very big names, including Tom Owens, who finished third in the men's race. Victoria Wilkinson, who's returning from injury, won the women's race in 52.49, and Zak Hannah, fresh from 7th place at Drei Zinnen the previous weekend, won the men's in 44.43. Andrew Barrington was second in the men's race the the women's podium was completed by Aoife Quigly and Claire Gordon.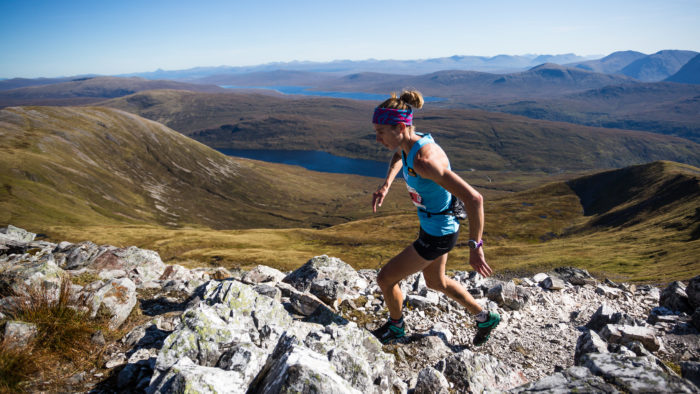 The Ring of Steall Race – 29k of very gnarly terrain with 2500m of ascent and some exposed ridges – took place on Saturday. This race was also the penultimate race in the Salomon Golden Trails Series, and decided the final standings for the grand final in Nepal. Thus it attracted some big international names, including Judith Wyder, Fanny Borgstrom, Sage Canaday and Max King.
It was made even tougher by the unexpected heat and there were a lot of dehydrated runners after the race. But this didn't stop Swiss athlete Judith Wyder from smashing the women's course record, which was previously held by Tove Alexandersson, finishing in 3.36.46. Wyder, who has been a hugely successful orienteering champion, has been taking the world of mountain running by storm this year. England's Holly Page had a fantastic run to finish second in the women's race in 3.54.18 (and she qualified for the final race in Nepal) and Fanny Borgstrom completed the women's podium in 4.02.01.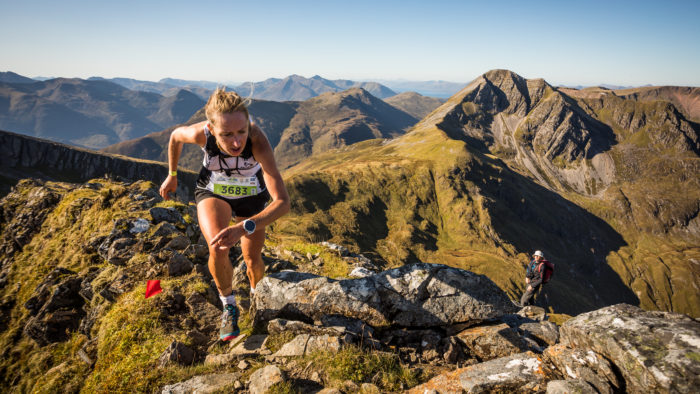 In the men's race Italian Nadir Maguet bettered his second place in the race last year by winning in 3.14.47. Another Swiss former orienteer Marc Lauenstein was second in 3.19.37 and Max King from the US was third in 3.20.42.
Alongside the four established races there were three new trail races at this year's event: the 5k Grey Mare's, the 10k Loch Eilde Mor and the 18k Three Mealls. These were designed to add an extra element to the weekend's racing, a slightly more accessible option for those not wanting to tackle exposed ridges. These proved really popular and the runners were rewarded with lovely routes and stunning views. But if they were expecting them to be easy, they weren't! This is Skyline Scotland and 'easier' just means that you didn't really need to use your hands. All three races were still quite testing, with rocky singletrack, bogs to be negotiated and lots of ups and downs. I'd highly recommend them if you want a tough race that's a bit shorter, or as a stepping stone to doing harder races.
Lastly, on Sunday it was the Glen Coe Skyline Race. 52k with 4750m of ascent and definitely not one for the faint-hearted or inexperienced. The route includes Curved Ridge, a grade III scramble which is very exposed, and a full traverse of the Aonach Eagach ridge, a grade II scramble. This race, like the Ring of Steall, really does give runners a taste of the most epic terrain that Glen Coe has to offer.
The top three in the men's race seemed to change every time the tracker updated and it made for an exciting morning of dot watching. Brit Andy Berry, who finished third in this year's Lakes Sky Ultra, fought hard the whole way and finished a brilliant second. The winner was Norway's Erik Johannes Husom in 7.55, with Andy in 7.58 and Greg Vollet in 8.03, just pipping Scot Andrew Barrington by 20 seconds.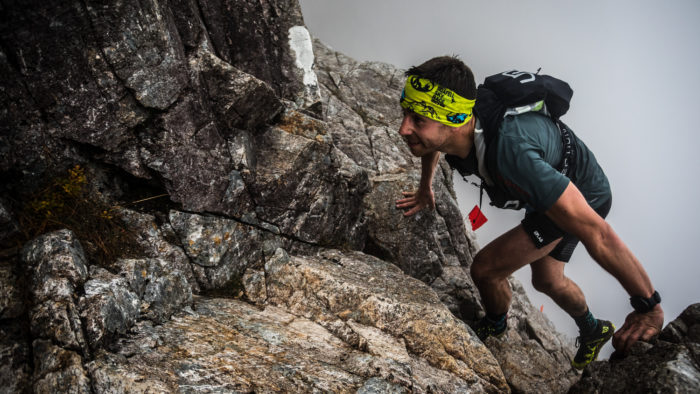 In the women's race Brit Georgia Tindley put on a dominant display to lead throughout and she finished in eighth place overall. She won in 8.29.57 and is having a fantastic year with an eighth place in the Tromso Skyrace and fifth place just last weekend in the ZacUp Skyrace. Ann Penelope Spencer from the US was second in 9.10 and Megan Wilson of Ireland third in 9.20. Remarkably Katie Kaars-Sijpesteijn also ran the Glen Coe Skyline (as well as the Ben Nevis Ultra) and still finished in fifth place, just behind Scot Rachael Campbell.
The Skyline Scotland weekend just keeps getting bigger and better. This year they added a film and speaker night, along with the Skyline sessions, which saw speaker sessions happening throughout the weekend. There was also an event village and food and coffee stands. With the addition of the trail races it really is becoming a weekend with something for every runner and it's definitely worth considering the trip if you've never been before. It may not always be as sunny as 2019 though…
Find out more about Skyline Scotland.
All images copyright No Limits Photography/Salomon Skyline Scotland