Dragon's Back is a race which has achieved legendary status over the years, attracting runners from all over the world to pit themselves against whatever the Welsh mountains can throw at them. Top mountain runners come to race each other down the spine of Wales; many come just to see if they can hang on in there until the end.
The Berghaus Dragon's Back Race is a race on many runners' bucket lists. But unlike UTMB and similar, you don't have to collect points and you don't have to go through a lottery process to enter. This year they allowed roughly double the number of runners in than in previous years. How many of them would make it to the end?
Day 1
Of the 500 who initially entered, 404 made it to the start line at an overcast Conwy Castle on Monday 20th May. After being serenaded by a Welsh male voice choir it was a lap of the castle ramparts, before the real work began. Day 1 is the shortest at 52k but it packs a lot of ascent in there. After crossing the Carneddau as a warm-up runners tackle Tryfan, the Glyderau, Crib Goch and Snowdon, totalling 3,800m of ups. There's some scrambling involved in this section too, making it a physically demanding day with a risk of bumps and scrapes, of which there were many.
At the front of the races Sabrina Verjee, who's previously placed 2nd in the race and won the Lakeland 100, came in first for the women. Next was American Alyssa Clark, followed by Dark Peak Fell Runner Lisa Watson and only 14 minutes separated the top 3. In the men's race Canadian Galen Reynolds, who was second in last year's Tor Des Geants, came in first, followed by Konrad Rawlik and Robert Barnes, with previous winner Jim Mann lying in 4th.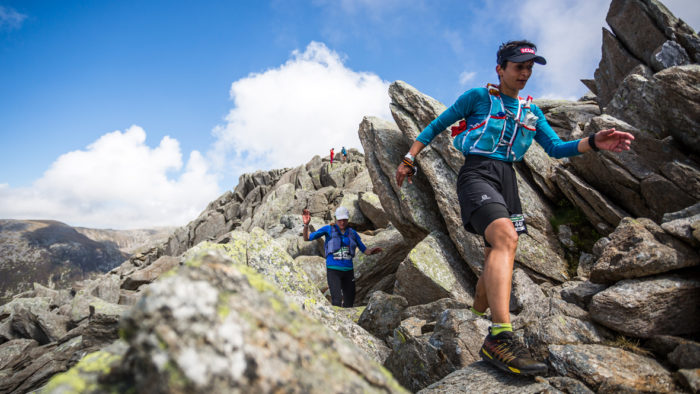 Further back in the field 44 runners didn't make it to the end of day 1.
Day 2
Day 2 wasn't going to provide any respite for tired runners. It might not have had anything as extreme as Crib Goch, but with 58k and 3,600m of ascent including the Moelwynion and Rhinogydd, it would prove just as hard. And one of the key challenges for the slower runners at Dragon's Back is that if you've had a long day the day before, you've got to get yourself up and out early to give yourself the best chance the following day. This means that your recovery time is limited and there's never an easy day, so you're constantly chasing your tail!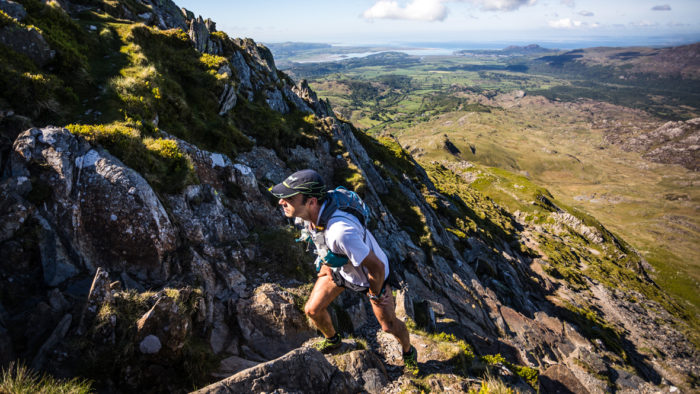 Sabrina Verjee was fastest woman again, with Alyssa Clark 30 minutes behind and Lisa Watson 6 minutes behind her. It was still pretty close in the women's race overall. Galen Reynolds was fastest man again, with Jim Mann just behind him, then Robert Barnes.
By the end of day 2 there were 312 runners in the race.
Day 3
Day 3 was longer at 71k, still very hilly with 3,500m of ascent, but with less rock and more runnable bits. It was also a big day from the point of view that statistically most runners who complete this day manage to complete the race. The first challenge of the day was a long climb up to a claggy Cadair Idris, but the reward was that after the descent from that, there were some soft grassy paths which were much easier on the feet and legs than most of the terrain on days 1 and 2. Day 3 also brought a return to civilisation, when runners arrived at the midway checkpoint in Machynlleth where they proceeded to decimate the local shops of coke and sausage rolls.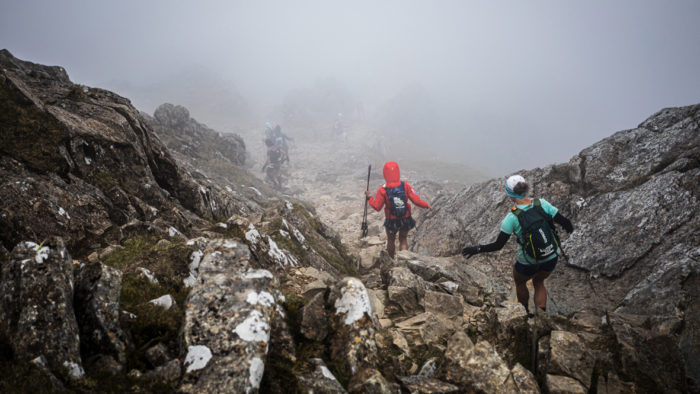 Sabrina Verjee had a harder day and though she managed to retain the overall lead it was cut to 22 minutes by Lisa Watson, with Alyssa Clark dropping to 3rd place. For the men Galen Reynolds and Jim Mann ran together all day and remained in 1st and 2nd, with Robert Barnes retaining 34d.
264 runners remained at the end of day 3. The breakfast queue was getting slightly shorter.
Day 4
Day 4 was another long one (71k) but slightly less hilly (2,400m) and runners had a long stretch of tarmac towards the end to look forward to or fear depending on the state of their feet. It was much more a day of wide open spaces through the Elan Valley and tussocky fields. There was drama in the women's race when Alyssa Clark unfortunately collapsed and was forced to retire. Lisa Watson had another strong day and took the lead from Sabrina Verjee by 1 minute. Galen Reynolds and Jim Mann ran together again and maintained their places, with Robert Barnes still 3rd. 256 runners remained in the race by the end of day 4.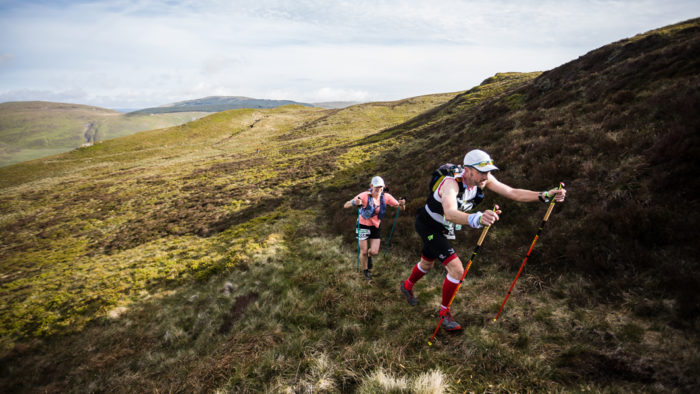 Day 5
There was a chasing start on day 5, which meant that Sabrina Verjee and Lisa Watson started a nerve-wracking minute apart! In the men's race it was a bigger margin of 42 minutes between Galen Reynolds and Jim Mann. Runners had 63k and 2,200m of ascent to negotiate, which included a fair bit of road but it also included the Black Mountain. Again runners encountered a town – Llandovery – and again the bakery was stripped of all pastry items within a couple of hours. A runner was even spotted enjoying a full Welsh breakfast outside a cafe! That's finishing in style.
Lisa Watson stretched her lead out on day 5 and took the women's victory. Sabrina Verjee was 2nd and Kerstin Rosenqvist 3rd. Galen Reynolds won the men's race with a new record. Jim Mann was 2nd and Robert Barnes 3rd. 251 runners finished before the 11pm cut-off to claim their Dragon trophy.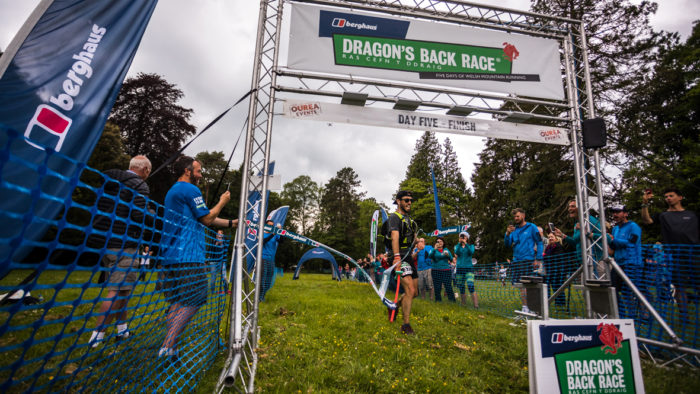 Entries open in May 2020 for the 2021 race. See HERE for more information.
Full results from this year's race can be found HERE.
Header image copyright No Limits Photography