If you thought last weekend, when Kilian broke the Bob Graham Round Record, was an exciting one in the Lake District, this weekend was just as thrilling. It was the Lakes Sky Ultra and Scafell Sky Race.
The Lakes Sky Ultra is a 56km skyrunning race that isn't for the faint-hearted. It has 4,500m of ascent on some very rough terrain, and requires the runners to be competent in scrambling and rock climbing. Such is the challenge of this type of course, which is part of the UK Skyrunning Series, that it requires runners to be vetted to make sure they have the appropriate level of mountain experience to stay safe in this environment.
The Scafell Sky Race is a 42km skyrunning race with 3,000m of ascent also on challenging, often technically extreme terrain, taking in England's highest peak, Scafell Pike (978m). Again, this race is a combination of mountain running and mountaineering, which includes low grade rock scrambling. But this race is an introductory to intermediate-level skyrace and entries aren't vetted.
The Lakes Sky Ultra kicked off at 7am on Saturday, with an elite field of 74 runners from a range of countries including Austria, France, Greece and Poland. GB international trail runner Rob Sinclair took an early lead in the men's race and by Striding Edge he had a 10 minute buffer. At the halfway point, by which point two thirds of the ascent and the majority of technical ridge climbing was out of the way, it was looking like he might be on course to break the course record.
In the women's race fellow GB international Sophie Grant dominated from the start. She placed second two years ago, so she knew the course. She extended her lead as the race went on and none of the other women could touch her on the day.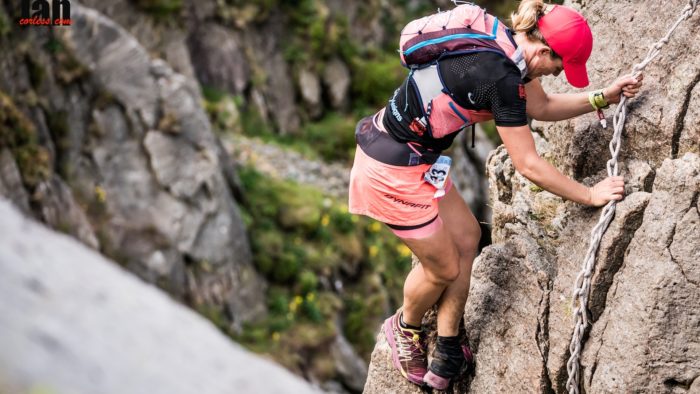 Rob Sinclair arrived at the finish line in Ambleside just 10 minutes off the record. "The race was brilliant," he said. "It was a really good run. It was super hot, but I felt good in the heat today." Tim Campion-Smith was second and Andy Berry third.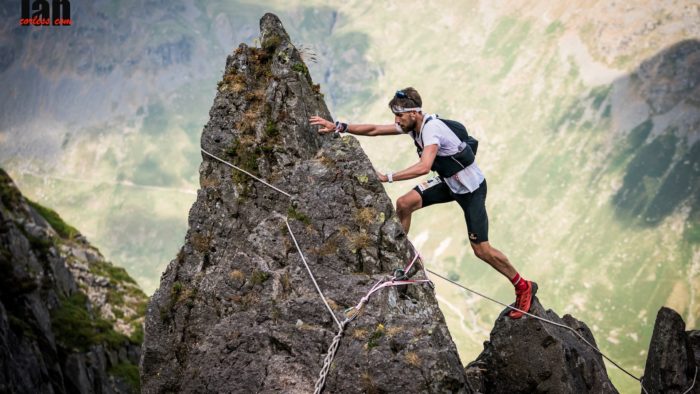 Sophie Grant won by an astounding two and a half hours, proclaiming it to be "such a cool race!". Kate Simpson was second and Jenny Yate was third.
On Sunday the Scafell Sky Race boasted another strong line-up of runners, including two stars from the Great Britain (GB) team that earned a team silver medal at the 2018 IAU Trail World Championships, Tom Evans and Jonathan Albon, who placed third and fourth in Spain in May. GB 100K-runner and Dragon's Back-winner Marcus Scotney, fell-running legend Steve Birkinshaw, Lakeland 50 course record-holder Casper Kaars Sijpesteijn were just some of the other names in a strong field.
The women's field was equally stacked, with GB trail-runner Sally Fawcett facing competition from GB mountain-runner Georgia Tindley, experienced ultra-runner Sarah Sheridan, Jonathan Albon's wife Henriette and his sister Beth, and last year's Lakes Sky Ultra-winner Catherine Slater.
The 196 runners came from as far afield as Australia, New Zealand, the USA, the Netherlands, Brazil and Malaysia.
As expected, in the men's race Evans and Albon charged off the front, with Sebastian Batchelor initially keeping in touch. The GB trail-running stars arrived at Stickle Barn, about halfway into the race, together. Albon had a faster transition though and gradually pulled away, to arrive first at the University of Cumbria's Ambleside Campus, in a course record time of 04.26:50.
"The Lakes is an amazing place to run," said Norway-based Albon. "It was a lot of fun, especially the technical sections, when you get into your flow – if you ignore that there's a drop-off next to you. The second half was more runnable, but hotter – more bearable when we had some wind and cloud cover. The nice, open grassy fells were welcome. It's interesting doing the techie stuff first – I loved the slabby section, I hadn't run on stuff like that before – your legs get blasted by all the jarring around, and then you get the long flowy sections afterwards, so your legs need to be in good condition."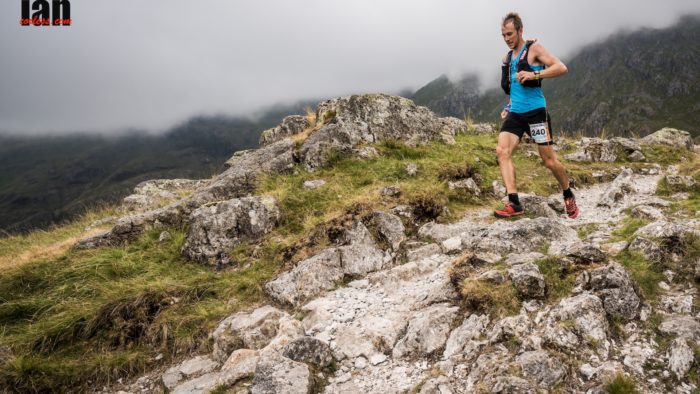 "It was an amazing race," said Evans, who placed second, in 04:39:57. "It's different to what I normally do and a course of two halves: the first half was super-technical, and I was way out of my comfort zone, which is great. The second half is more runnable and more suited to me, but it got hot and I slightly misjudged my hydration strategy. I'm super happy though. It's my first ever skyrace and it was great to race against Jon." Sebastian Batchelor (GBR) was third in 04.59:50.
In the women's race, Tindley set the early pace, but dropped out after Harrison Stickle. Catherine Slater, too, was suffering on the big climb out of Langdale. Henriette Albon started conservatively but gradually moved ahead and took the win in 05:59:27.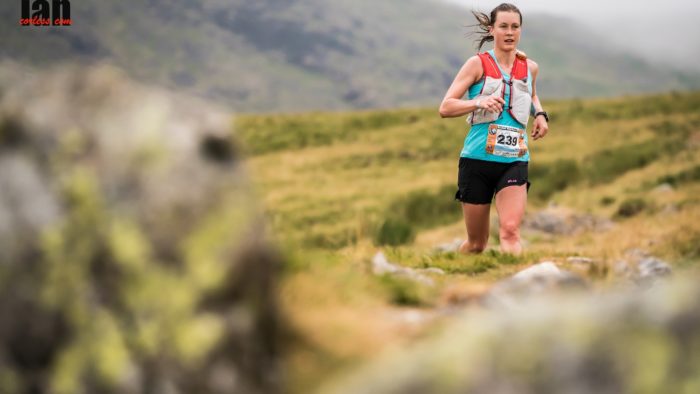 "That was definitely one of the tougher races I've done this year," said Albon. "There was a lot of undulating, rocky terrain, you constantly had to be focused. I was surprised by how much time it took. I remember looking at my watch 15K in and thinking, 'Phew, this is going to be a long one!' I liked the grassy sections at the end because I could get some speed, but I liked the rocky bits too. I started slowly and tried to pace it."
"I loved the race," said Fawcett, who placed second, in 06:26:16, "even if I was out of my comfort zone for much of the first half. But I was in my element for the more runnable second half. It was pretty much six hours and 26 minutes of fun!"
Slater dug deep to finish third woman in 06:47:48. Scafell Sky Race awarded prize money, as well as prizes from race sponsors Leki, Mountain fuel and (South African Jewellery company) Miglio.
46 runners failed to complete the course.
Both events are organised by Glenridding-based Mountain Run Events.
All the results from the Lakes Sky Ultra can be found here.
All the results from the Scafell Sky Race can be found here.