Andrea Mayr and Patrick Kipngeno both won a double of the Vertical and Trofeo Nasego races in stages 7 and 8 of the 2022 Valsir Mountain Running World Cup.
Taking place in the mountains surrounding the Italian town of Casto, Mayr and Kipngeno were dominant across the weekend's racing, with Kipngeno breaking two records in two days.
Mayr was followed by Monica Madalina Florea and Valentina Belotti in the Vertical Nasego, while she finished ahead of Joyce Muthoni Njeru and Lauren Gregory in the Trofeo.
Zak Hanna finished second in the men's vertical, while third-placed Pilemon Ombono was also runner-up to Kipngeno in the Trofeo, ahead of Petro Mamu who came third.
Magnificent Mayr
Just a 4.3km course in length, the short uphill Vertical Nasego race forces athletes to rapidly climb 1000m, and it was the Austrian Mayr who did so first in the women's category.
She remained in and around the front for most of the race, fighting for the lead with the Romanian athlete Florea, but over the last 600m she struck out on her own.
A minute ahead of her opponent when she reached the peak, her race may have been over on the day but her display of dominance over the weekend was not.
The classic mountain Trofeo Nasego course is 21.5km long, and from the 14th kilometre onwards Mayr proved she was in a league of her own.
She took the lead from early-front runner Florea and finished the course in a time of 1:47:32, ensuring two victories during the double Gold Label race weekend in the Italian mountains.
All-conquering Kipngeno
From the first day of racing, it was clear that Kipngeno was not just at Nasego to pursue victories, but also records.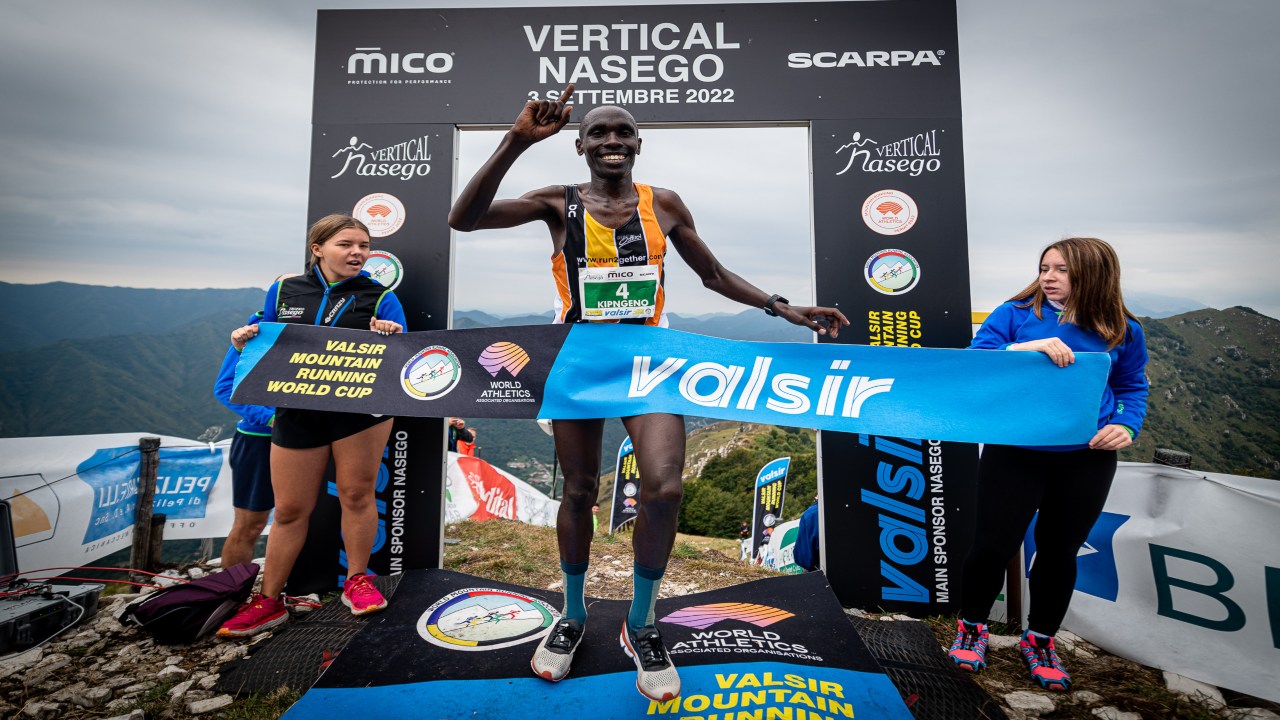 Pushed by the Irishman Hanna, the two went shoulder to shoulder for much of the Vertical Nasego race until Kipngeno broke free at the end to finish with a time of 33:47, a new record by over a minute.
But like Mayr, he was not finished there. Halfway through Sunday's Trofeo race, Kipngeno created a strong lead alongside his Run2gether teammate and fellow countryman Philemon Kiriago, ahead of third-placed Mamu by a minute.
It became a straight foot race between the two, and one that Kipngeno stormed to victory in as he flew downhill to the finish.
With a time of 1:30:46, Kipngeno secured another victory and yet another record, extending his lead on the top of the World Cup standings in the process.