We often fear the uphill and look forward to those lovely downhills. Like the idea of a downhill-only race? The inov-8 Descent Race is a race with no uphill at all, BUT there's a pretty scary downhill. Runners have to launch themselves down near-vertical gradients in a race on the world's most notorious ski slope.
Returning for a second year, the inov-8 Descent Race on the Hahnenkamm mountain in Kitzbuhel, Austria, is being staged on Saturday October 5th – and entries remain open.
Revered among downhill skiers on the world cup circuit, the Hahnenkamm, which steepens to an insane gradient of 80%, will provide runners with the ultimate opportunity to test their bravery.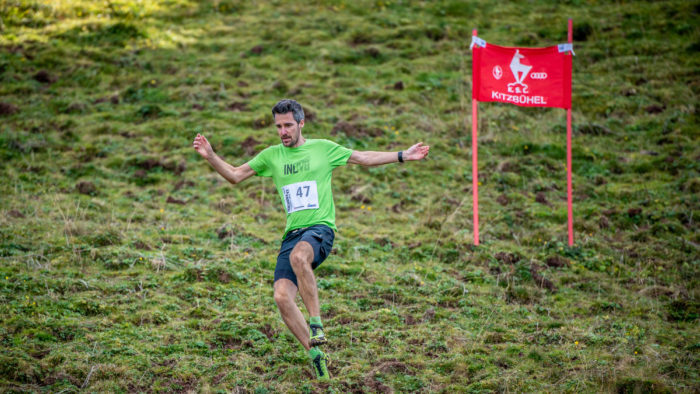 inov-8 COO Michael Price said:
"It's got to be one of the most innovative and, although relatively short in distance, toughest sporting events in the world.

"Last year saw hundreds of spectators line the legendary slope and watch on as runners got to grips with the demanding 350m long slalom-style course. This year we're expecting even bigger crowds and even faster speeds!"
Starting from the iconic ski gate at the top of the mountain, runners will propel themselves down the slope at 30-second intervals. Between them and the finish line below will be a series of ski flags which they must weave round.
Each runner will get two attempts at the course, with their times added together to decide the final results. The male and female winner will each receive €300.
Last year's victors were Daniel Hauser and Lisa Kroll, who also hold the course records at 54:65secs and 1min 22:18secs respectively.
Here's a taster of what runners can expect:
It's important to note that no runners were injured during the making of that film!
Price added: "To tame the Hahnenkamm, runners will need total commitment and lots of underfoot traction. Our graphene-enhanced running shoes, like the MUDCLAW G 260, offer the world's toughest grip to those racing the world's toughest downhill."
For more details, or to enter the 2019 inov-8 Descent Race, visit: www.inov-8.com/descent
Header image copyright inov-8/Michael Werlberger