Lucy Murigi and Loic Robert set new course records on their way to victory in the 22km Zumaia Flysch Trail race as part of the 2022 WMRA World Cup.
Murigi's victory in the women's field means she confirmed a first-place finish in the 'Long' category of the World Cup, while Robert claimed second place in the men's field. Both made progress in the overall World Cup standings, which concludes at KV Chiavenna-Lagunc on Saturday.
Masterful Murigi makes history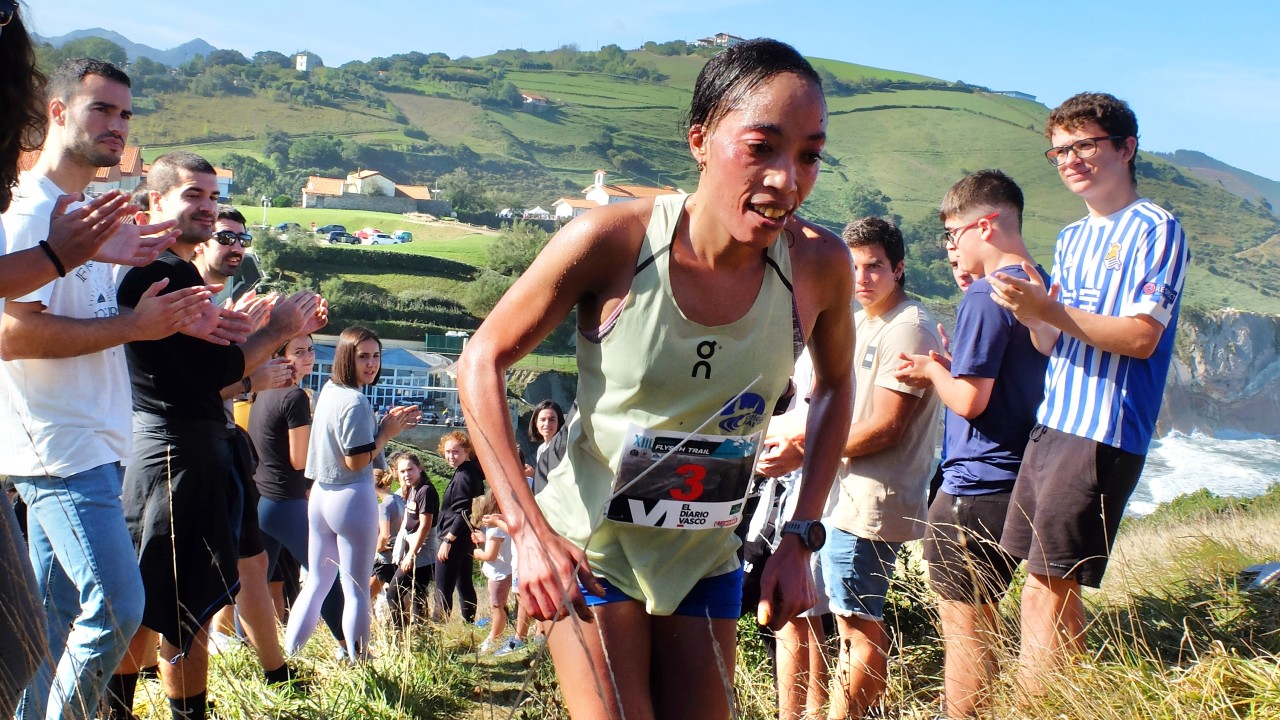 In the picturesque Basque Country, amongst the brutally beautiful cliffs and greenery of the Basque Coast Geopark, all eyes were on the runners who climbed the 850m of the Zumaia Flysch Trail.
None were more impressive than the two-time World Champion Lucy Murigi. Only able to manage second place in the 2021 edition of Zumaia, it was clear from the start she sought to rectify that this year.
Leading from near start to finish despite being heavily chased by the Basque runner Oihana Kortaz, the Kenyan proved too good, both for her opponents and the previous course record.
"I was pushing myself to the limit to beat the record," Murigi said after the race, "When I tackled that strenuous climb [at Ermita de San Telmo] I hardly noticed it as the crowd cheers just made me fly through it."
She crossed the line in 1:39:49, almost four minutes of Kortaz who was followed 18 seconds later by third placed Camilla Magliano.
Robert rises to claim record
Like Murigi, Robert was the dominant racer from beginning to end.
The Frenchman arrived at the Zumaia Flysch Trail off the back of a record-breaking victory at Canfranc-Canfranc last month, and he looked to repeat the feat on the hilly Basque coast.
Benefitting from the dry weather and clear sky, the Frenchman was buoyed by the crowds as he climbed and ran his way to victory.
Robert finished in 1:28:41, eight minutes faster than the previous record and over 4 minutes clear of second placed Raul Criado. Basque runner Hassan Ait Chaou finished 49 seconds further back in third.
State of play
Murigi's victory secured a table-topping finish in the 'Long' category of WMRA World Cup, while Robert confirmed second place in the men's category, Petro Mamu unable to be caught.
Both also made further headway in the overall categories. While both the men and women's overall titles are already decided, with the leads of Patrick Kipngeno and Joyce Njeru mathematically unassailable, Murigi and Robert both made progress; Murigi climbed to second while Robert remained fifth but could finish on the podium if results go his way at KV Chiavenna-Lagunc.