Do you ever wonder what Olympic gold medallists do after they retire? When all that structured training, all the carefully calculated meals and travel plans are no longer a part of their day-to-day life? Often at quite a young age. They must still be looking for that next sporting challenge, right?
It's great to hear that for Olympic gold medallist and three-time World Champion Dani Rowe (née King) that next sporting challenge involves helping us! After retiring from her stellar cycling career, aged 28, in December 2018 she took a bit of time out, then decided to incorporate running and swimming (as well as cycling) into her future challenges. The London Classics (London Marathon, Ride London and Swim Serpentine) and Manchester Half Marathon are among her plans for the rest of this year. Tri-sports retailer, Wiggle, and dhb sportswear have announced partnerships with her and she'll be offering us tips for our own running as part of this.
Dani will be using her expertise as a former professional cyclist to provide insight on how to prepare mentally and physically for gruelling sporting events. She will deliver regular updates on training plans and progress into her multisport experience through Wiggle's website and social media channels, which she hopes will inspire others to take up a new challenge.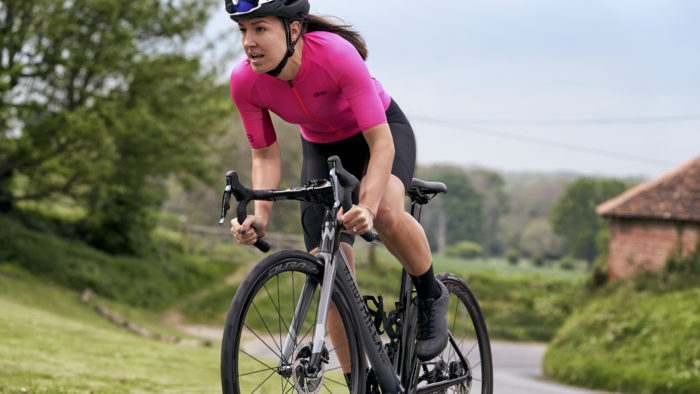 Dani was due to take part in the 2019 London Marathon but a stress fracture during training cut short her plan. As a result, she will be completing the London Marathon in 2020 and is participating in The Wiggle Manchester Half Marathon, on Sunday 13th October 2019, as part of her training plan.
Dani commented: "I've never been one to shy away from a challenge and I always wanted to stay close to sport even in my retirement. Through my journey I want to inspire others, particularly women, to take on a new challenge in their life, whether it is a 5k parkrun or a multi-day cycling race, I hope to get people on the bike, out on the road or in the water.
My relationship with Wiggle goes back to my days with the Wiggle HIGH5 team between 2013 and 2016, I know what a great brand they are and I'm excited to be working with them on my next step."
A Wiggle spokesperson commented: "Wiggle is proud to support Dani on this new chapter of hers. The London Classics are an iconic sporting challenge in the UK, and we can't wait to keep our loyal customers and followers up to date on her progress."
To find out more about the Wiggle Manchester Half Marathon visit: https://www.manchesterhalfmarathon.com/home/
Join Dani and sign up for the Wiggle Manchester Half Marathon now!