MORE UP TO DATE ARTICLE ON PAUL'S PROGRESS HERE! 
UPDATE TUESDAY EVENING: ANOTHER STRONG DAY. WE WENT OUT TO SUPPORT PAUL TODAY AND HE'S STILL MOVING INCREDIBLY WELL. 54 WAINWRIGHTS LEFT! WE'RE BRINGING YOU A FULL UPDATE TOMORROW MORNING. 
UPDATE ON TUESDAY MORNING: PAUL STILL GOING STRONG WITH AROUND 70 WAINWRIGHTS LEFT! HE LEFT PATTERDALE AFTER A FEW HOURS OF SLEEP AND IS ON HIS WAY TOWARDS HELVELLYN.
Early on Friday morning (14th June) Paul Tierney set off to attempt to break the record for summiting all of the Wainwrights. If you're not aware of the scale of this feat, it involves visiting 214 summits and to get to them (and it's a pretty big challenge to work out the best route) you have to cross around 318 miles of ground with around 36,000m of ascent. As challenges go, they don't come much bigger in the UK.
The current record is held by Steve Birkinshaw, who did it in 6 days 13 hours and 1 minute. Might that 1 minute become important? It looks like it might because it's very close! As we write Paul is about 3 days and 5 hours into the attempt and he's been hovering between 30 minutes and 45 minutes ahead of the record for the last day or so.
But everything can change, especially the weather, and Paul endured some heavy showers on Sunday afternoon, then some big downpours and very difficult conditions into the night. We went to see him on Helm Crag yesterday afternoon (that's where the header photo for this article was taken) and the skies suddenly opened. This will just make things a little bit more challenging. But as an inov-8 ambassador Paul has kit which was designed to stand up to the worst weather that the Lake District can throw at you!
At the time of writing we estimate that Paul has around 98 summits left to visit (having completed around 116). He should tick off most of the Wainwrights on the eastern fells by the end of today (Monday), then he will head back towards Helvellyn before heading north and then working his way to the west via Skiddaw, before mopping up all the remaining Wainwrights on his way down to Buttermere, then back up to Keswick. He's got 3 days to do it.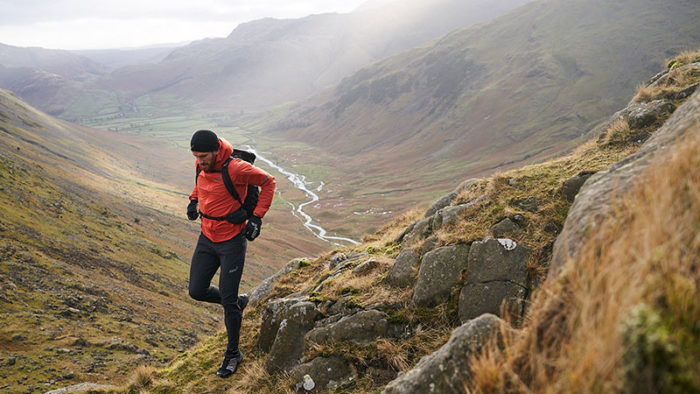 Challenges like this really seem to bring all that's good in the running community to the fore. There are so many people out on some pretty inaccessible fells cheering Paul on! He has an amazing team of pacers helping him along the way – he always seems to have 4 or 5 runners with him in all the photos I've seen, whatever time of day or night. He's got a support team meeting him at points during the day, to feed him, give him a massage and let him rest and sleep. The current record holder, Steve Birkinshaw, is also supporting him in his attempt to break his record, which I don't think you'd see in many other sports.
Most of all it's fantastic how challenges like this come to the attention of  a much wider audience. People who would usually have little interest in fell running or this Irish guy are now captivated by this amazing thing he's doing. The record attempt is getting interest from national media and hopefully this will also highlight an important cause that Paul is supporting.
Paul is raising funds for the charity MIND, which gives support to those experiencing a mental health problem. He's doing this in memory of his friend, fellow member of Ambleside AC and fantastic runner and triathlete, Chris Stirling, who sadly died earlier this year. Here is his fundraising link. He's aiming to raise £10,000 for this very good cause and, like the number of summits he needs to visit, he is just over halfway there, so please support him if you can.
Read more about Paul's challenge and keep up to date on his progress via the inov-8 blog.