Earlier this summer many of us spent a week tracking Paul Tierney's progress as he set his amazing new record for summiting all the Wainwrights. Paul used the challenge to raise funds for MIND and now his custom Wainwrights map has been sold at auction for the charity.
The special map was used during Paul Tierney's recent ascent of all the 214 Wainwright summits in just six days, six hours and five minutes.
Printed for the occasion by Harvey Maps, the map was autographed by Paul and put up for auction by Jonathan and Caroline Kaye of the Cedar Manor Hotel who helped sponsor the challenge. It was bought by Nigel Braithwaite from Penrith, a runner who went out twice onto the fells to see Paul ticking off the tops.
The map has the route outlined as created by Steve Birkinshaw who set the previous record for the challenge in 2014. Only two other copies of the map were made; the others are owned by Steve and Paul.
The winning bid of £350 from the sale at 1818 Auctioneers will go to the mental health charity, MIND. Paul used his run to raise funds for MIND, and to raise awareness of their work giving support to those dealing with a mental health problem, in memory of his friend Chris Stirling. He raised an incredible £31,000 and you can still donate HERE.
The map was used throughout the run at the Ambleside HQ from where Paul's run was monitored, and from where his supplies – and his team of pacers – were co-ordinated.
Jonathan Kaye, himself a runner who is in the process of ticking off the Wainwrights "one at a time" said that the challenge had gripped the imagination of everyone who loved the Lakeland hills. He said:
"It was a truly remarkable piece of fell-running history. And we really want to support the charity to raise awareness of mental health issues, particularly among the fit and active."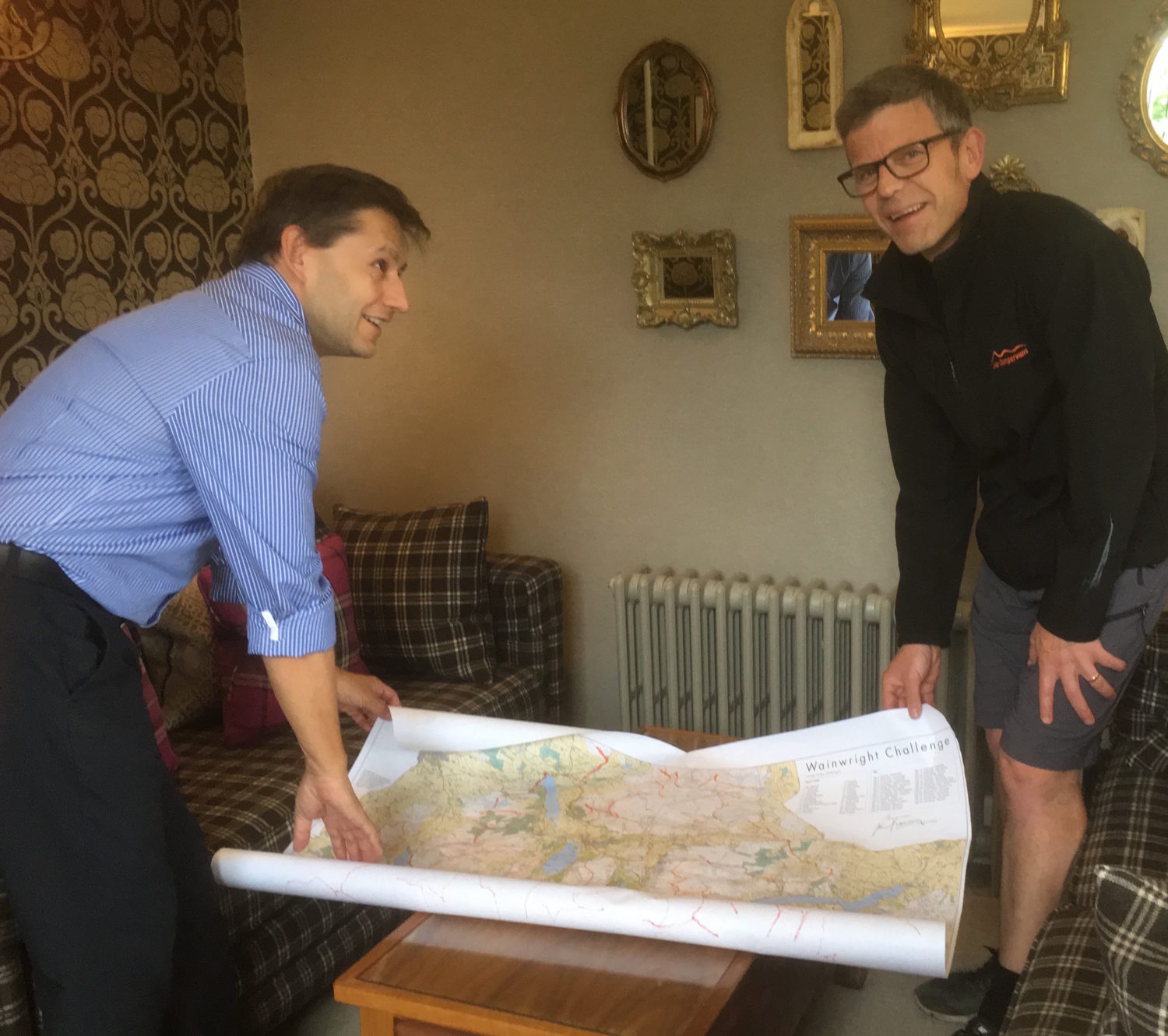 He handed over the map to Nigel who said he planned to have it framed and hung on his wall at home. A great fan of the Lakeland fells, Nigel runs Braithwaites Garage and Lakes Campervans, and his vans for hire are named after his favourite hills: Raven, Kidsty and Dollywagon.
He said: "The map is a record of a fantastic achievement and it's good that the money is going to a charity."
Harvey Maps gave their blessing for the sale, saying "Auctioning the map to raise money for MIND is an excellent idea. It is a really unique memento of the challenge."