Paul Tierney has done it! After 6 days and 6 hours, he has summited all 214 Wainwrights, traversed 318 miles of often rough Lake District ground and ascended 36,000m of fells. He arrived back at the Moot Hall in Keswick at about 2pm on Thursday 20th June, to be greeted by appreciative crowds and a certain Joss Naylor, who held this record for 28 years before Steve Birkinshaw broke it.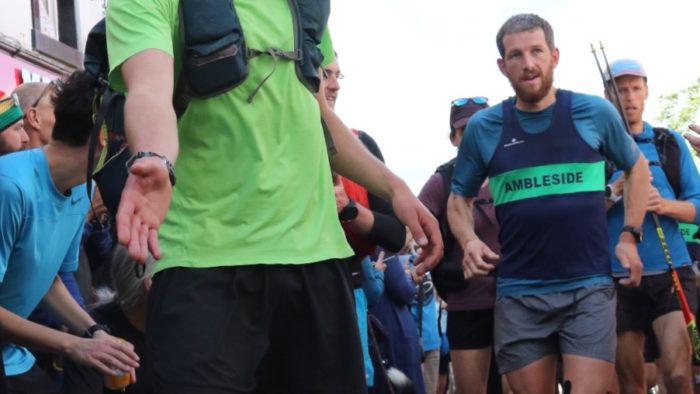 It's so hard to put an achievement like this into perspective. If you look at the live tracking map it's a maze of red (and now blue) lines which look more like a network of arteries around a human body than a running route. And if you look at how little rest he's had during the 6 days it also brings it home. One day of this challenge would be unimaginably tough, to do it day after day on such little rest is mind-blowing.
It's difficult to appreciate the elevation that Paul has ascended on the tracking map. There have been a lot of 700, 800 and even 900m peaks that Paul has had to scale. You can compare it to some of the big European races (for example, Tor des Geants, which Paul has completed twice, has 24,000m of ascent) but this is the Lakes and there are no 2,500m peaks here! To reach a total of 36,000m necessitates a ridiculous number of ups and downs.
Paul seemed to keep moving well throughout the 6 days, and in fact on the last day he was quicker than expected, but he was in a huge amount of pain at times. The sheer will he showed in just keeping going through a level of pain, suffering and fatigue few of us will ever experience is nothing short of astounding. This is one of the most impressive endurance challenges we may ever see. How do you keep going when everything in your body and mind is screaming at you to stop?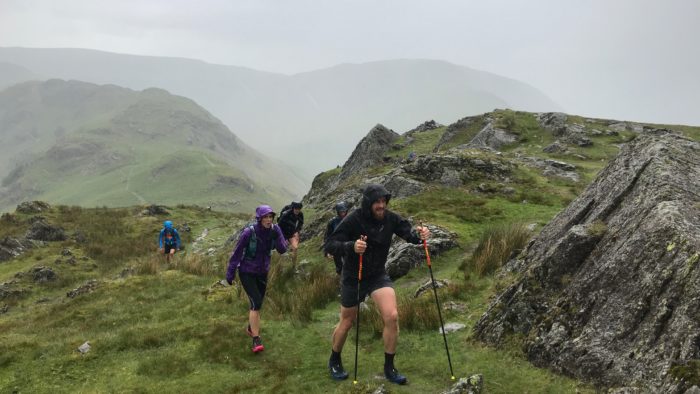 While the sun was shining at the finish, the weather was pretty changeable throughout the challenge. For the first few days there were some high winds and a lot of rain, with a cold wind chill on the summits. There were some very difficult conditions, particularly at night. Just one more aspect to add to this challenge.
The previous record of 6 days, 13 hours and 1 minute was held by Steve Birkinshaw. Steve helped Paul to break his own record, both in the planning stages and he was out navigating for him and generally supporting him.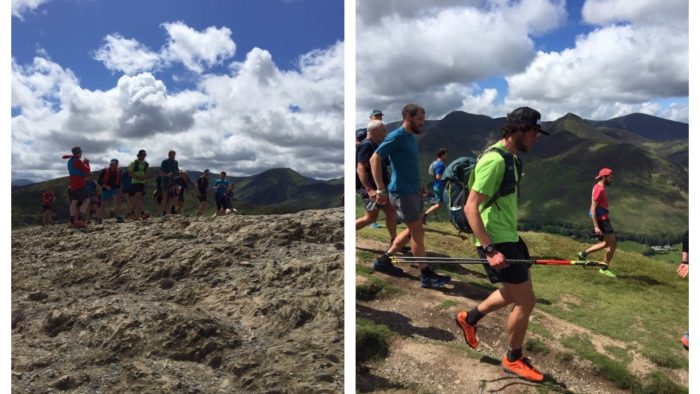 There have been so many people out supporting inov-8 ambassador Paul on the fells and at the road crossings and so many members of the local fell running community have come out to run with him and navigate legs. There's been so much support for this runner in this sport which rarely gets much media coverage. It's captured the nation's attention in a similar way to Jasmin Paris winning the Spine, perhaps because people just can't comprehend how it's possible. A nation has watched his dot and sucked up all possible information on social media. I'm sure that many people won't necessarily 'get it' in terms of the specifics but if it inspires them to get out running, or to think that maybe they are capable of a bit more than they think they are, it's all great!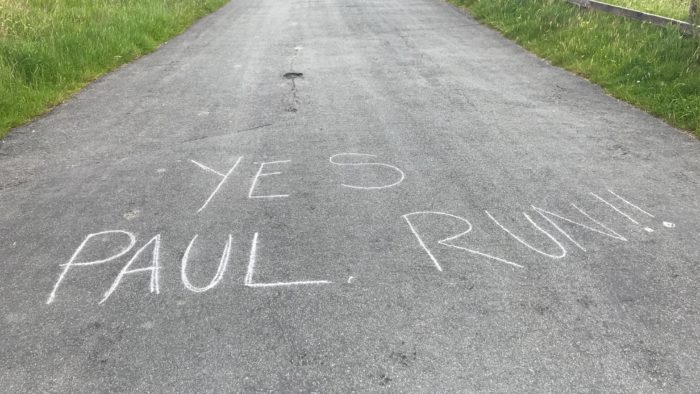 And what I love about this challenge is just the overwhelming positivity surrounding it. It's brought out everything that's good in the running community, the local community and far wider. Without exception everybody seems to have been supportive and been willing him on. The team around Paul have been amazing. They've looked after his every need and kept him eating, drinking and moving. When we were out with him the other day one of his pacers said 'why don't you celebrate reaching this summit with a few bites of scone?'. He's been well looked after.
You won't meet a more modest runner than Paul, and while he doesn't seem entirely comfortable with all the attention on him (he's been completely focussed on the job in hand), he's going to have to get used to it for a while! A little bit of history has been made in Cumbria today and we could not have been happier to witness it. Paul Tierney, Ambleside AC and Irish international runner, super nice guy and now Wainwrights record holder, we salute you!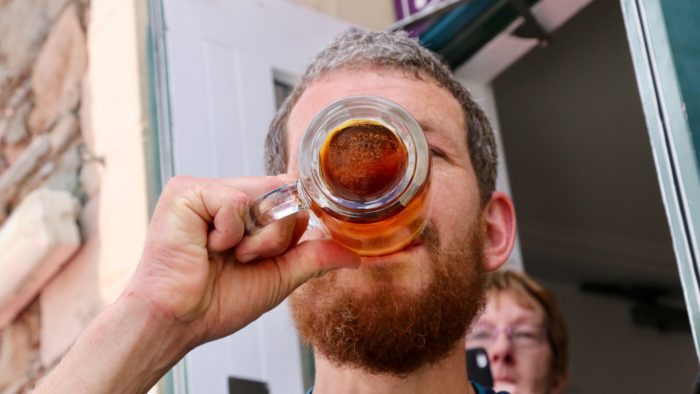 You can still donate to the charity Paul is supporting: Mind, which gives support to those experiencing a mental health problem. He's doing this in memory of his friend, fellow member of Ambleside AC and fantastic runner and triathlete, Chris Stirling, who sadly died earlier this year. Here is his fundraising link. Paul finished the run wearing Chris's Ambleside AC vest in a poignant tribute to his friend.
Next question: no woman has taken on this challenge yet? Will we see it happening soon?