10 years seems like a very long time ago. Barack Obama was President and Donald Trump was just a man with funny hair who could do no real harm to the world. 10 years ago also marked the beginnings of one of the key UK marathons – Brighton Marathon.
On 18th April 2010 7,427 runners took to the streets of Brighton, as well as 500 runners in the Mini Mile. Since then it's grown and grown, and with the addition of the BM10k and BM Ride and bespoke Event Village on Brighton Beach, 20,000 people now take part in the events and 125,000 visit the Event Village during the weekend. Brighton Marathon is now the 8th largest marathon in Europe, attracting runners from all over the world, many of whom raise huge sums for charity. Runners return year after year and this year will see a number of runners completing their 10th Brighton Marathon and receiving a special 10/10 medal and t-shirt.
Run247 has been a supporter of Brighton Marathon right from the start, so we thought we'd take a look back at that first event in 2010. Our very own 10 year challenge.
So what were the stories of that first Brighton Marathon? Steve Ovett started it, so it must have been pretty exciting to have that icon of 80s running fire the gun. Joanna Bryce won the women's race in 3.04.55 and the men's was won in 2.19.05 by Serod Baotochir. Third place in the men's race was taken by a certain Chris Thompson in his first ever marathon. Fast forward to 2019 and after years of the race getting ever more competitive the course records stand at 2.09.25 for men (William Chebor 2014) and 2.28.50 for women (Eunice Kales 2013).
But one of our favourite memories of the first Brighton Marathon was about two men whose hopes of running that year's Boston Marathon were dashed by the ash cloud (remember the ash cloud?). They were raising money for the Dame Kelly Holmes Trust and they were determined to run a marathon to make sure the charity got their funds. Here's what happened next.
Run247 in conjunction with Running Fitness Magazine actually created a special commemorative postcard for the first Brighton Marathon. Does anybody still have one of these?  We'd love to hear from you.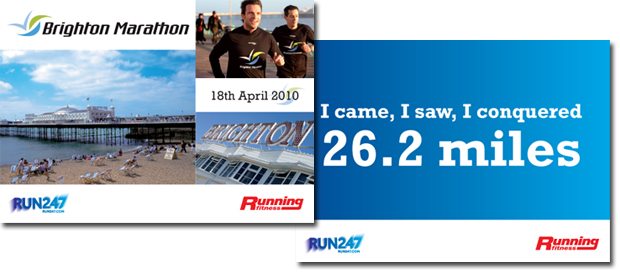 Did you run the first Brighton Marathon? Are you running this one? Event Director Tom Naylor says,
"Every year we are truly grateful to all those who return to show their support or take part again. We would like to say a special thank you to those that have been with us since the very beginning; it is an honour to welcome you back. Above all, we are humbled by the sheer volume of people that have been able to positively change their lives or the lives of others, through taking part. Whether fundraising for charities, volunteering or improving their own health & fitness, many thousands of people have found strength, inspiration and motivation at the Brighton Marathon Weekend. We look forward to building on the last ten years to continue to make the Brighton Marathon Weekend a bigger and better event."
Find all the information about Brighton Marathon on their website. Good luck to all those taking part this year!
Running your first marathon this Spring? You might find some helpful tips (especially on what NOT to do!) HERE.