Lawrence Cherono, one of the world's most successful marathon runners, will take on distance running great Kenenisa Bekele at The Vitality Big Half in London on Sunday 1 March.
Cherono, who has been selected to represent Kenya at the 2020 Tokyo Olympics, is the reigning champion of both the Boston Marathon and the Bank of America Chicago Marathon and has an incredible record of eight wins in 11 races over the 26.2 mile distance.
At The Vitality Big Half, which starts close to London's iconic Tower Bridge and finishes at the world famous Cutty Sark in Greenwich, Cherono will provide a stern test to Bekele, the current world record holder for 5000m and 10000m and the second fastest marathon runner in history.
Sadly there will be no Sir Mo Farah in The Vitality Big Half in 2020. Farah has withdrawn from The Vitality Big Half 2020 due to a minor Achilles injury sustained in training. He said: "I was really looking forward to racing The Vitality Big Half again. Everyone knows how much I love racing in London, but my priority is to be fit, healthy and competitive for the summer season and for that reason I have had to make the tough decision not to race this year. I definitely hope to be back again in 2021."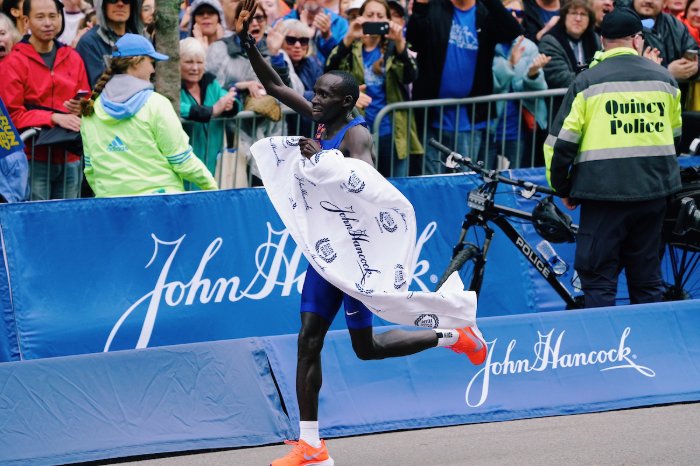 Both men will use the race as a crucial preparation for upcoming marathons. Bekele is working towards a mouth-watering match-up between himself and marathon world record holder Eliud Kipchoge on Sunday 26 April. Cherono will defend his Boston Marathon title six days earlier on Monday 20 April.
As well as Cherono and Bekele, the reigning Rotterdam Marathon champion Marius Kipserem (KEN) and a host of leading British athletes including Chris Thompson, Dewi Griffiths and Ross Millington will race in this year's event. Sir Mo Farah, who withdrew from this year's race due to injury, has won the previous two editions.
Cherono, 31, said: "I am really looking forward to coming to London to run in such a high-quality race as The Vitality Big Half and I'm thankful for the opportunity. It is exactly the test I was looking for as I prepare for the Boston Marathon and I am sure it will be a great race."
Full list of The Vitality Big Half elite men's field
| | | | |
| --- | --- | --- | --- |
| First Name | Surname | Country | PB |
| Kenenisa | BEKELE | ETH | 60.09 |
| Lawrence | CHERONO | KEN | 60.49 |
| Chris | THOMPSON | GBR | 61 |
| Dewi | GRIFFITHS | GBR | 61.33 |
| Jake | SMITH | GBR | 62.02 |
| Marius | KIPSEREM | KEN | 62.2 |
| Mohamud | AADAN | GBR | 62.3 |
| Ross | MILLINGTON | GBR | 62.4 |
| Andy | VERNON | GBR | 62.46 |
| Ollie | LOCKLEY | GBR | 63.01 |
| Jack | GRAY | GBR | 63.15 |
| Daniel | STUDLEY | GBR | 63.58 |
| Derek | HAWKINS | GBR | 64.07 |
| Paulos | SURAFEL | GBR | 64.12 |
| Joshua | GRIFFITHS | GBR | 64.23 |
| Joshua | GRACE | GBR | 64.27 |
| Robbie | SIMPSON | GBR | 64.27 |
| Charlie | HULSON | GBR | 64.28 |
| Nick | GOOLAB | GBR | 64.34 |
| Jonathan | THEWLIS | GBR | 67.2 |
| Derek | RAE | GBR | 68.22 |
| Adam | CLARKE | GBR | Debut |
Full list of The Vitality Big Half elite women's field
| | | | |
| --- | --- | --- | --- |
| First Name | Surname | Country | PB |
| Lily | PARTRIDGE | GBR | 70.31 |
| Hayley | CARRUTHERS | GBR | 71.03 |
| Eleanor | DAVIS | GBR | 72.34 |
| Clara | EVANS | GBR | 72.49 |
| Tish | JONES | GBR | 72.55 |
| Stephanie | DAVIS | GBR | 72.57 |
| Rebecca | MURRAY | GBR | 72.59 |
| Jenny | SPINK | GBR | 73.01 |
| Samantha | HARRISON | GBR | 73.07 |
| Dani | NIMMOCK | GBR | 74.13 |