It was the Vitality London 10,000 yesterday and it had the biggest ever field with 19,465 runners crossing the finish line! Almost 700 of whom were running in their underwear to encourage people of all shapes and sizes to have the confidence to run!
At the front of the field Steph Twell and Sir Mo Farah retained their titles. It was a second win for Twell and an incredible seventh win for Sir Mo.
Twell set off fast and built up an unassailable lead that grew with every step. This was hot on the heels of setting a Guinness World Record for the fastest road mile holding hands with husband Joe Morwood the previous day! Twell passed halfway in 15:33 and eventually won in 31.55 by nearly 40 seconds from Stockport's Jess Piasecki with Verity Ockenden of Swansea taking third.
In the end Farah's win was easy enough but the four-times Olympic champion was pushed hard by Rio Olympian Andy Butchart and former British Mile champion Nick Goolab before prevailing in 28:15. Goolab led the trio through halfway in 14:08 before he dropped back, but Butchart hung on until the last two kilometres, when Farah finally kicked away and put more than 100m between the pair.
Daniel Sidbury and Shelly Woods both made it two wins in two days as they added the British 10K wheelchair titles to their Vitality Westminster Mile victories from Sunday afternoon.
Further back in the field nearly 700 women ran the race in their underwear to support the 'Celebrate You' campaign kicked off by journalist Bryony Gordon and mental health advocate Jada Sezer. The pair ran the Virgin Money London Marathon in bra and pants last year to celebrate women's bodies and boost the confidence of women of all ages, shapes and sizes.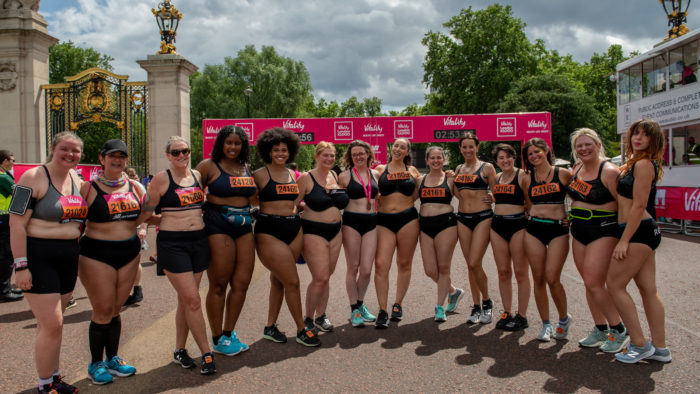 "It was emotional, really incredible," said Sezer afterwards. "We just want to show that anyone can do this, whatever their size or shape. People have turned out for us in their thousands. It's amazing. It's empowering to show the world that these are our bodies and we are proud of them."
"It was great to do it with so many other women," added Gordon. "It was not about getting a time, it's about having fun and showing that we don't need to be ashamed of the way we look."
It was a message endorsed by Britain's 2012 Olympic heptathlon champion, Dame Jessica Ennis-Hill, who started the races this morning and greeted the Celebrate You founders at the Finish Line some three hours later.
"They are so brave," said Ennis-Hill, an ambassador for race sponsors Vitality. "I wouldn't run half-naked round my house and they've run round London in their knickers. It's an amazing campaign and so important for women's body confidence. Hats off to them."
Heidi Gowthorpe, a 26-year-old folk rock musician from Camden, was just one of those who'd been spurred to take up running by Gordon and Sezer's inspiring call.
"Twelve weeks ago I couldn't run for five minutes and now I've just run 10K in my underwear. It's beyond awesome," she said, her first name emblazoned across her backside in keeping with the Celebrate You style. I hate running, I'm asthmatic, I've never done anything like this before, and yet I've done 10K in under an hour.It's so important for us women to take back our bodies and show that we don't all look like supermodels, and that's OK. It's amazing to see so many of us – all sizes, colours, shapes and sorts."
Find out more about the race HERE
See results HERE
Header image copyright Vitality London 10,000