The weather this weekend created pretty challenging conditions for runners and even more so for race organisers. But many races went ahead and a huge amount of respect is due to those who organised, ran and spectated them!  One race which took the brunt of some very wet, windy and cold conditions was the Aldi Chester 10k on Sunday but even so nearly 4,000 runners and an army of hardy spectators took to the streets. They are made of tough stuff up there.
The race started at the Northgate Arena, headed out to Mollington and returned to town via Northgate Street to a noisy reception from the crowds at the Town Hall square finish.
Three men pulled ahead early on in the race with Patrick Townsend only being dropped by Tomos Roberts of Meirionydd RC and Jamie Arnold of City of Stoke AC in the final stage when it became a battle for dominance in the finishing straight. Tomos triumphed in a time of 31:49 closely followed by Jamie (31:50) with Patrick coming home in 32:26.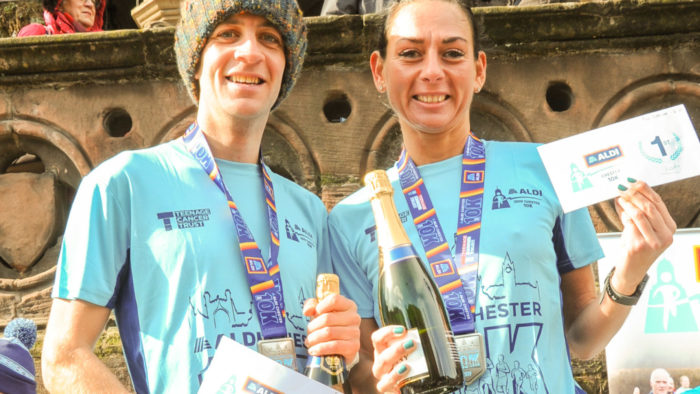 The first woman to cross the line was Faye Lightowler of Pontefract AC who finished in a time of 36:49 followed by Carol Parsons of Ellesmere Port RC (37:35) and Helen Sahgal of Liv Pembroke & Sefton Harriers AC (38:35).
"From what runners have told us it is clear that a massive thank you is due to the local communities, especially those of Mollington and the Garden Quarter for their vocal and enthusiastic support," said Joint Race Organiser Andy White. "We are glad that lots of people made the effort to turn out to support the runners."
Active Leisure Events expect their three races this year to raise £1m overall for Chester based local and national causes.
For more information on the Essar Chester 2019 Half Marathon and its sister event the MBNA Chester Marathon visit www.activeleisureevents.co.uk.