Hot off the Saucony press is a release about their fastest ever shoe, the Endorphin Pro. Priced at £190 it could also be one of the most expensive shoes out there. If their claims are correct it turns out you can put a price on speed.
Here's what Saucony have to say about the launch of their new shoe.
Looking to chase PBs and become a faster version of yourself? Then Saucony has the answer. Introducing the all new Endorphin Pro – its fastest ever running shoe.
The Saucony Endorphin Pro has been engineered in collaboration with elite athletes and designed and built to give everyday runners a fair advantage at the starting line. Simply put, this shoe is quick, very quick.
Whether you are aiming to improve your mile split or finally achieve that sub-three marathon dream, the Endorphin Pro has been created using cutting-edge technology and innovative performance materials to provide the marginal gains that will ensure runners get to maximise their post-race high and sense of achievement.
These shoes weren't made for chasing personal bests. They were designed for smashing them.
Roll to a new PR
Saucony's revolutionary SPEEDROLL Technology propels you forward with the feeling of continuous momentum. Its two core variables are elevated cushioning and a stiff forefoot, which together result in an instantly responsive ride so you can run faster, not harder.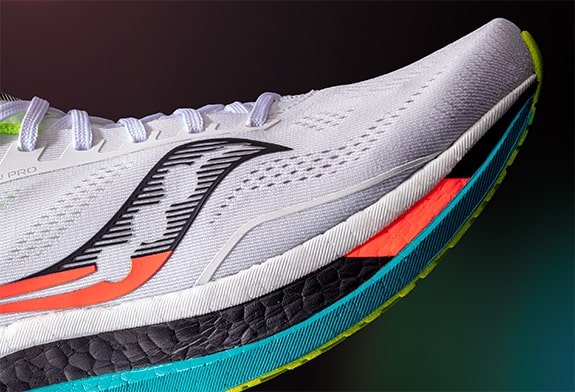 Fastest to the finish
The Endorphin Pro combines ultralight and responsive PWRRUN PB cushioning with Saucony's signature S-curve carbon fibre plate for maximum SPEEDROLL effect. Getting more out of each stride makes running at top speed feel easier, so you get to the finish line faster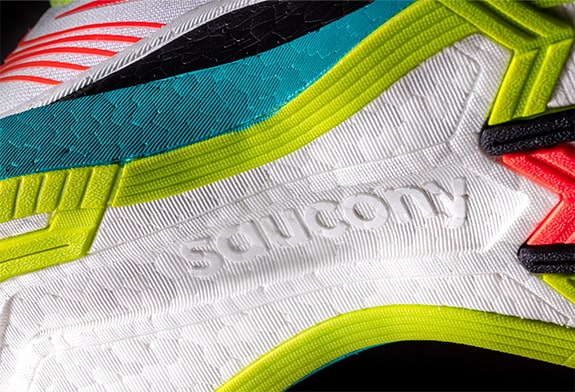 Race-day fit
FORMFIT wraps the foot in 3D comfort and ensures a personalized, locked-in fit for optimal performance. This is coupled with a hyper-light engineered mesh in the upper, so you get the support, comfort, and ventilation you need to run at your best.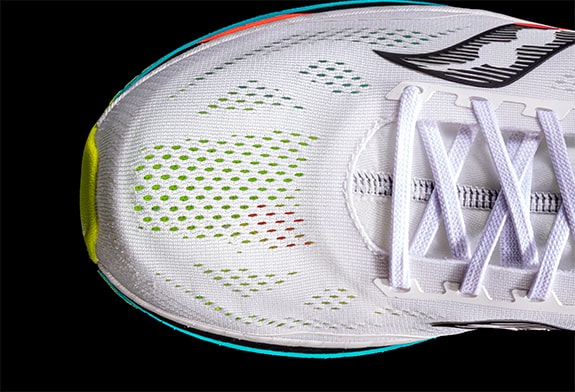 Added comfort and breathability comes with the inclusion of a single-layer engineered mesh upper that keeps the shoe light and breathable, while the XT-900 outsole with reinforced high-abrasion zones provides optimal traction and durability.
Aiming to leave a lasting impression not just with its speed, the Saucony Endorphin Pro comes in a distinctive White Mutant colourway for both men (213g) and women (179g).
Gareth Lloyd, Saucony UK Marketing Manager comments: "In simple terms, this is testing process – harnessing the brand's expertise and heritage in running to reimagine the difference a running shoe can make.
"We are delighted to empower runners to go faster with the Endorphin Pro and are looking forward to seeing new personal bests across the board."
The Endorphin Pro will be available to pre-order from selected retailers from May 18th and is priced at £190. To find out where you can purchase Endorphin Pro please go to their website HERE.
Join the running conversation @SauconyUK #EndorphinPro #RunForGood