It was the Salomon GoreTex MaXi-Race in Annecy at the weekend and, as ever, it didn't disappoint. 8500 runners from 50 countries took part in races over the weekend. The order of events was the 116km Ultra Race, the 85km MaXi-Race and the Femina-Race on Saturday, then the marathon and the short race on Sunday.
The Ultra
The Ultra, which had 7360m of ascent, set off at 1.30am. It's only the second time that they've run the ultra there, having added it as an additional race last year. The lead group included Julien Chorier, Romain Olivier and Yan Longfei, but all eyes were really on Mimmi Kotka for this race. Having won MIUT in decisive fashion recently, as well as the TDS in 2017 and CCC in 2016, she was the hot favourite. She was in 10th place at the first checkpoint, but then proceeded to move up the field, making her way to 6th by 64k. By this point Romain Oliver was in the lead, with Francesco Cucco in 2nd place. Kotka continued to overtake runners and she finished in an incredible 3rd place. Behind Mimmi Géraldine Prost was 2nd and Elise Delannoy 3rd.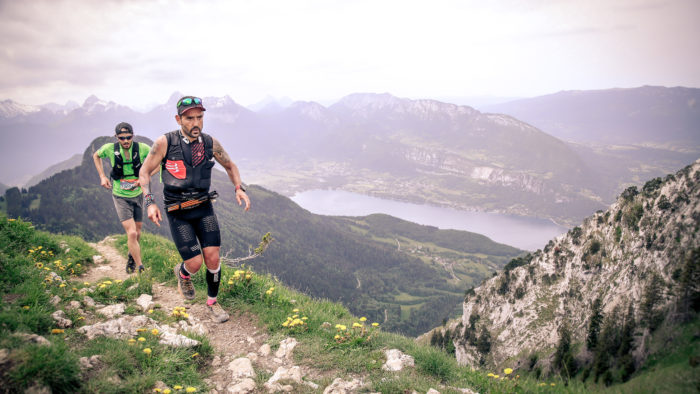 The MaXi-Race
In the MaXi-Race (5140m of ascent) there was a clear lead group of men consisting of Vincent Viet, Jordi Gamito and Germain Grangier and it turned into a game of cat and mouse. The lead transferred between Vincent and Jordi, with Germain 3 minutes behind. But in the end it all came down to the final descent and Germain played it perfectly, emerging the winner!
In the women's race Katie Schide led from start to finish and finished 15th overall. 37 minutes behind her was Camille Bruyas and Maryline Nakache was 3rd.
The Marathon
The Marathon Race, which had 2650m of ascent, turned out to be another exciting one. The men's race was incredibly tight with Thibaut Garrivier, Mathieu Delpeuch, and Baptiste Chassagne finishing in quick succession. Afterwards Thibaut said "We started out really fast, so I decided to let everyone go to avoid blowing a gasket right away. I built up a big lead at the end, probably because I still had relatively fresh legs! What an incredibly beautiful but very technical course! A big thanks to race organizers and volunteers; the trail markings were perfect. I'll be back next year to run with the adults in the 85km race!"
Results from the Femina Race:
1 – Charlotte MOERMAN
2 – Emeline COUVELARD
3 – Marie JANOD
Results from the Short Race:
Men
1 – Anthony FELBER
2 – Robin FARICIER
3 – Sebastien POESY
Women
1 – Iris PESSEY
2 – Shelly SCHENK
3 – Alizee SADRY