This year's Spine Race winner Damian Hall went so close to finishing the Barkley Marathons on his very first attempt last week.
The Brit was one of four to start the fifth and final loop in the notorious Tennessee event but he couldn't quite match Aurelien Sanchez, John Kelly and Karel Sabbe, who became the first to complete since Hall's great friend and rival Kelly back in 2017.
Plenty to catch up on then when we caught up with him to learn more about the experience – here are his considered answers to our 10 questions…
Kelly the perfect companion
RUN247: You've competed in the UK's toughest race and the toughest race in the US – how do the two compare?
Damian Hall: The big difference for me is that at the Barkley you have to stay mentally alert the whole time and that's very draining, for my little mind anyway. (At the Spine you can follow signposts and a gpx trace, switch off a fair bit and just drift along). BM is torturously perverse too: the relentless wall-steep hills and loose off-trail terrain, plus the implicit invitation to quit every time you're back at Camp.
How did you approach training for the Barkley with so little time between the two races?
The priority was recovery, but that happened (based on both data and feel) faster than anticipated. Fitness wouldn't be an issue, so it was about getting some vert in and trying to sharpen up my nav.
How much of a help for you as a first-timer was there in running with a Barkley veteran like John Kelly?
It's critical to run at least the first loop with a Veteran and as his pace seemed compatible and we could chat for hours about tea it seemed a good fit. He was a great help beforehand too, showing me Frozen Head trails (though only about a third of the race is on "candy-ass" trails) and local eateries.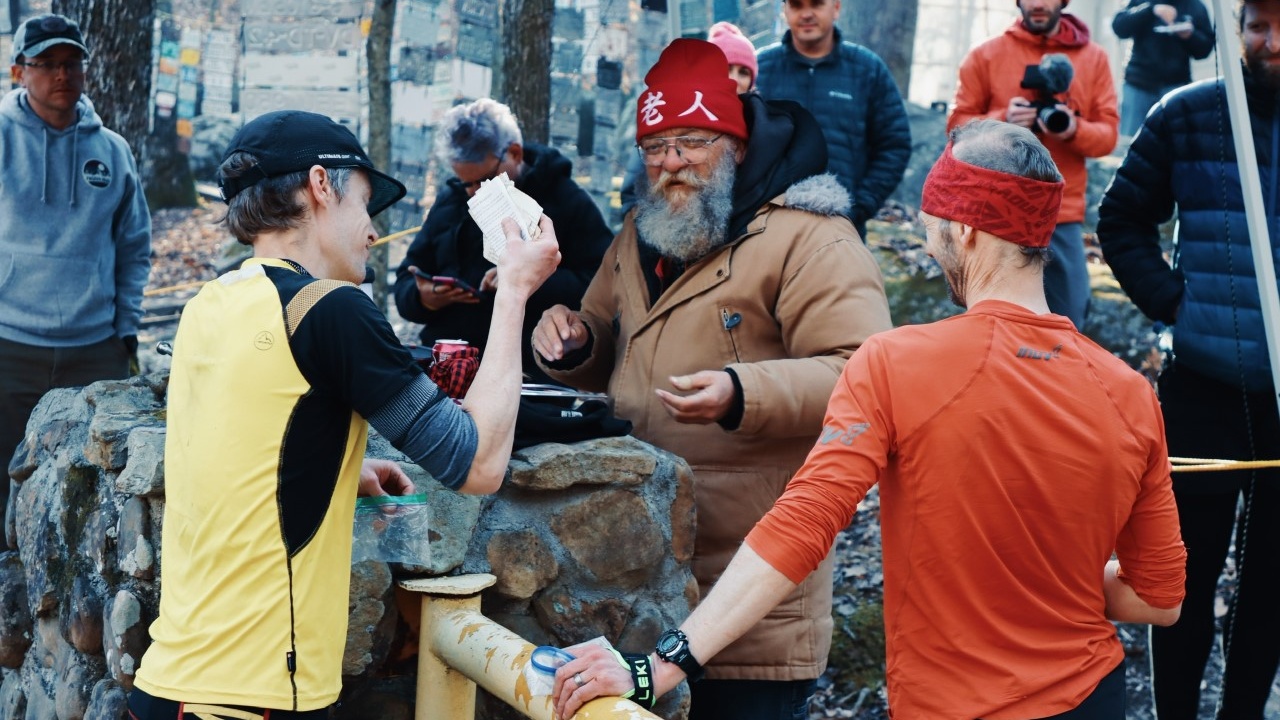 Making it count
You have extremely strong views on minimising carbon footprint and didn't take the decision to travel to the US lightly. Did this put any additional pressure on you to perform?
My mantra was "Make it count", which alluded to emissions, financial cost and time away from family. I like some pressure. I think it helped me.
On the same theme, the Barkley Marathons has become something of a global phenomenon. Do you think there is a danger that the race could become too big and threaten the preservation of the park? Are there lessons that some of the big European races could learn from keeping fields small?
Laz is only allowed 40 runners and you're not allowed at Camp without special permission or being designated crew or media, so I'm not sure it will get any bigger in terms of boots on the ground. Of course, regrettably, that makes it somewhat exclusive. I'm glad many Euro races have big fields, to keep the sport accessible.
What was your experience of Laz and the whole Barkley family?
It was more welcoming and friendly than I anticipated. I suspected it might feel a little cliquey or cultish, but it wasn't really. They're a swell bunch. Laz is very concerned about littering. And drinks tea.
You've talked about the hallucinations you suffered on the race – have you experienced this before in other races?
Yeah, a few times. They're annoying and a good sign you need a power nap (I tried three times). Also had audio hallucinations this time, hearing runners chatting away (but there was no one around) and going under the prison with Aurelien Sanchez on loop four I asked him if he'd turned a radio on… (it was the water).
Second attempt?
Will you be going back for another attempt?
That's not in my hands and I'm not sure how much I'm meant to say (but hell yeah – please Laz).
How do you go about recovering physically (and mentally) from such a tough first three months of the year?
Time with family is a great leveller. My kids don't treat me any differently if I've set a record or DNFed. It's a great reminder that they – and the future of a liveable planet – are more important than running around in the woods looking for books.
What other races and challenges have you got planned for the rest of this year?
I'm back at Tor des Geants in September, which I ruddy loved last year and before that, Cervino Matterhorn Ultrarace.