Heather Jackson has outlined her immediate and future plans in trail running as she looks to continue making waves in the sport following her switch from triathlon.
The American established herself as one of the most esteemed triathletes on the global professional circuit amid a dazzling career which included four top-five finishes at the IRONMAN World Championships in Kona.
But Jackson has now set her sights on new challenges, committing to trail running and gravel racing in 2023.
She first delved into the world of ultra running last year, finishing as the fifth female at the Javelina Jundred 100 miler in Arizona, just three weeks after her final Kona race.
Nagging ambition
In an interview with RUN247, Jackson revealed that the change from triathlon was brewing for some time before being accelerated by the coronavirus pandemic.
"I had been looking at it for a while, probably since COVID [and] even prior to COVID actually," she explained.
"In 2019 I went to Kona, I got fifth and it was amazing, my whole life had been that, for seven, eight years.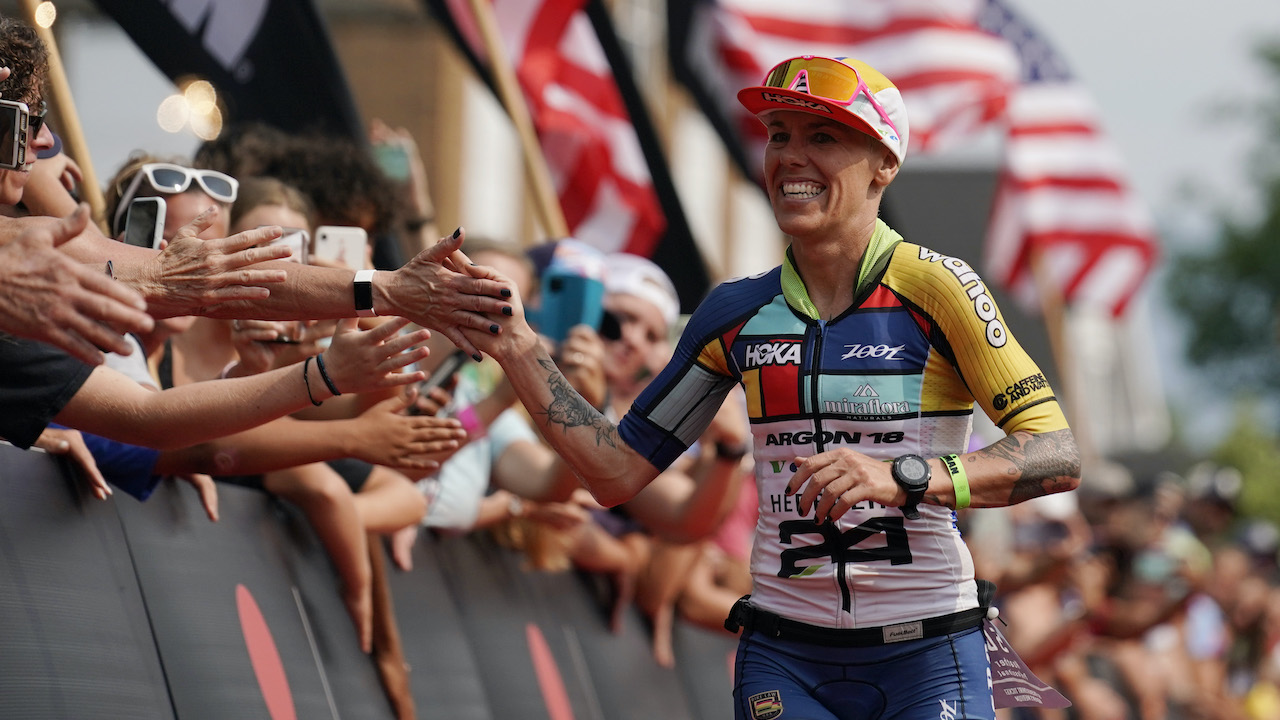 "I was looking at maybe trying some other things then, and then obviously COVID hit the next year.
"But I had gone into 2020 thinking that that would be my final Kona, give everything one last time, all eyes on October and then try some of these other things.
"And then COVID came and moving into 2021, I was like 'OK, this will be it' and then they cancelled Kona yet again in 2021, like a month out.
"Final straw"
"I think that was the final straw for me, just having the second cancellation. I was just like, 'I don't even care'. I'm going to do Kona one more time in 2022, but I wanted to try some of these other things.
"Last year I hopped into a couple of gravel races while still racing triathlon and then did a trail run at the end of the year.
"It had been a long time coming, I guess, in terms of making that step.
Jackson admitted that the allure of events such as Western States and Ultra-Trail du Mont Blanc (UTMB) was tough to resist amid a burgeoning ambition to try something new.
"The trail running, I followed Western States for quite a few years and then UTMB, some of the bigger, more well-known events," she said.
"But after I had made the decision, personally, to jump in, I started looking even more at it and just realised how many cool events are out there – there's so many things you can do.
Gut feeling
"I just found I was getting more excited looking at those things than the triathlon calendar; 'OK, which 70.3 can I go do this year'.
"I think I knew in my gut I was ready for something new and something different and a new challenge.
"I didn't know how it would feel walking away from Kona, but I actually went straight away to a gravel race and then the following weekend a trail run, last October.
"I think that just solidified for me how excited I was to go do these things because I had completely moved on from Kona and was like 'yeah, this is great, I'm so excited for these new things'."
Black Canyon podium
After Javelina Jundred, Jackson's second major trail running event was the Black Canyon 100k last month.
She produced an eye-catching performance over the 62-mile distance, challenging among the frontrunners for much of the race and ultimately finishing second, less than two-and-a-half minutes adrift of fellow American Keely Henninger.
Considering Henninger set a new course record of 8:45:30, Jackson's display was an early indicator of her potential in trail running.
She believes that her triathlon background and training has allowed to her make the transition all the more smoothly: "I can only speak for myself. I think it does help.
"I don't have that running background necessarily in terms of the pure running, logging 100-mile weeks for years on end, but I do have years of logging seven, eight, nine hour training days across the three disciplines.
"Coming into the trail running, you're used to working out basically all day. In terms of time length, I think it was comparable for me and it wasn't this crazy thing I had to comprehend, I guess.
"The first one I did was a 100-mile, that was like a 15-hour day so that was certainly longer than I've done, time-wise.
"But I just raced 100k a couple weeks ago and for me, that eight-hour to nine-hour mark is something I've been doing with IRONMAN.
"Mentally, I think, having that background has definitely paid off.
Jackson set a blistering pace at the start of Black Canyon, showing no signs of feeling her way into the race despite her lack of experience.
She says that approach is simply part of her persona and led to no unexpected effects later in the day.
"Trial and error"
"I've had a couple of people ask me about that!" she laughed. "I don't really view it that way.
"It was more, I'm just going to go out and run by feel and run like I'm heading out for a Sunday long run.
"I never really felt early on like it was going to be too fast of a pace.
"Obviously, over these races, its inevitable that you're going to slow down.
"I also am just naturally so competitive, so when the front guys take off I'm just going for it. I never, at any point, was like 'this is way too fast'.
"But it's my second one. Is there a way to accurately pace such a long day? I don't know. I guess it's trial and error right now. For me, it felt fine."
Time saving
Another aspect of Jackson's triathlon experience that is benefitting her in trail running is her attitude towards transitions.
After Black Canyon, it was remarked how swiftly she passed through aid stations, and that time-saving is something she feels is ingrained in her – even more so after Javelina Jundred.
"I always, in triathlon, come out way behind, I'm always chasing because the swim was always my weakest leg," she noted.
"For me, to always be able to find even just 10 seconds, 20 seconds, 30 seconds is important. I would lose it in the water, but in my mind, it was like 'OK, where can you make it up?'.
"You can make it up on the bike and the run but also transitions. And so I've always had that mindset of 'I need to claw back time whenever and wherever I can'.
"Then, to bring it in now to trail running, bringing that same mindset of 'OK, how fast can you get in and out'.
"The first one I did in October, I think I wasn't as focused on that, and then actually I ended up fifth. The girl that finished fourth, Kaci [Lickteig], she literally passed me with 400 metres to go.
"And so, after that race I was so mad at myself because I hadn't been as conscious and strict with my transitions.
"I could have easily – not easily, I don't want to say it that way – maybe still gotten fourth if I had just been a little bit more focused.
"We came into Black Canyon last month like 'we're going to nail transitions' so that doesn't happen again."
Proving a point
Heading into Black Canyon, Jackson had a 'Golden Ticket' to Western States already secured thanks to her sponsor Hoka, but she had shifted that firmly to the back of her mind on race day.
Given that Black Canyon was a qualifier for the iconic race in the Sierra Nevada Mountains in three months' time, she feels her podium finish justified her entry.
"I was in my mind pretending I didn't have one," she recalled. "Hoka is the title sponsor and they get two slots every year and they called me after the first [trail race] I did and they were like 'we want to give this to you'.
"It was a huge, huge honour to receive that phone call and that slot.
"That was another thing that just solidified my excitement for these new things.
"But then, I'd just done one race and I still wanted to prove my spot standing at the start line at Western States.
"I went into Black Canyons pretending I didn't have one just to try and earn it myself. Earning it was so fulfilling, for sure."
Western States anticipation
Having followed Western States as a fan in previous years, Jackson is relishing the opportunity and has asserted that she will attack the race in a similar vein to her first two trail events.
"Oh my goodness, I'm so excited," she exclaimed.
"It's so cool. And also having something new that's like this new goal.
"I'm online, looking at the profile and coming up with workouts that simulate sections of the course and watching all the YouTube videos. It's super exciting.
"I think it's going to be the same approach as the last two probably. Obviously, having done the 100k now and the 100-mile, I see the difference and what exactly is coming.
"I know now in the 100-miler and the 100k, right around the 100k mark is when things can start to fall apart, that 60–70-mile mark.
"I know that will be coming now, having done one, so how do I prepare for those final six, seven hours where the legs are going to be really hurting, the fueling, hopefully I'm up on that, what my stomach will take.
"I have that going in now, the experience, but I think the approach won't change too much."
Gravel plans
June is set to be a huge month for Jackson as she looks to make an impression in both trail and gravel racing: "Right now, I'm so focused on June because three weeks ahead of Western States is Unbound; that's probably the gravel race I'm most excited about.
"So basically the next three months are all about doing the best I can at Unbound on June 3, and then Western States is three weeks later.
"Those are the two biggest goals for the first half of this year, but prior to that I'll have some other events, a couple of smaller events.
"The first race of the Lifetime Grand Prix Series is Sea Otter, which is a mountain bike race, so that'll be my first of this year. I'm doing the whole of the Lifetime Grand Prix Series, which is seven races.
"Following June will be the rest of that series and I'm trying to plug in some other events, some other running events as well, but that might come later in the year, obviously post recovery from Western States."
UTMB "on the radar"
Jackson's full focus is on Western States when it comes to trail running, but she has left the door to a possible UTMB entry in 2024 wide open.
She is set to attend this year's event in Chamonix to soak up the atmosphere and get a feel for the mountain running scene.
"I literally am so excited just looking at the calendar and seeing so many cool events out there," she said.
"Ideally, my husband Sean [Watkins] and I will try to get over to check out UTMB, that's definitely on my radar.
"I mean I'm all in for Western States this year and then in the back of my mind I'm like, maybe next year I'll be all in to try that one out next August.
"Whether that means finding a qualifier this year or this Fall, to maybe give that one a go because I've been following that as well and it looks so cool.
"It obviously looks completely different, more the mountain running. That's on my radar for 2024.
"I feel so grateful to still be supported by Hoka. They're like you just have to get over even just to check it out, so it's definitely on our calendar to try and make it over in August even just to see it and take it all in.
"From everything I've watched, it looks crazy."
One race that isn't currently among Jackson's immediate plans is the Barkley Marathons, though she admitted she is 'intrigued' by the unique event, which was completed by a record-equalling three runners last week.
RUN247 will continue to track Heather's trail running journey in the coming months as she furthers her reputation as one of America's most talented endurance athletes.