Jodie Moss is gunning for another top 10 finish at the Marathon des Sables after battling back from injury in time for this year's race.
The British runner finished eighth at the 250km, six-day ultra in 2019 and raised over £25,000 for mental health and wellbeing charity iHeart.
She has dedicated the four years since to conditioning herself for another adventure in the Sahara desert, and claimed victory at The Druid Challenge in 2022 – her first win in ultra running.
For former triathlete Moss, her route back to the legendary Moroccan race has been far from straightforward amid a misdiagnosed injury.
But she is now primed line up alongside some huge names at the start of the 2023 Marathon des Sables, which gets underway tomorrow (Sunday 23 April), with years of focused training – and a PhD – under her belt.
Nervous excitement
"I'm super nervous, but as well as nerves, I'm really excited," she told RUN247. "I've had this vision for four years now where I really wanted to go back to desert.
"I felt my 2019 goals were about being out there and enjoying the whole experience. I was about to finish my PhD, which focused all about endurance performance in the heat, and so for me it was a real celebration that year and about taking part.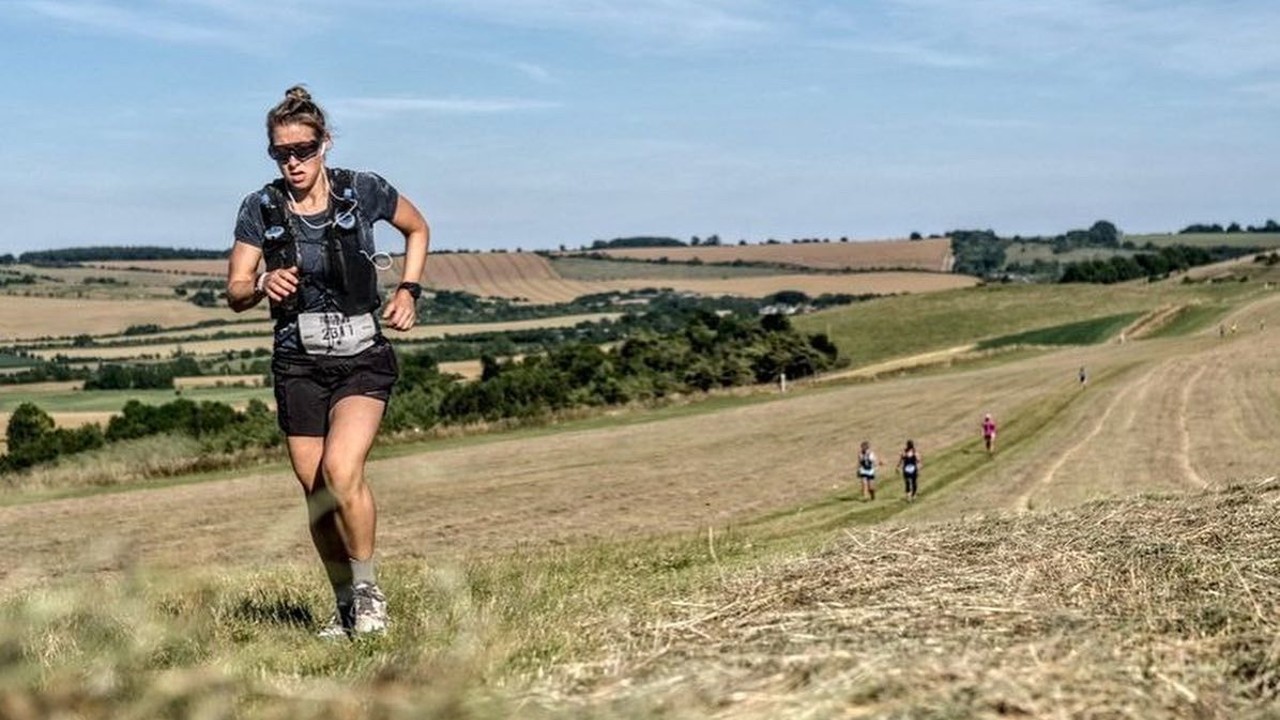 "I felt that there was more to give, and I really wanted to train myself as a runner, so I'm excited to see what's actually going to happen as I've really had an incredible four years in being able to tolerate so much more run volume.
"I'm really excited to see how I'm going to perform under the type of training that I've been doing, but I'm also very humbled by my nerves and the whole unknown of what could happen.
"One my goals is being able to come in the top ten and then I've got a few others, but I just want to run happy and I really just want to enjoy and let all my training and all the hard work and my commitment to this race in the last few years really just come to surface."
Triathlon experience
Rewind eight years and the Marathon des Sables certainly wasn't part of Moss' plans – she was enjoying her "short but sweet" time as a triathlete, which saw her race in Kona, Hawaii – the home of the IRONMAN World Championship – twice.
One of those appearances was to raise money for charity, while the other came following an age group win at IRONMAN Wales.
Moss has fond memories of those years, but the training for three different disciplines ultimately proved too much of a burden.
"I loved Kona, I loved IRONMAN," she said. "It was really interesting period of my life, you're balancing a minimum of three disciplines but you're also balancing your strength and conditioning sessions, as well as making sure your nutrition, hydration are on point, so really it's really consuming.
"I'm an all or nothing sort of character and just doing that in my day-to-day work and life, really would be a massive, massive commitment."
Marathon des Sables idea
It was while carrying out a study for her PdD, titled 'Maximizing endurance performance in the heat', that the Marathon des Sables first became a consideration for Moss.
16 athletes running in the 2018 race were involved in her study, sparking her ambition for another endurance endeavour after triathlon. It didn't take long for Moss to sign up for her first ultra, taking on the 100km Race To The Stones in July 2018.
She prepared for the Oxfordshire race in just five weeks and would finish in 14:43:58, putting her inside the top 50 out of more than 300 runners.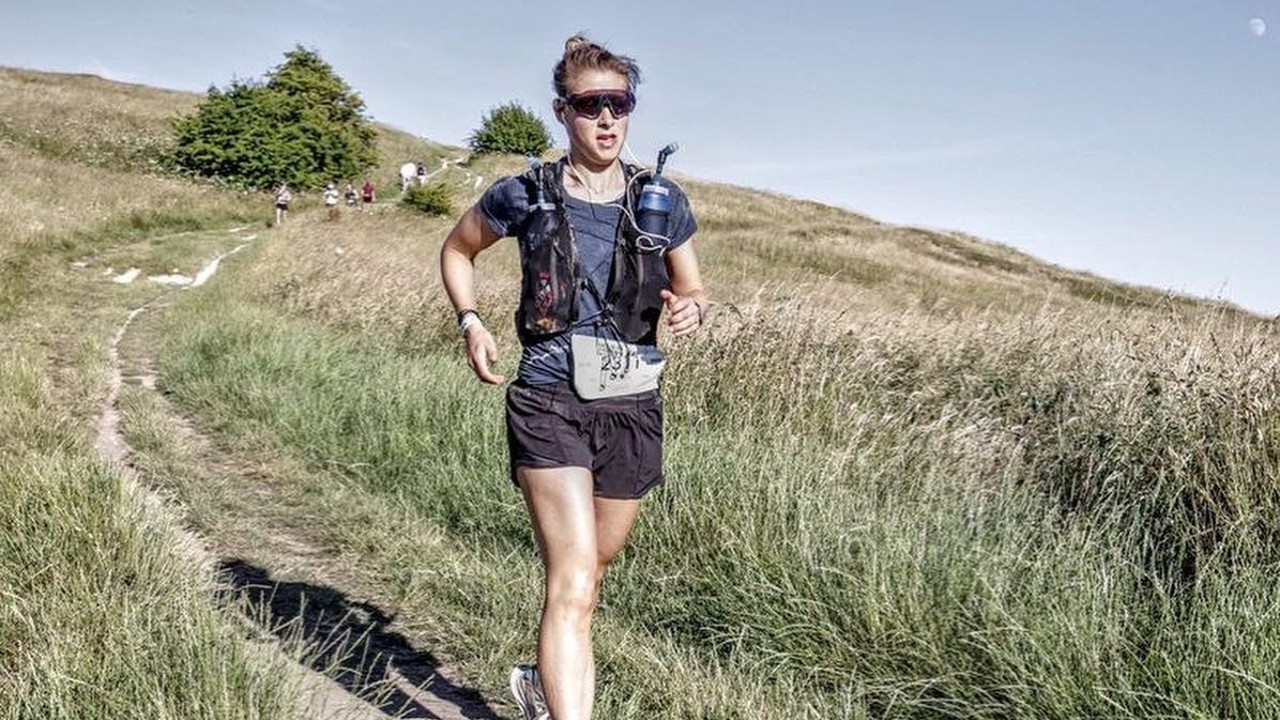 "I had a very non-scientific approach to it really," she said. "I had five weeks to train from when I signed up and so I decided to go and run a 20K on a Saturday and then the next week 30K, the next week the 40K, next week the 50K and then I did 100K and I loved it, the whole experience was just incredible.
"I finished that race in good time and it was a real confidence booster that you know what when you put your mind to something you can achieve it.
"But then after that race I found it really hard to recover.
"It just shows that when you first start in ultra running you really have got to nurture that training process because it takes quite a lot out of you when you're first starting.
"I wasn't really able to train for a few weeks after, so my MDS training didn't really start till September 2018."
Training schedule
Moss fitted training around her studies and vice versa, with the demands of the PhD provided her with a significant long-term challenge.
"It was a really amazing few years," she said. "Doing a PhD is also really challenging and there's a lot of unknowns, it's a lot of hard work and it can be extremely lonely at times and sometimes the finish line actually just keeps on extending.
"It's very easy to train when you're a student as you can actually dictate your training quite easily because you're in the chamber or in the lab conducting research, or you're writing, so you're not attending your 9-5 structural meetings in the workplace."
Moss now works as an operations manager at Ivie, a company that provides at-home blood tests, and fuelled by her Marathon des Sables dream, she was woven her training into her daily routine.
"I don't actually find that I take any time out of my work for my training," she explained. "I get up from about 5:30 to 6:00 in the morning. I do two hours of training then I work from home. I normally do another run at lunchtime or at the end of the day.
"I'm averaging around 25km to 30km a day in the working week.
"That second run was always really hard, to get out the door sometimes, on a really busy day especially. But that drive to do MDS was always much greater than that."
Self-honesty
Moss gained invaluable experience during her first Marathon des Sables, and that knowledge, combined with her tailored, intense training plan, will serve her well coming into this year's race.
"Everyone has a different approach to training for MDS and it's hard to say what I did was right," she said. "The proof was in the pudding when I came to do the race.
"Over the last four years I've been able to build my ability to run more and more mileage in my week. In 2019, I was able to run about 50-70km a week. I didn't run every day.
"I found that I needed to have more rest days in my first year. That was really being super in tune to myself and knowing I needed a bit more recovery.
"Just being honest with yourself is really important in MDS training.
"This year, I had an amazing coach called Christian Morgan and he really works with me on the fact that I'm quite determined, in the sense that I want to train hard.
"I want there to be volume, I don't want it to be super easy, because if it was easy, everyone would be doing it.
"He really respected that, he was really great at pulling. I had double days every day, Monday to Friday, and then a longer Saturday and Sunday. That was just week in, week out in my training programme.
"We really worked well together and tried to get at least two strength and conditioning sessions in a week. They were only 20 minutes long – enough just to add a little bit extra."
Mental approach key
Moss explained that she approaches the race by breaking it down into several key areas and addressing each one, while also accepting – and rationalising – the substantial mental challenge she will be enduring.
"With the conditions, what I find with Marathon des Sables is that it's really important to break the race down," she said. "What is it that you're facing?
"You know you're running on a daily basis, back-to-back runs. You know you're going to be carrying between 6.5kg and 14kg. You know you're going to be in the sand. You know you're going to be in hot environmental conditions.
"You know the type of nutrition you're going to have, maybe quite high fat foods instead of high carbohydrate foods. It's really important to look at those elements of the race itself, and then work backwards to see how you can apply that to your training.
"I always think we go to the desert with not just a physical bag, where you've got your food and your equipment, but with an emotional bag too.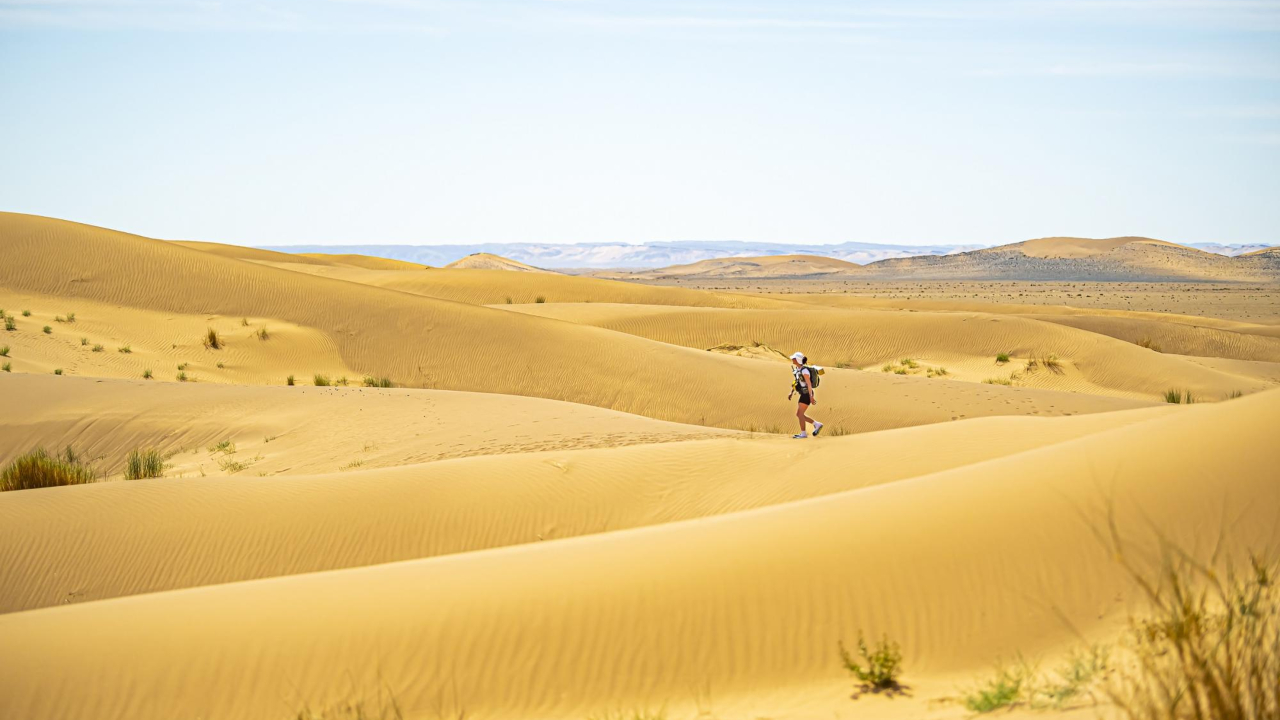 "This bag can actually weigh a lot more. It can really play on your head and put you down. So, I think it's important to look at those conditions and see how you can work with them.
"For example, with the heat, it's really important to do sauna sessions. The gold standard is to try and go to an environmental heat chamber, or go out to the conditions you're going to be exercising in.
"Your bag, it's all about applying weight over time and by the time you get to the race you'll be comfortable to tolerate that sort of weight.
"With MDS, you start off on the first day the most refreshed, carrying the heaviest amount, and as the days progress you're probably dropping about 400g to 500g in weight in that bag.
"Yes, you get more tired, but also the weight of that bag comes down so that's also a really nice thing to remember."
Tough moments
Moss admitted that she had some despairing moments during her first Marathon des Sables effort, but feels she is better equipped to deal the unavoidable dips in belief this year.
"I learned that even though the first three days are the shorter days, I found the second day in the sand dunes really, really tough," she revealed.
"There was one moment where I was on the sand dunes on the second day and I though 'I don't know if I'm going to be able to finish this'.
"I think the greatest thing I learned in this race was ebb and flow. We can be in a state of good and bad, and none of them last very long.
"When you're in a good place, it's great, but you can then go into a bad place, and then go back into a good place.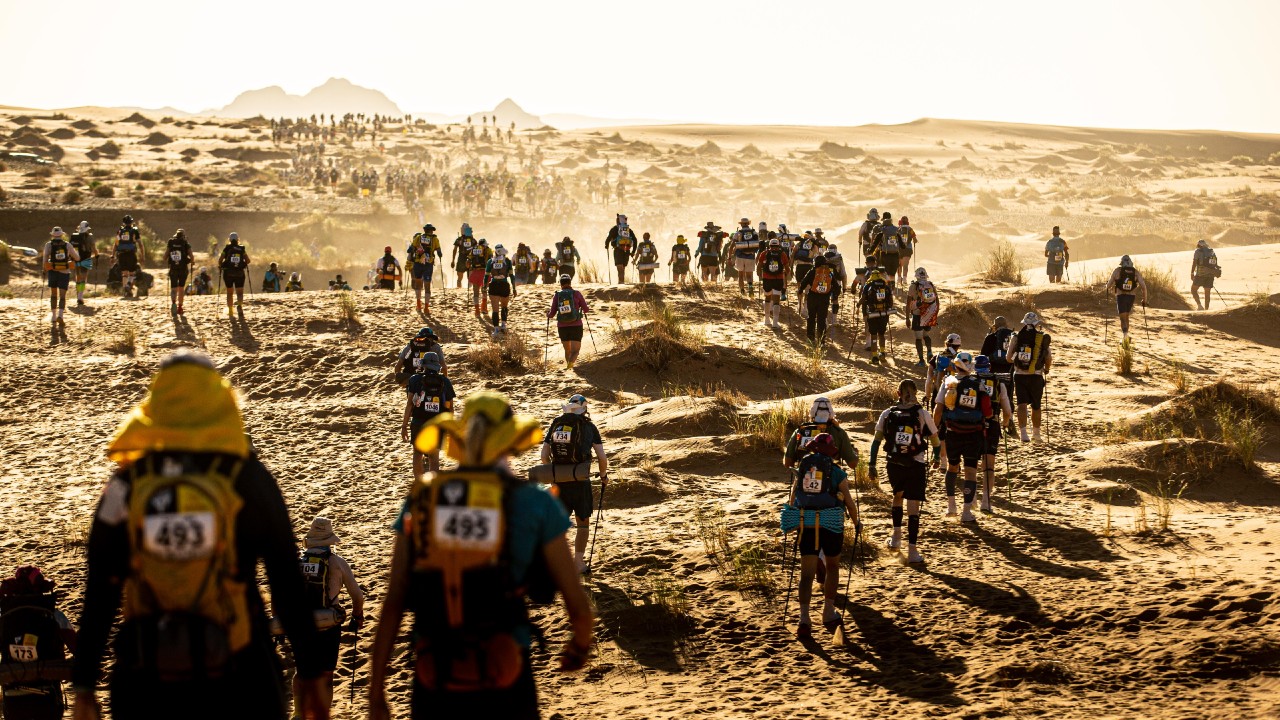 "Actually, in that bad moment, you should just smile because you know this is tough, but it's not going to last very long.
"Going with that flow and not holding into any real negative moments too long is really important, because it'll pass. The longer we hold onto it, the longer we keep it lasting for."
Another occasion Moss felt her composure slipped was at the end of each stage, when she would be reminded that she was competing at the front of the field, among the very best runners in the world.
"I got really nervous in 2019 because what you find is that when you start going up in the ranks and you're then in the top 10, people start coming up to you in camp and saying 'oh you're in the top 10'," she said.
"That actually made me really nervous, so I've tried to programme myself this year to not listen too much to the noise.
"All I want to do is to perform to my best ability. That's all I want to do. I'm not competing with anyone else.
"I just want to be the best version of myself. If that has an outcome and output of X, Y and Z, then great."
Injury scare
Moss' 2023 Marathon des Sables bid was all going to plan until she tripped and hit her foot while in South Africa on New Year's Day – less than four months out from the big day.
"Obviously, with the panic of MDS, I started running and I was in a lot of pain," she said. "I then decided to go and have an MRI scan.
"I was emailed that day that I had a navicular fracture and that I needed surgery quickly, because it was broken in a very bad place.
"In that moment, very dramatically, I felt like everything just crumbled around me and I was just absolutely devastated. It was like a nightmare I was living in and I was just going to wake up from it.
"I had never worked so hard for a race, and to then have this prospect of not being able to go and do it.
"I know I need to take a bit of a step back sometimes, because it's just a race, but it was something that I had worked towards for so many years. I was just devastated.
"So, what I quickly did was get myself a boot. I decided I wasn't going to have surgery in South Africa and to have a pin put in it – I'd rather come home and do that.
"I said what can I do? So I cycled and I got in the gym, and I was training probably three, four hours a day. I was just fully focused. I did everything you can do.
"I went into a hyperbaric oxygen chamber every day, I took every form of supplement, I was icing it, I was using Tiger Balm – not knowing Tiger Balm would help, I was just doing everything. All I wanted to do was get better.
"I then got back to the UK at the end of January and I had another scan – I had a CT this time and an MRI.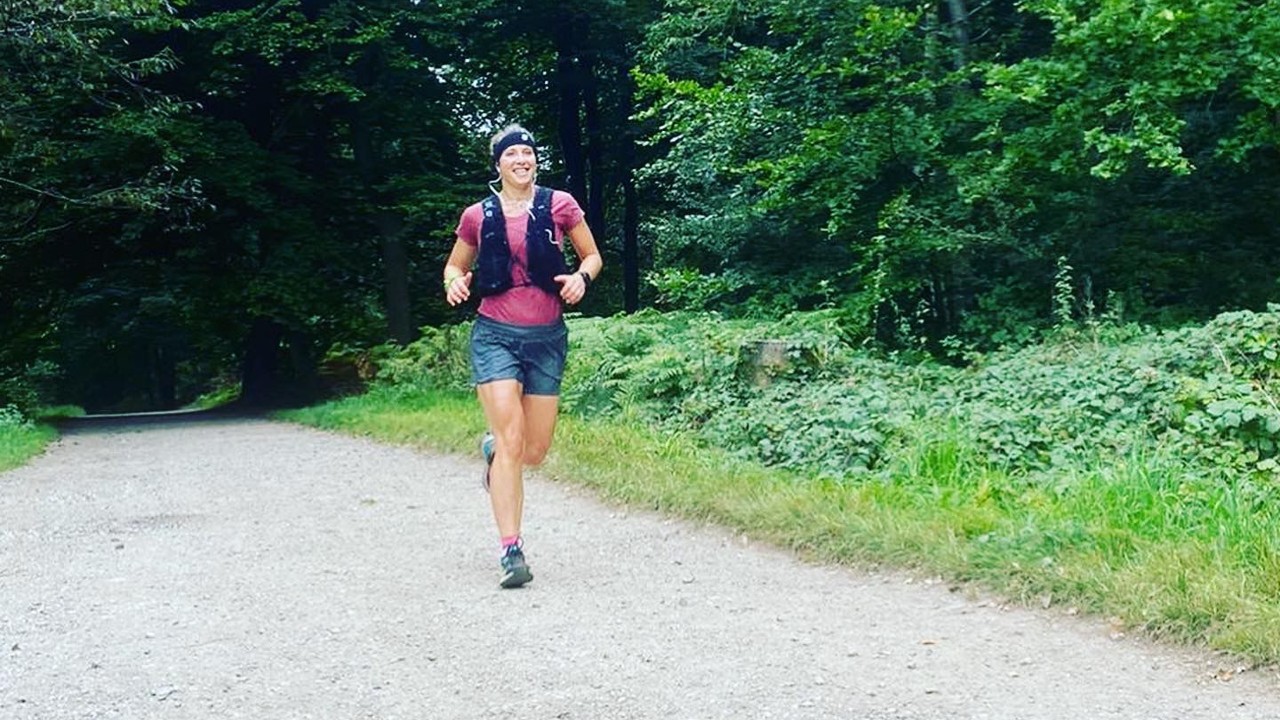 "It showed that I had no break in my foot, but I have an accessory bone which appears like a break, and that's why they thought it was broken.
"But what they did see was a really, really aggressive bone edema. The bone edema is likely going to be there for a year, and my doctor said he didn't know if I was going to be able to start running in the next three, six or nine months, but let's just keep monitoring you and take you out the boot."
Rapid recovery
Although she is now through that whirlwind few months, Moss is wary of the physical and mental impact the period of uncertainty may have had ahead of the Marathon des Sables.
But despite a recent chest infection, she remains determined to reach the finish line in Morocco one way or another.
"For the whole month of March, I was able to do about 770km in total, which was a great month," she said. "I continue to be able to train – I was doing 100-115 miles a week.
"While that gave me a lot of confidence in my training, I felt, and still feel, like I'm on constant catch-up.
"Even though when I wasn't running, I was on the bike three, four hours a day – the bike really helped me to keep my cardiovascular fitness up – it's a big thing to go through that trauma.
"I haven't been able to run very much with my bag because of the pain in my foot and not wanting to put too much weight through my foot, and then coming into it really late.
"That's one area that I am really worried about, but all I know is that I can complete the race, whether I walk it or run it. It's just how well I'm going to do.
"I've been struggling with a chest infection this week, which has not been ideal ahead of the race, but I'm just going to go out there, enjoy myself, and work hard – because that's all I know how to do."