As I'm constantly being told by my Spanish running journalist friend, we don't have huge ultra trail races in the UK. In mainland Europe there are thousands of spectators lining the streets, there's Europop blasting out for miles and there's big screens, glitz and glamour. Well, we do things slightly differently in the UK. The Lakeland 100 and the 50 are definitely huge highlights of the UK ultra calendar, just with less glitz and glamour.
The Lakeland 100/50 is more about grit than glitz. This year the runners endured pretty much constant rain, which took its toll on feet and minds. But it didn't deter the runners or the supporters, who were out in force as ever. The streets of Coniston and Ambleside were lined with supporters and I'd argue that there's just as much passion with runners and supporters, and even the odd cowbell.
It was an exciting line-up for both races this year. In the 100 last year's winners, Sabrina Verjee and Ken Sutor, were back. And in the 50 Jayson Cavill was back to try to regain his course record. Both races looked wide open, with some great competitors, both newer and more established.
The 100 set off on Friday evening and for a while at least, it wasn't raining. Last year's winner Ken Sutor settled into an early lead and the top 10 in the men's race featured runners such as Andy Mouncey, Rory Harris, Pat Robbins, Neil MacNicol, Mike Jones and Montane runner Davide Grazielli. In the women's race Sabrina Verjee led, but perhaps not as high up in the field overall as we're used to seeing her. Sharon Law was a little way back in second and then Anna Troup was behind her.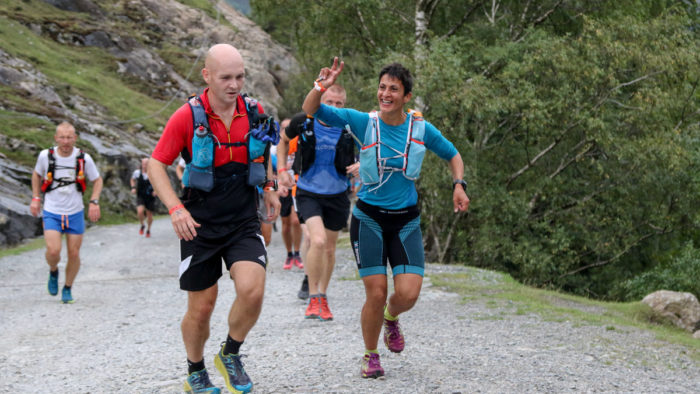 Overnight Sabrina seemed to pick up some places, but she was forced to stop at Dalemain with tight hamstrings. She said afterwards that she's just done too much in recent months (including a second place at Dragon's Back and winning the Montane Spine Fusion race outright) and needs a rest. It was apparently her first DNF, which is amazing in itself given how many long and tough races she's done, and we're sure that she will be back stronger. This put Sharon Law in the lead and Anna Troup in second. Anna had won the Wendover Woods 100 race just two weeks before. Could she hang on or would the fatigue get to her?
Rory Harris soon took and kept the lead in the men's race but much of the top 10 continued to change. Josh Wade, who won the Lakes Mountain 42 and the Ultra Trail Snowdonia 50 race this year steadily moved up the top 10 throughout the day. Some dropped down in the positions, others dropped out altogether in the tough conditions. The eventual top 3 was Rory Harris (21.29), Neil MacNicol (21.37) and Josh Wade (22.08).
In the women's race Anna Troup showed no signs of having done a hilly 100 two weeks before and overtook Sharon Law to take the win in 26.19. Sharon finished in 27.40 and Jenny Yeo was third in 27.44.
The 50 is an altogether different beast to the 100 in that it's just about short and runnable enough for competitors to achieve some very fast times. The men's record had been broken twice in three years and the two fastest times ever in the women's race were run in 2017 and 2018 (see our article about all the winning times).  Jayson Cavill's 2016 record was beaten in 2017 and he wanted it back! But runners such as Terry Conway (record holder for the 100) and Matty Brennan (who's come 2nd and 3rd in the race previously) weren't going to make it easy for him.
In the women's race there were some really strong contenders in Jess Gray, who's been 3rd and 4th in the 50 previously and Christine Waller, who came 2nd in last year's 100. But it was Bethan Male (in what I think was her first Lakeland 50) who struck out and took the win in 9.26, with Carolyn Millican in second (improving on her position and time from last year considerably) in 9.35 and Jess Gray in third in 9.41.
Jayson Cavill hung on for the win, though didn't manage to regain his record, finishing in 7.55. Andrew Siggers was second in 8.03 and Terry Conway third in 8.16. See the full results HERE.
See the full information about the race HERE.