Jon Albon has revealed that his third place at this year's Zegama-Aizkorri was far from straightforward.
The British runner came home around three minutes adrift of winner Manuel Merillas and second-place Elhousine Elazzaoui at the popular skyrunning festival in the Basque Country of Spain.
Albon, who won the 2021 UTMB OCC and was second at last year's CCC event, was racing for the first time this year.
"Better than expected"
He says a podium finish at Zegama-Aizkorri – the first race in the 2023 Golden Trail World Series – exceeded expectations but admitted that there was a lot he could've done differently to better his chances.
"The race probably went better than expected, especially considering that there were a lot of lessons learned," he told RUN247. "There were a lot of things I could've done better.
"Really cool [to be] on the podium, it's a competitive race, that goes without saying.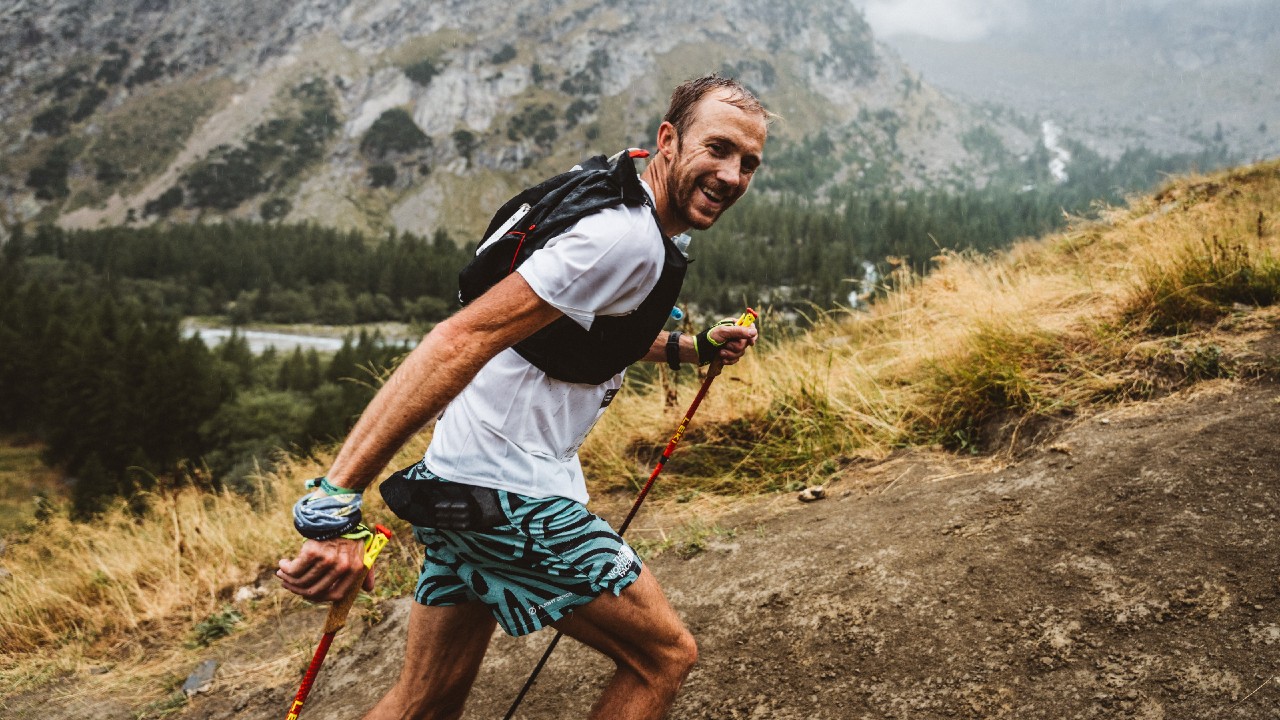 "It's a classic race, Zegama, so really cool to be up there and prove to myself that I'm not a fraud, which is sometimes my biggest worry before the first race of the year.
"What if I suddenly turn up and come 50th?
"But that didn't happen. I actually felt strong on the uphills and very weak on the downhills. But that was maybe to be expected."
Back problem
The first issue Albon suffered was moments before the race, when a back spasm raised concerns that he would be unable to start.
"At the start, I went for my warm-up, I did two by two minutes effort – at least I was going to do two by two minutes," he explained. "I did the first two minutes up the first climb and something in my back started spasming really painfully.
"I actually had to lay down for about a minute and my back was fully spasming for 30 seconds, so I got really worried.
"20 minutes before the start and suddenly I'm laying on the floor unable to move.
"The only thing I can think of is the fact that I've just been too immobile for the past three days before the race. Maybe I've just been laying on the bed far too much and not really getting out and moving, generally."
Fortunately for Albon, the problem resolved itself and he was able to push into the Aizkorri-Aratz Natural Park unhindered.
"I started the race and I could feel my back really being a bit tender and that it could spasm any second," he said. "But then after the first climb and it didn't, I completely forgot about it and got into the race.
"It felt like I dodged a bullet with that one."
Albon was among the frontrunners for the entirety of the race, though he was happy to let 2018 Zegama-Aizkorri winner Remi Bonnet and Robert Pkemoi Matayango take control early on.
"I was climbing relatively well," he said. I felt ok trying to keep the psychological side of things in check, because it's often hard at the beginning of races.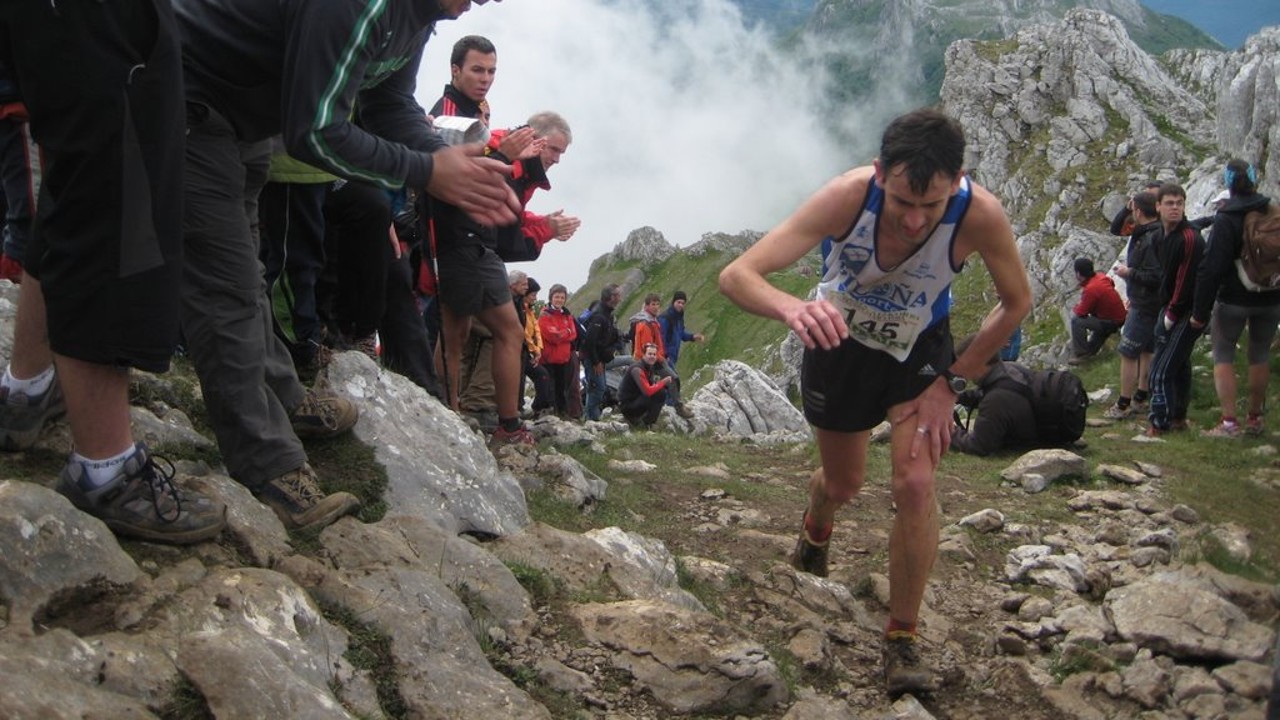 "You're doubting whether you can go the whole way, you keep looking for any signs that you are starting tire or not, you're looking at the other athletes around you.
"But pretty quickly just decided to let Remi go because he was going to start hard, and Robert went off as well.
"So I was in this sort of chasing group but they actually never got more than one or two minutes away.
"The weather was atrocious, it was raining the whole time.
"The trails were really muddy so I think on the small downhills it gave me and the group I was with enough time to catch up a little bit, because Remi was looking really strong on the uphills."
Downhill struggles
There was another learning curve for Albon as he slowly realised that his downhill preparation hadn't been sufficient enough for a race as brutal as Zegama-Aizkorri.
"It was really the downhills that were letting me down," he said. "The big mistake I made was not travelling away and doing a preparation race before this one.
"I tried the best I could in my training at home to replicate the downhills, but that last race simulation I did on the treadmill, that let me down.
"I should've done a big race effort to prepare for this to prepare for this and really get the legs into that downhill pounding state."
Gel nightmare
The next setback came around a third of the way into the 42km race, when confusion over the position of two aid stations saw him miss out on a collection of vital nutrition.
"The race was bubbling along relatively well, I felt like I had relatively good control of my own effort level," he said. "And then a big screw up happened.
"Maybe I misjudged something but I missed my gel pick-up essentially. I was due to pick up three gels and about 300ml of carby, energy drink.
"That meant I was missing about 110g of carbs and that's soul-destroying. I was just waiting for my energy levels to completely drop off a cliff.
"I just figured by whole race was completely over.
"From around 10km, when I took the last gel, to 20km, I took nothing and I was surprised that I was still managing to keep climbing well."
Albon ploughed on and after scooping up an emergency gel at the 20km aid station, he was back on his planned schedule for energy gels.
Legs say no
He would overhaul Bonnet and Pkemoi Matayango ahead of the 28.5km checkpoint, and although he was unable to respond when Merillas and Elazzaoui made their moves later on, he was happy to cling for a memorable third place at Zegama-Aizkorri.
"I actually managed to catch Remi and Robert on the downhill and flat section before the final little climb and final downhill," he said.
"I was in a good spot, I got my gels back, I managed to catch up and was in the lead.
"I actually got really cold on that section because the weather was atrocious and climbing kept my body temperature up, but I didn't get the heart rate up as much on the flat section.
"I started to think that [winning] maybe was going to be possible.
"Manuel then comes flying by and Elhousine, who had been tagged onto the back of me for the past hour, followed.
"And my legs just said 'no'. My heart said 'let's go' and my legs said 'no way'. I managed to run down and stick in third.
"I actually felt like I was moving so poorly that fourth place would catch me, but I managed to hold onto third and I think that's actually the position I deserved."
Albon would finish in 3:45:01, over three minutes clear of fourth-place Bonnet, adding a Zegama-Aizkorri podium to his plethora of accolades.