Manuel Merillas and Daniela Oemus claimed wins at the iconic Zegama-Aizkorri in the Basque Country of Spain.
Spaniard Merillas, who won last year's UTMB OCC, produced a late surge to snatch victory in the men's edition of the 42km ultra in the Aizkorri-Aratz Natural Park.
It was his first triumph at Zegama-Aizkorri, with his previous six attempts bringing two podiums and a further three top 10 finishes.
In the women's race, German Oemus notched the highest-profile win of her ultra career to date as she took control with around 20km gone.
Zegama-Aizkorri is the first race in the 2023 Golden Trail World Series, which features six events before the final in October, the Il Golfo dell'Isola Trail Race in Italy.
Mighty Merillas
Merillas finished in 3:42:01 in damp, foggy conditions, having picked is way through the field over the second half of the race.
He was 10th after the first 13.5km and had only climbed to seventh by 23.2km checkpoint. But he came strong over the closing stages as he overhauled the likes of Remi Bonnet (CHE), Jon Albon (GBR) and Elhousine Elazzaoui (MAR).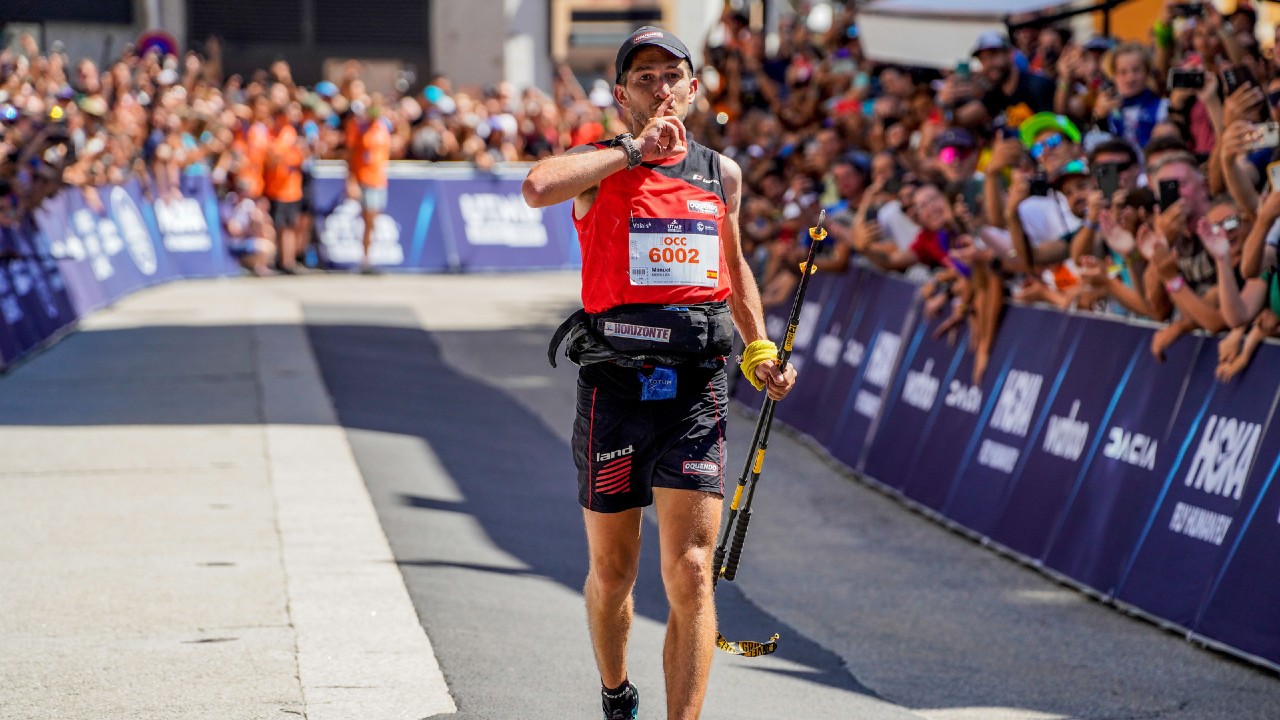 Elazzaoui also produced an impressive finish as he followed Merillas through the leaders, finishing just 27 seconds adrift of the winner, improving on his second place at the 2022 Zegama-Aizkorri.
Last year's UTMB CCC runner-up Albon was among the top four for the entirety of the race and took the lead before the 28.5km mark, but couldn't hold off Merillas and Elazzaoui over the final kilometres, crossing the line around two and a half minutes behind the latter to claim third.
2018 Zegama-Aizkorri winner Bonnet led early on but struggled during the middle stages, dropping to seventh before recovering to fourth over the last 7km.
Oemus in control
Oemus, who was 14th in the 2022 UTMB OCC, was firmly inside the top 10 as she made her way through the first three checkpoints and moved into the lead ahead of the 22km mark.
Caitlin Fielder (NZL) and Theres Leboeuf (CHE) were both in touch for the remainder of the race but Oemus maintained a gap of around three minutes to cruise home.
Fielder, a podium finisher at Tarawera Ultramarathon 50K in February, would end up just over two minutes adrift to take second while Leboeuf grabbed third – around three minutes further back – to better her seventh place at Zegama-Aizkorri last year.
2022 UTMB CCC winner Blandine L'Hirondel (FRA), who won at Istria 100 by UTMB earlier this year, was among the top three during the first half of the race but would drop back, crossing the line in fourth.
2023 Ultra-Trail Ninghai by UTMB winner Miao Yao (CHN) was also well in contention at the midway point but fell significantly back from the leaders later on.
Zegama-Aizkorri results
Zegama-Aizkorri Mendi Maratoia, Sunday 14 May 2023, 42km
MEN:
Manuel Merillas – 3:42:01
Elhousine Elazzaoui – 3:42:28
Jon Albon – 3:45:01
WOMEN:
Daniela Oemus – 4:31:54
Caitlin Fielder – 4:34:04
Theres Leboeuf – 4:37:41