Zegama-Aizkorri is an iconic skyrunning festival held in the Aizkorri-Aratz Natural Park in the Basque Country of Spain.
The event attracts thousands of spectators and runners each year, and has become one of the biggest events on the European calendar since its first edition in 2002.
The race typically sees a host of big names involved and Kilian Jornet has been a regular winner down the years.
A mountain marathon, Zegama-Aizkorri is also the first race in the 2023 Golden Trail World Series.
Date, start time & live tracking
The 2023 Zegama-Aizkorri will take place on May 14. There is a Vertical Kilometre, which takes place on May 12. The main race – Mendi Maratoia – starts at 9:00 CET (8:00 BST). The race has a maximum time allowed of 8 hours.
A live stream for Zegama-Aizkorri will be available HERE while live tracking can be found HERE.
Zegama-Aizkorri route
The Zegama-Aizkorri has a distance of 42km and has total ascent of 2,736m. It starts and finishes in the small Basque town of Zegama, taking runners first to Otzaurte before leading them up to the peaks of the Aizkorri massif.
The route takes in multiple peaks, include the mountain range's highest at Aitxuri (or Aketegi), which stands at 1,551m. Others include the Aratz and Andraitz peaks.
The race has 13 checkpoints and 13 refreshment points. The course will be marked out with signposts and pathway tapes, along with kilometre references throughout.
Facts, Tips & FAQ
Many of the peaks and towns involved in Zegama-Aizkorri have multiple names, with some in Basque and some in Spanish.
There is a maximum of 500 runners allowed in the race.
As part of the Golden Trail World Series, ranking points are on offer for competitors. The top 60 will all gain points, with first receiving 200, staggered down to two points for 60th.
There is little mandatory equipment, but runners must wear a windproof coat and carry a cup during the whole race.
Sticks are allowed. Organisers have also said that if some are provided with a double bib and GPS device, it will be compulsory for them to use it.
How to qualify and enter Zegama-Aizkorri
Registration for the 2023 race is now closed.
All athletes must be 18-years-old or more. A draw is made in the case of over-application.
The cost of the race is €75.
Zegama-Aizkorri records and past winners
The legendary Kilian Jornet is by far the most successful runner in Zegama-Aizkorri history, winning the men's edition a staggering 10 times. Corinne Favre has managed the most women's wins, with three in four years in the mid-2000s.
The men's and women's records were both broken in 2022 as Jornet triumphed in 3:36:40 and Nienke Brinkman claimed victory in 4:16:43.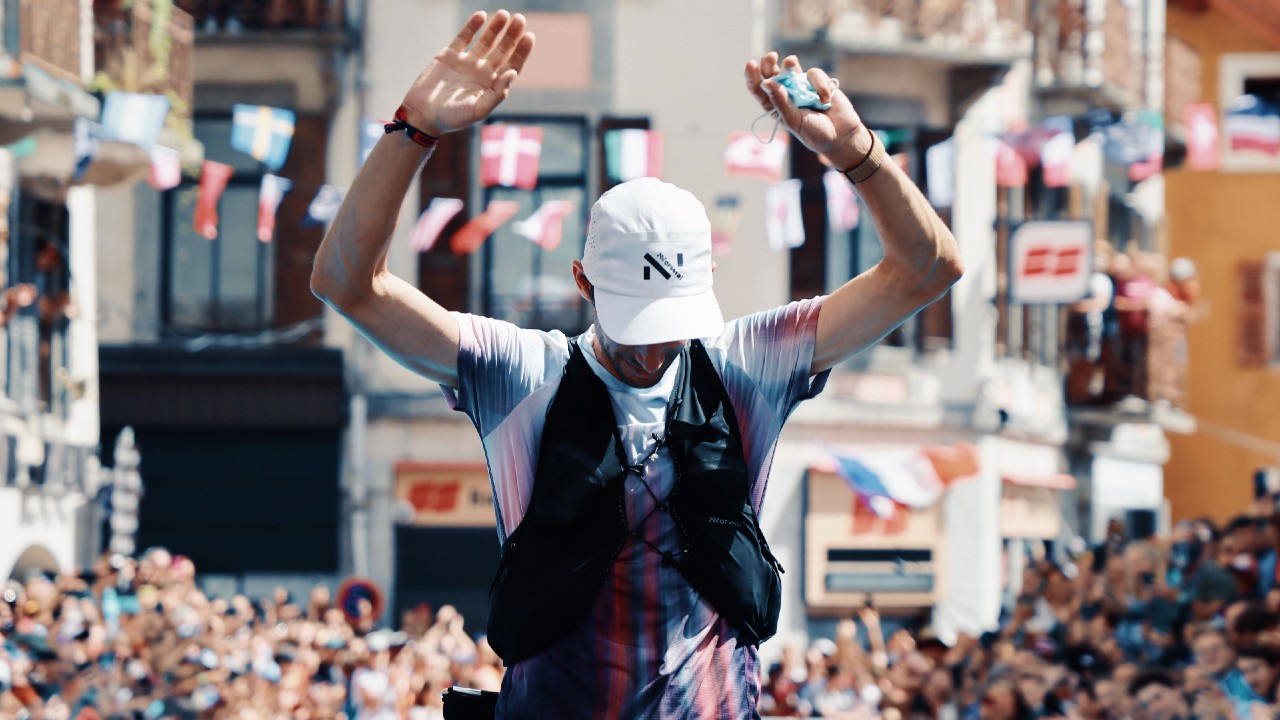 Past winners
2002 – Men: Juan Martin Tolosa, 4:14:23. Women: Rosa Lasagabaster, 6:05:27.
2003 – Men: Fernando Garcia, 4:08:44. Women: Esther Hernández, 5:08:52.
2004 – Men: Mario Poletti, 4:06:46. Women: Anna Serra, 5:27:51.
2005 – Men: Rob Jebb, 3:54:18. Women: Corinne Favre, 5:03:57.
2006 – Men: Ricardo Mejia, 4:03:41. Women: Angela Mudge, 4:43:04.
2007 – Men: Kilian Jornet, 3:56:59. Women: Corinne Favre, 4:50:01.
2008 – Men: Kilian Jornet, 3:59:33. Women: Corinne Favre, 5:00:46.
2009 – Men: Ricky Lightfoot, 4:03:12. Women: Emanuela Brizio, 4:38:19.
2010 – Men: Kilian Jornet, 3:56:30. Women: Emanuela Brizio, 4:47:51.
2011 – Men: Kilian Jornet, 3:56:30. Women: Oihana Kortazar, 4:42:50.
2012 – Men: Kilian Jornet, 3:56:04. Women: Oihana Kortazar, 4:52:50.
2013 – Men: Kilian Jornet, 3:54:38. Women: Emelie Forsberg, 4:48:12.
2014 – Men: Kilian Jornet, 3:48:14. Women: Stevie Kremer, 4:46:43.
2015 – Men: Tadei Pivk, 3:51:11. Women: Azahara Garcia, 4:41:23.
2016 – Men: Kilian Jornet, 3:50:03. Women: Yngvild Kaspersen, 4:50:58.
2017 – Men: Stian Angermund, 3:45:08. Women: Maite Maiora, 4:34:27.
2018 – Men: Rémi Bonnet, 3:53:06. Women: Ida Nilsson, 4:38:38.
2019 – Men: Kilian Jornet, 3:52:47. Women: Elia Anne Dvergsdal, 4:36:06.
2020 – Cancelled due to the coronavirus pandemic
2021 – Cancelled due to the coronavirus pandemic
2022 – Men: Kilian Jornet, 3:36:40. Women: Nienke Brinkman, 4:16:43.
Who is taking part at Zegama-Aizkorri?
British runner Jon Albon, who set a course record at the UTMB OCC in 2021 and finished second at the UTMB CCC last year, is back at Zegama-Aizkorri for the first time since 2017, when he finished 11th.
Switzerland's Remi Bonnet is another big name in the men's race – he won the 2018 Zegama-Aizkorri and was seventh last year.
Manuel Merilles (ESP) will be a strong contender, having won last year's UTMB OCC in addition to finishing third at Zegama-Aizkorri.
Francesco Puppi (ITA) was the 2017 Long Distance Mountain Running world champion, Bart Przedwojewski (POL) has twice finished on the podium at Zegama-Aizkorri while Thibaut Baronian (FRA), a two-time UTMB OCC podium finisher, was third in 2018.
In the women's race, 2021 UTMB OCC and 2022 UTMB CCC winner Blandine L'Hirondel (FRA) will be a massive favourite in her first Zegama-Aizkorri, having also won in the 50km race at Istria 100 by UTMB earlier this year.
New Zealand's Caitlin Fielder, who was second Tarawera Ultramarathon 50K in February and third at the 2021 UTMB OCC, will be hoping to improve on her 11th at last year's Zegama-Aizkorri.
Spanish runners Nuria Gil and Azara Garcia are also set to be leading contenders. Gil was second at last year's UTMB OCC and won Transgrancanaria in February, while Garcia is an experienced and decorated runner, winning at Zegama-Aizkorri in 2015.
Miao Yao (CHN), a winner at the 2018 UTMB CCC and the 2023 Ultra-Trail Ninghai by UTMB, is another to look out for, as is Fabiola Conti (ITA), who was third at this year's Istria 100 by UTMB and fifth at the 2022 Zegama-Aizkorri.