The Wainwright is a route made up of the 214 peaks in the Lake District as described in Alfred Wainwright's seven volume 'Pictorial Guide to the Lakeland Fells'.
For mountain and ultra-runners it has become one of the greatest challenges in the UK.
The challenge must start and finish at Moot Hall in Keswick but after that, the route taken by each competitor can vary slightly as long as they summit each of the peaks. Most recent attempts have recorded around 320 miles covered with 118,000ft of ascent. This includes summiting England's highest mountain, Scafell Pike.
Wainwright record time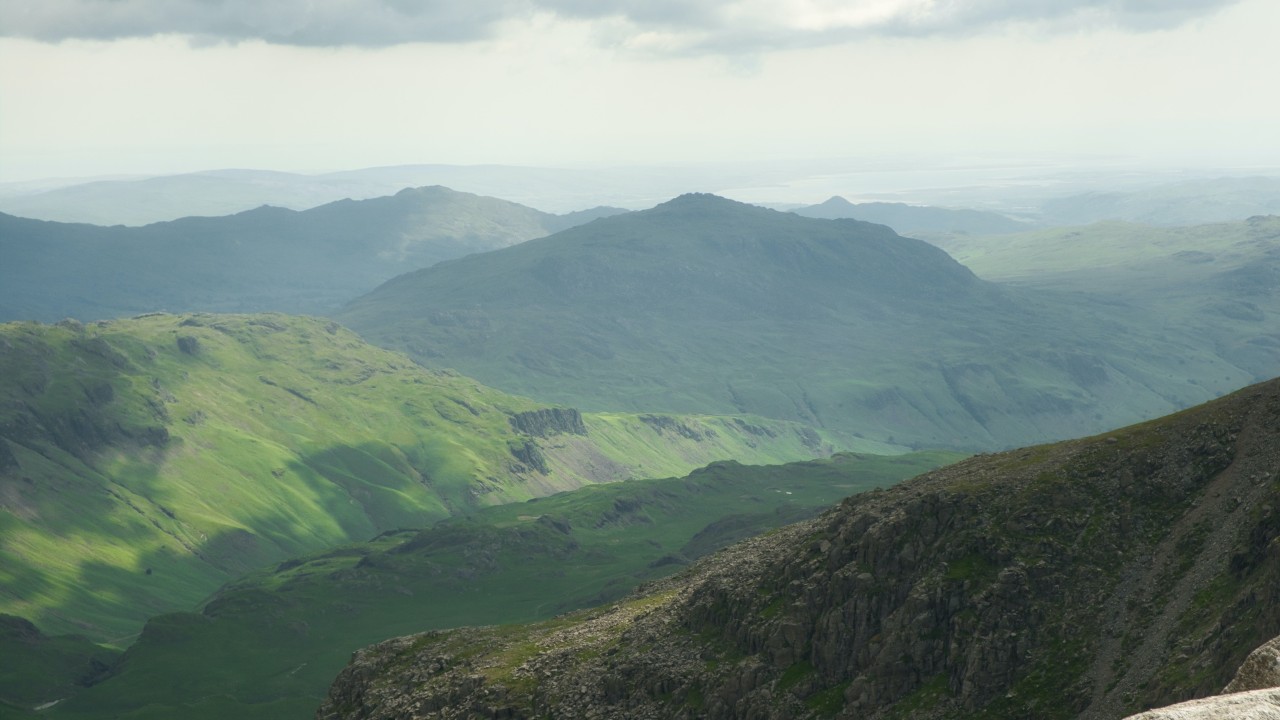 The current record for completing the Wainwright is five days, 12 hours, 42 minutes and 42 seconds and was set in May of 2022 by American John Kelly who took a remarkable 11.5 hours off the previous record held by Sabrina Verjee. In 2019 Verjee had become the first person to go under six days.
The first recorded continuous Wainwright was achieved in 1985 by Alan Heaton in nine days and 16 hours.
In December 2021, James Gibson became the first-ever person to complete a continuous on-foot winter Wainwright in eight days, six hours,43 mins. He became the first person to achieve Wainwright rounds in consecutive seasons in April 2022 in a time of six days and five hours.
Wainwright Peak List
The Wainwright peaks in height order
| | | | |
| --- | --- | --- | --- |
| No. | Mountain | Region | Altitude (ft) |
| 1 | Scafell Pike | Southern Fells | 3210′ |
| 2 | Scafell | Southern Fells | 3162′ |
| 3 | Helvellyn | Eastern Fells | 3118′ |
| 4 | Skiddaw | Northern Fells | 3053′ |
| 5 | Great End | Southern Fells | 2984′ |
| 6 | Bowfell | Southern Fells | 2960′ |
| 7 | Great Gable | Western Fells | 2949′ |
| 8 | Pillar | Western Fells | 2927′ |
| 9 | Nethermost Pike | Eastern Fells | 2920′ |
| 10 | Catstyecam | Eastern Fells | 2917′ |
| 11 | Esk Pike | Southern Fells | 2903′ |
| 12 | Raise | Eastern Fells | 2889′ |
| 13 | Fairfield | Eastern Fells | 2863′ |
| 14 | Blencathra | Northern Fells | 2847′ |
| 15 | Skiddaw Little Man | Northern Fells | 2837′ |
| 16 | White Side | Eastern Fells | 2832′ |
| 17 | Crinkle Crags | Southern Fells | 2816′ |
| 18 | Dollywaggon Pike | Eastern Fells | 2810′ |
| 19 | Great Dodd | Eastern Fells | 2807′ |
| 20 | Grasmoor | North Western Fells | 2791′ |
| 21 | Stybarrow Dodd | Eastern Fells | 2770′ |
| 22 | Scoat Fell | Western Fells | 2760′ |
| 23 | St Sunday Crag | Eastern Fells | 2756′ |
| 24 | Eel Crag | North Western Fells | 2749′ |
| 25 | High Street | Far Eastern Fells | 2718′ |
| 26 | Red Pike (Wasdale) | Western Fells | 2707′ |
| 27 | Hart Crag | Eastern Fells | 2698′ |
| 28 | Steeple | Western Fells | 2687′ |
| 29 | Lingmell | Southern Fells | 2649′ |
| 30 | High Stile | Western Fells | 2644′ |
| 31 | High Raise (Far Eastern Fells) | Far Eastern Fells | 2634′ |
| 32 | Coniston Old Man | Southern Fells | 2633′ |
| 33 | Swirl How | Southern Fells | 2630′ |
| 34 | Kirk Fell | Western Fells | 2630′ |
| 35 | Haycock | Western Fells | 2618′ |
| 36 | Brim Fell | Southern Fells | 2611′ |
| 37 | Dove Crag | Eastern Fells | 2603′ |
| 38 | Green Gable | Western Fells | 2603′ |
| 39 | Grisedale Pike | North Western Fells | 2593′ |
| 40 | Watson's Dodd | Eastern Fells | 2584′ |
| 41 | Rampsgill Head | Far Eastern Fells | 2581′ |
| 42 | Great Carrs | Southern Fells | 2575′ |
| 43 | Allen Crags | Southern Fells | 2572′ |
| 44 | Thornthwaite Crag | Far Eastern Fells | 2569′ |
| 45 | Kidsty Pike | Far Eastern Fells | 2560′ |
| 46 | Glaramara | Southern Fells | 2560′ |
| 47 | Dow Crag | Southern Fells | 2555′ |
| 48 | Red Screes | Eastern Fells | 2541′ |
| 49 | Harter Fell (Far Eastern Fells) | Far Eastern Fells | 2539′ |
| 50 | Grey Friar | Southern Fells | 2536′ |
| 51 | Wandope | North Western Fells | 2533′ |
| 52 | Sail | North Western Fells | 2530′ |
| 53 | Hopegill Head | North Western Fells | 2525′ |
| 54 | Great Rigg | Eastern Fells | 2513′ |
| 55 | Caudale Moor | Far Eastern Fells | 2502′ |
| 56 | Wetherlam | Southern Fells | 2502′ |
| 57 | High Raise (Central Fells) | Central Fells | 2500′ |
| 58 | Slight Side | Southern Fells | 2499′ |
| 59 | Mardale Ill Bell | Far Eastern Fells | 2496′ |
| 60 | Hart Side | Eastern Fells | 2481′ |
| 61 | Red Pike (Buttermere) | Western Fells | 2479′ |
| 62 | Ill Bell | Far Eastern Fells | 2476′ |
| 63 | Dale Head | North Western Fells | 2473′ |
| 64 | High Crag | Western Fells | 2443′ |
| 65 | The Knott | Far Eastern Fells | 2423′ |
| 66 | Carl Side | Northern Fells | 2420′ |
| 67 | Robinson | North Western Fells | 2417′ |
| 68 | Seat Sandal | Eastern Fells | 2415′ |
| 69 | Sergeant Man | Central Fells | 2414′ |
| 70 | Long Side | Northern Fells | 2405′ |
| 71 | Harrison Stickle | Central Fells | 2403′ |
| 72 | Kentmere Pike | Far Eastern Fells | 2397′ |
| 73 | Hindscarth | North Western Fells | 2385′ |
| 74 | Clough Head | Eastern Fells | 2381′ |
| 75 | Ullscarf | Central Fells | 2370′ |
| 76 | Froswick | Far Eastern Fells | 2359′ |
| 77 | Thunacar Knott | Central Fells | 2351′ |
| 78 | Birkhouse Moor | Eastern Fells | 2350′ |
| 79 | Lonscale Fell | Northern Fells | 2344′ |
| 80 | Brandreth | Western Fells | 2344′ |
| 81 | Branstree | Far Eastern Fells | 2333′ |
| 82 | Knott | Northern Fells | 2329′ |
| 83 | Pike o'Stickle | Central Fells | 2323′ |
| 84 | Whiteside | North Western Fells | 2317′ |
| 85 | Yoke | Far Eastern Fells | 2309′ |
| 86 | Bowscale Fell | Northern Fells | 2306′ |
| 87 | Pike o'Blisco | Southern Fells | 2304′ |
| 88 | Pavey Ark | Central Fells | 2288′ |
| 89 | Caw Fell | Western Fells | 2288′ |
| 90 | Grey Knotts | Western Fells | 2287′ |
| 91 | Gray Crag | Far Eastern Fells | 2286′ |
| 92 | Rest Dodd | Far Eastern Fells | 2278′ |
| 93 | Loft Crag | Central Fells | 2270′ |
| 94 | Seatallan | Western Fells | 2266′ |
| 95 | Great Calva | Northern Fells | 2265′ |
| 96 | Cold Pike | Southern Fells | 2259′ |
| 97 | Sheffield Pike | Eastern Fells | 2232′ |
| 98 | Bannerdale Crags | Northern Fells | 2230′ |
| 99 | Ullock Pike | Northern Fells | 2230′ |
| 100 | Wether Hill | Far Eastern Fells | 2210′ |
| 101 | Scar Crags | North Western Fells | 2205′ |
| 102 | Loadpot Hill | Far Eastern Fells | 2201′ |
| 103 | Bakestall | Northern Fells | 2189′ |
| 104 | Tarn Crag (Far Eastern Fells) | Far Eastern Fells | 2176′ |
| 105 | Carrock Fell | Northern Fells | 2174′ |
| 106 | Whiteless Pike | North Western Fells | 2159′ |
| 107 | High Pike (Northern Fells) | Northern Fells | 2157′ |
| 108 | High Pike (Eastern Fells) | Eastern Fells | 2155′ |
| 109 | Place Fell | Far Eastern Fells | 2154′ |
| 110 | High Spy | North Western Fells | 2143′ |
| 111 | Selside Pike | Far Eastern Fells | 2142′ |
| 112 | Harter Fell (Southern Fells) | Southern Fells | 2140′ |
| 113 | Great Sca Fell | Northern Fells | 2131′ |
| 114 | Fleetwith Pike | Western Fells | 2126′ |
| 115 | Base Brown | Western Fells | 2120′ |
| 116 | Middle Dodd | Eastern Fells | 2106′ |
| 117 | Rosset Pike | Southern Fells | 2106′ |
| 118 | Grey Crag | Far Eastern Fells | 2093′ |
| 119 | Little Hart Crag | Eastern Fells | 2091′ |
| 120 | Starling Dodd | Western Fells | 2085′ |
| 121 | Mungrisdale Common | Northern Fells | 2068′ |
| 122 | Yewbarrow | Western Fells | 2058′ |
| 123 | Birks | Eastern Fells | 2040′ |
| 124 | Causey Pike | North Western Fells | 2035′ |
| 125 | Great Borne | Western Fells | 2019′ |
| 126 | Hartsop Dodd | Far Eastern Fells | 2018′ |
| 127 | Heron Pike | Eastern Fells | 2003′ |
| 128 | High Seat | Central Fells | 1995′ |
| 129 | Illgill Head | Southern Fells | 1983′ |
| 130 | Seathwaite Fell | Southern Fells | 1970′ |
| 131 | Bleaberry Fell | Central Fells | 1932′ |
| 132 | Shipman Knotts | Far Eastern Fells | 1926′ |
| 133 | Brae Fell | Northern Fells | 1920′ |
| 134 | Middle Fell | Western Fells | 1908′ |
| 135 | Haystacks | Western Fells | 1900′ |
| 136 | The Nab | Far Eastern Fells | 1887′ |
| 137 | Maiden Moor | North Western Fells | 1887′ |
| 138 | Blake Fell | Western Fells | 1878′ |
| 139 | Sergeant's Crag | Central Fells | 1873′ |
| 140 | Hartsop above How | Eastern Fells | 1870′ |
| 141 | Outerside | North Western Fells | 1863′ |
| 142 | Ard Crags | North Western Fells | 1860′ |
| 143 | Angletarn Pikes | Far Eastern Fells | 1857′ |
| 144 | Brock Crags | Far Eastern Fells | 1842′ |
| 145 | Steel Fell | Central Fells | 1811′ |
| 146 | Lord's Seat | North Western Fells | 1811′ |
| 147 | Rosthwaite Fell | Southern Fells | 1807′ |
| 148 | Hard Knott | Southern Fells | 1803′ |
| 149 | Tarn Crag (Central Fells) | Central Fells | 1801′ |
| 150 | Knott Rigg | North Western Fells | 1790′ |
| 151 | Blea Rigg | Central Fells | 1776′ |
| 152 | Lank Rigg | Western Fells | 1775′ |
| 153 | Meal Fell | Northern Fells | 1770′ |
| 154 | Calf Crag | Central Fells | 1762′ |
| 155 | Great Mell Fell | Eastern Fells | 1760′ |
| 156 | Whin Rigg | Southern Fells | 1755′ |
| 157 | Arthur's Pike | Far Eastern Fells | 1747′ |
| 158 | Great Cockup | Northern Fells | 1720′ |
| 159 | Gavel Fell | Western Fells | 1720′ |
| 160 | Bonscale Pike | Far Eastern Fells | 1718′ |
| 161 | Crag Fell | Western Fells | 1710′ |
| 162 | High Hartsop Dodd | Eastern Fells | 1702′ |
| 163 | Whinlatter | North Western Fells | 1696′ |
| 164 | Sallows | Far Eastern Fells | 1691′ |
| 165 | Souther Fell | Northern Fells | 1680′ |
| 166 | Mellbreak | Western Fells | 1676′ |
| 167 | Broom Fell | North Western Fells | 1670′ |
| 168 | High Tove | Central Fells | 1665′ |
| 169 | Beda Fell | Far Eastern Fells | 1664′ |
| 170 | Hen Comb | Western Fells | 1661′ |
| 171 | Little Mell Fell | Eastern Fells | 1657′ |
| 172 | Low Pike | Eastern Fells | 1657′ |
| 173 | Stone Arthur | Eastern Fells | 1652′ |
| 174 | Eagle Crag | Central Fells | 1650′ |
| 175 | Dodd | Northern Fells | 1612′ |
| 176 | Green Crag | Southern Fells | 1602′ |
| 177 | Wansfell | Far Eastern Fells | 1597′ |
| 178 | Grike | Western Fells | 1596′ |
| 179 | Longlands Fell | Northern Fells | 1580′ |
| 180 | Burnbank Fell | Western Fells | 1580′ |
| 181 | Gowbarrow Fell | Eastern Fells | 1579′ |
| 182 | Armboth Fell | Central Fells | 1570′ |
| 183 | Sour Howes | Far Eastern Fells | 1568′ |
| 184 | Barf | North Western Fells | 1536′ |
| 185 | Lingmoor Fell | Southern Fells | 1530′ |
| 186 | Raven Crag | Central Fells | 1520′ |
| 187 | Great Crag | Central Fells | 1500′ |
| 188 | Barrow | North Western Fells | 1494′ |
| 189 | Cat Bells | North Western Fells | 1481′ |
| 190 | Graystones | North Western Fells | 1476′ |
| 191 | Binsey | Northern Fells | 1466′ |
| 192 | Nab Scar | Eastern Fells | 1450′ |
| 193 | Glenridding Dodd | Eastern Fells | 1425′ |
| 194 | Arnison Crag | Eastern Fells | 1424′ |
| 195 | Steel Knotts | Far Eastern Fells | 1414′ |
| 196 | Buckbarrow | Western Fells | 1410′ |
| 197 | Gibson Knott | Central Fells | 1379′ |
| 198 | Grange Fell | Central Fells | 1363′ |
| 199 | Fellbarrow | Western Fells | 1363′ |
| 200 | Low Fell | Western Fells | 1360′ |
| 201 | Helm Crag | Central Fells | 1299′ |
| 202 | Silver How | Central Fells | 1292′ |
| 203 | Hallin Fell | Far Eastern Fells | 1271′ |
| 204 | Walla Crag | Central Fells | 1234′ |
| 205 | Ling Fell | North Western Fells | 1224′ |
| 206 | Latrigg | Northern Fells | 1203′ |
| 207 | Troutbeck Tongue | Far Eastern Fells | 1191′ |
| 208 | Sale Fell | North Western Fells | 1170′ |
| 209 | High Rigg | Central Fells | 1163′ |
| 210 | Rannerdale Knotts | North Western Fells | 1160′ |
| 211 | Loughrigg Fell | Central Fells | 1101′ |
| 212 | Black Fell | Southern Fells | 1056′ |
| 213 | Holme Fell | Southern Fells | 1040′ |
| 214 | Castle Crag | North Western Fells | 985′ |