Even before Courtney Dauwalter descended into Chamonix as UTMB 2023 champion, she was an ultrarunning legend.
At that point, she was (just) a two-time winner of the sport's own Superbowl, a two-time winner and record holder of the Western States 100 and a two-time winner and record holder of the Hardrock 100.
But now she has transcended into something beyond legendary- the undeniable GOAT of women's ultrarunning and one of the sports all-time best.
Dauwalter's 2023 UTMB win- her third- saw her do something no one has ever done before and complete a historic treble of the Western States, Hardrock and UTMB 2023 titles; a feat many, including herself, had previously thought impossible.
You can read our full report of Courtney Dauwalter's incredible win HERE.
From double to treble
Courtney Dauwalter had not shied away from her ambitions to win both the Western States and Hardrock this year.
It came following her record-breaking 2023 Western States win, saying at the time that she had "no set plan for recovery" beyond listening to her body.
She went on to claim the 2023 Hardrock 100 (and the record), completing what was a historic double in its own right.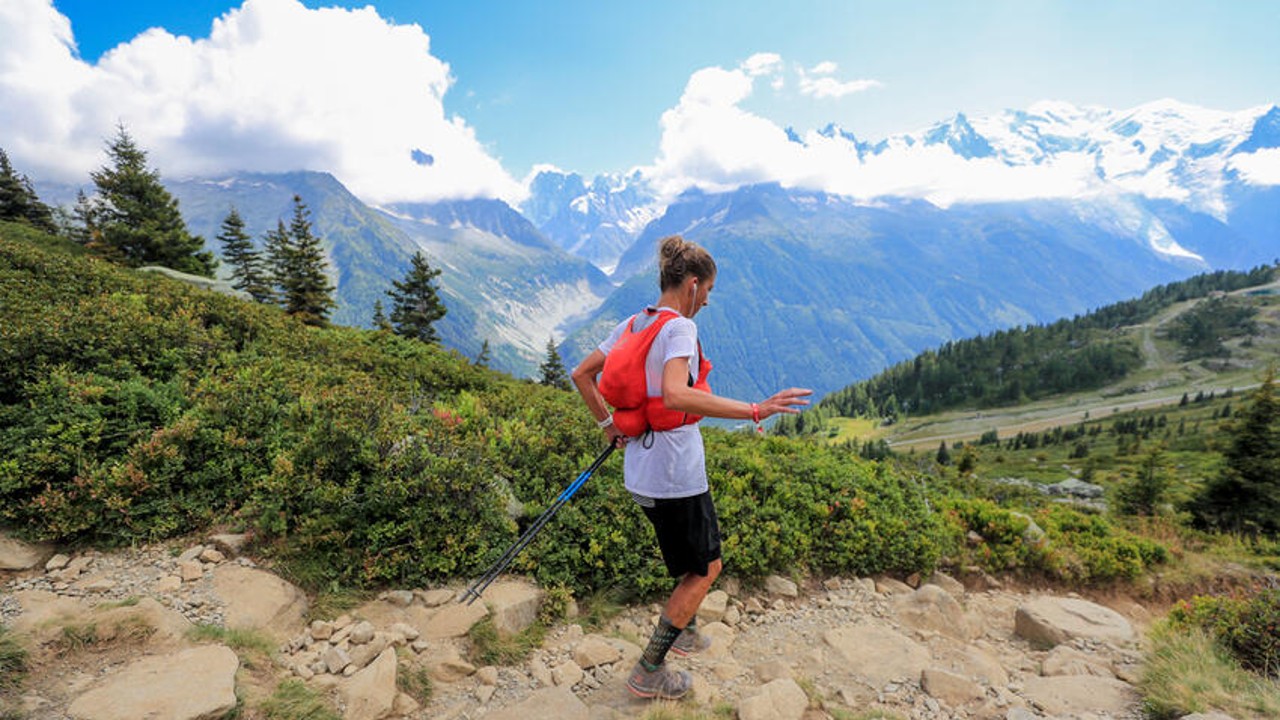 No one had ever won both of those races in one 'season' and the running world rightly gave her her plaudits.
But then the news dropped she was running in the UTMB as well.
"It was never my intention to sign up for UTMB this year," Dauwalter said post-race to UTMB, "My goal was the Western States and Hardrock double, see if I could survive both of those within three weeks of each other and learn about the training and recovery for such a big challenge.
"My goal was just to finish, any day, any time, I just wanted to finish the loop because I had no idea how my body and brain would react."
Learning to recover
Beyond just finishing, Courtney Dauwalter instead won the 170km race with more than 10,000m of elevation gain with a dominant display.
All three of her momentous victories came in the space of ten weeks, from the Western States on June 24, which covers 100 and has nearly 5,500m of elevation gain, to Hardrock 100 on July 14, which features 10,000m of elevation gain across 100 miles, and now the UTMB in the first weekend of September.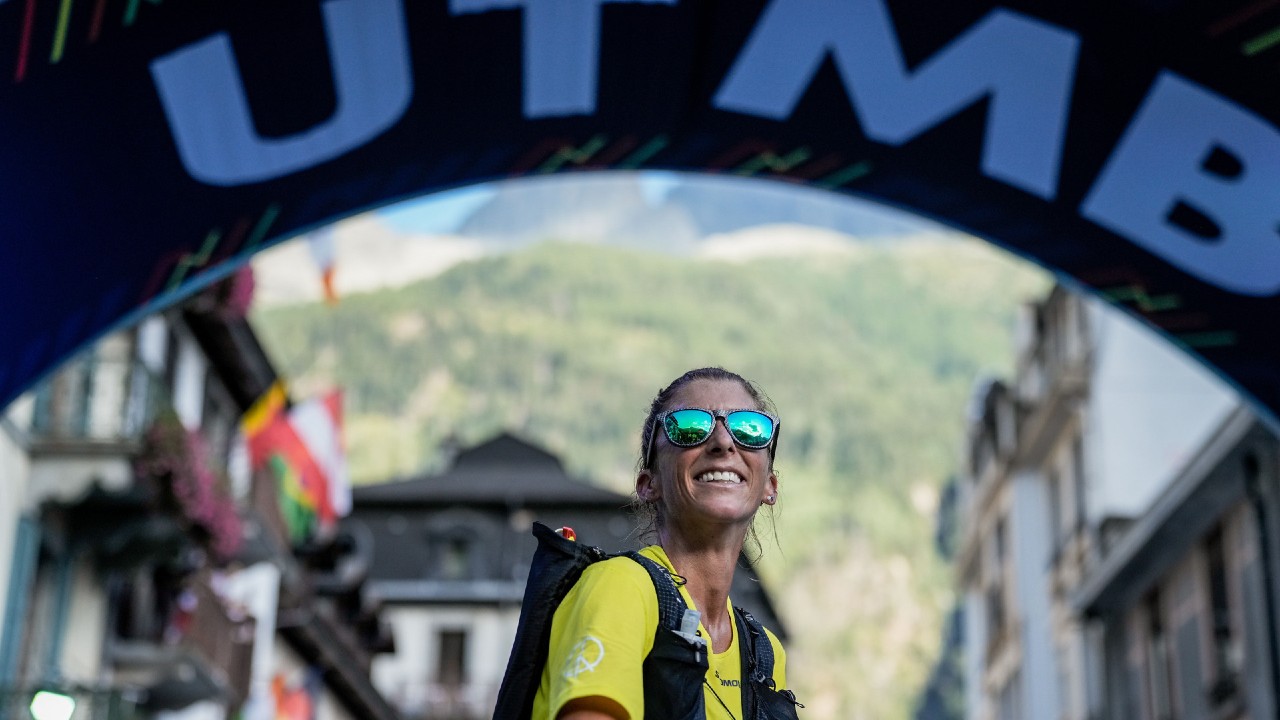 "Our bodies are so amazing," Dauwalter said, "I for sure still need to process the whole summer from the outside view to take away all the lessons from recovery.
"It was focused a lot on replenishing calories and listening to my body and brain to see 'should I hop on a bike and spin around a little bit?' 'Should I sit on this couch and eat snacks all day?'
"It was thinking what is my body asking for because I do think our bodies will tell us what they need usually if we can tune into that."
On crowd support
The support at Chamonix and elsewhere on the course is always immense at UTMB- but the cacophony that followed Courtney Dauwalter throughout her pursuit of history was on another level.
It peaked both at the finish line, but also as she headed into Trient were she was greeted by flares and a crowd so thick that she barely had space to run.
"It was the most insane thing I have ever experienced," she said, "I'm so thankful for everyone who gave up there day to come out, cheering on all the runners, but there were signs, there was a carboard cutout of my long shorts, there was a toothpaste outfit, a pizza blowup – just all these things that made me smile."
"Ultrarunning is hugely mental, so if you can get that boost of joy in translates to energy which can help your legs keep going.
"It was huge, I was so dead by then, my legs weren't really responding anymore and this was the jolt I needed to get back to Chamonix."
The 'pain cave'
Dauwalter's historic achievement did not come easily- and she was open about how painful the second half of the UTMB effort became as she visibly slowed down towards the finish.
"I was working in the pain cave most of the night," she shared, "but at least [I] was still getting some response from my legs while I was there.
"The Col Ferret, the big climb, it was starting to be like 'uh oh' what's left in there, I wasn't sure if there was any power, energy or gas in the tank.
"When I started the descent of it, it was very clear it was going to be a struggle physically to get to the finish no matter how hard I was chiseling in my pain cave.
"It just wasn't translating to forward motion and the smooth running I was looking for.
"I was crossing my fingers that I could push forward and my legs would catch me.
"There has been a lot of time spent in the pain cave this summer."
Why?
Courtney Dauwalter was also clear on her central motiviation in pursuing history- simply the desire to see what was possible.
"Right now, I'm just so curious what is possible," she said, "What I am curious about right now is this pain cave and how our minds and bodies are synched up to help us do difficult things and I want to keep testing that for as long as it is fun, as long as I am feeling healthy going into that pain cave."
"I just want to keep diving in there because I don't know what's back there – how far will it go and what will tell me that that is the end of the cave?
"Curiosity driven, 100%"
What is next?
Inevitably the question turns to what Dauwalter can do next, having reached the pinnacle of the sport.
After confirming she'd be taking a well-earned holiday, she revealed that returning to attempt to get the Fastest Known Time on the 486mile Colorado Trail, having been hospitalised for bronchitis from her last effort in 2020.
"The Colorado Trail is the top of my list," she said, "I think experiencing part of it, living near it, it's 500 miles roughly, it's an interesting amount of time to play with because it takes people roughly a week to try and run it.
"And you're inserting all these new variables.
I think those long events where you are adding sleep and real food nutrition or the mental side of day four, day five, day six, what does that feel and look like?
"That's cool and adds more puzzle piece to this crazy sport, so that's top of my list.
"We'll see if next year is the time is to try it or next week – just kidding – but it's on the list for sure."