There's a brand new Sky Race in the UK this year – Snowdon Skyline. Some of the best technical routes that North Wales has to offer, all in one race.
Snowdon Skyline is a really exciting new race, taking place on 14th and 15th September, which should push any runner to their limits. The race is 22 miles, with 3160 metres of ascent. There's some big ascents, technical descents and some scrambling which requires a head for heights. The route takes in the Y Lliwedd ridge, the Y Gribin ridge and the infamous Crib Goch, it traverses the Glyders, ascends Tryfan and includes the descent down the South ridge off Snowdon. Something for any runner there, as long as you don't like it too easy! See a full description of the route and a map HERE. See a video fly-through of the route HERE.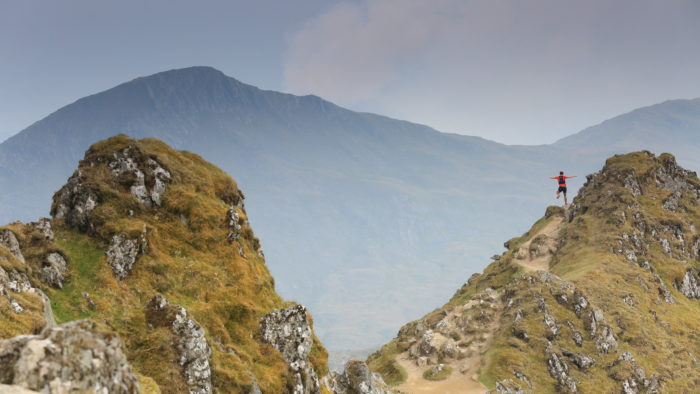 There's also a vertical kilometre, for those who like their ascending short and sharp. Entries are still available for both events HERE.
The organiser, Mike Jones of Apex Running, is no stranger to setting a fiendish route as he's also responsible for the epic Ultra Trail Snowdonia. His own running CV is pretty impressive too. Highlights include winning the Lakeland 100, an 8th place at the CCC at UTMB and many podiums at Sky Races all over the world.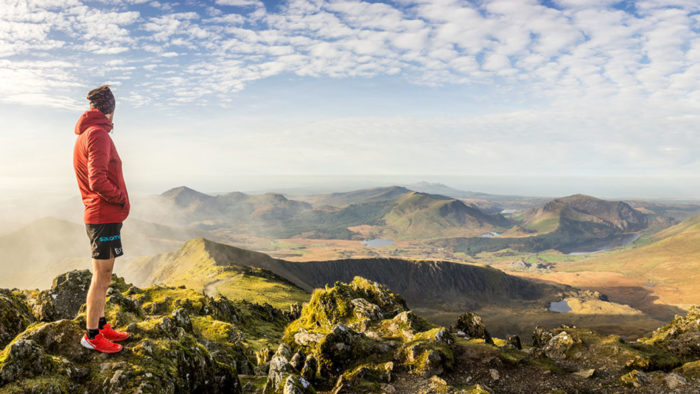 We spoke to Mike, to find out more about what's involved in setting up a new Sky Race.
Q: What makes Snowdonia such a great venue for races and why did you think it was suitable for a Sky Race?
A: In Northern Snowdonia there is an abundance of amazing trails, scrambles and easy climbs to suit all abilities. Combine this with the ease of accessibility and getting around thanks to the great road network, plus jaw-dropping view wherever you look and you have the ideal playground in which to start designing a truly international standard Sky Race. I came up with a shortlist of favorite trails, ridges and scrambles that I wanted the race route to include. Linking them up in the best way to create a nicely flowing route was the difficult bit, but I like to think I've come close to doing a very good job with it!
Q: What's the criteria for putting on a Sky Race, as oppose to a 'normal' race?
A: By nature, most Sky Races are highly technical underfoot and feature a lot of climbing per mile, favouring trails and scrambles that get runners up high, into and over mountain peaks, rather than on lower-level valley-based trails. All Sky Races must also offer a marked course, though the ability to navigate using traditional map and compass as a backup is often a requirement of entry, especially in the UK. In terms of distance, Sky Races can range in distance from as little as 13 or so miles, to more ultra-style events of over 40 miles in some cases.
Q: Can you tell us a bit about the route for Snowdon Skyline – highlights etc?
A:  As someone who has ran and raced on many Sky Race routes, I may sound biased but can hands down say this is one of the best race routes in the UK! Starting in Nant Gwynant, near Beddgelert, the route follows a figure-of-eight shape, taking in Y Lliwedd ridge initially, before descending to the Pen-y-Pass Youth Hostel checkpoint. Runners then complete a loop taking them over into the Ogwen valley via Y Gribin, before returning via the classic Tryfan North Ridge scramble. From here, one final ascent comes in the form of the indomitable Crib Goch scramble, before topping out on Snowdon Summit. From here, it's one long descent to the finish via Snowdon South Ridge, a personal favourite trail of mine!
Q: Do you think Snowdon Skyline can compete with some of the top European Sky Races in terms of epic scenery and gnarliness?
Absolutely! Previous Skyline Scotland events that were part of the Skyrunning World Series have proven that we have the terrain to put on truly spectacular Skyrunning events in the UK. While technical and challenging in nature, the Snowdon Skyline offers an abundance of spectacular views (on a clear day!) that can easily compete with those found in European Sky Races.
Q:  If you want to enter Snowdon Skyline what experience do you need?

A: As a minimum requirement, all potential entrants must provide evidence of having completed at least a 10 mile training run with over 130m of elevation gain per mile. This must also include a Grade 1 or above named scramble. The most difficult section is Crib Goch, but even this is very manageable if you take your time with it. [Read full information on the entry criteria]
Q: What are your own race plans for this year? And will you have FOMO at Snowdonia Skyline?
A: My own racing has taken a bit of a back seat for now, while I focus on establishing and growing my events and coaching business, but next year I hope to complete the Paddy Buckley Round. And yes, I'll certainly be quite envious of everyone who leaves the start line of the Snowdon Skyline this September as I know they'll be in for a real treat!…
Get your entry in now for Snowdon Skyline and the VK!
Header image copyright John Shedwick