It was a thrilling day of racing at the International Snowdon International Race yesterday, which was the 4th race in this year's WMRA World Cup.
In the women's race the favourite and previous two-time winner Sarah McCormack (IRL) took an early lead but was overtaken by Hatti Archer (ENG) on a steeper part. McCormack regained the lead and then made it to the summit alone with a 46 second lead over Elisa Sortini (ITA) with Archer close behind.
However, on the downhill Sortini showed why she is known as one of the best descenders in mountain running and caught McCormack inside the last 2 miles, making it a spring finish to the line to decide the race. McCormack dug deep and showed her the raw speed she has and managed to pull away from Sortini to win by 22 seconds. It was an incredible third win for McCormack at Snowdon. Hatti Archer completed the podium with a solid third place. Kelli Roberts continued her great season with 4th place.
Now McCormack finds herself with a good advantage in the World Cup standings, given some of her main rivals were not competing in the race. The closest runner to her from the classification of the World Cup was Emma Clayton who continued her return from injury by finishing in 9th place.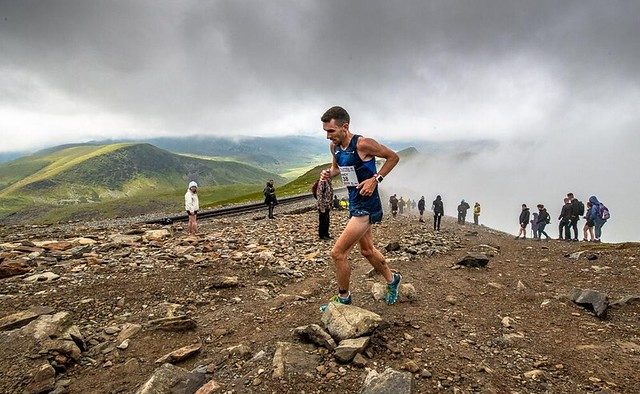 In the men's race Andrew Douglas (SCO) struck out right from the start. Zak Hanna (IRL) and Martin Dematteis (ITA) tried to catch him but his climbing and downhill running was just too strong. He reached the summit in an amazing time of 40 mins 42 seconds – the fastest ever and 1.28 ahead of Martin Dematteis.
He maintained the gap on the downhill and finished in one of the fastest times ever on the course. At the summit Martin Dematteis and his twin brother Bernard were in 2nd and 3rd and the podium positions stayed that way until the finish, with Zak Hanna in 4th.
Like McCormack, Douglas has consolidated his lead in the World Cup standings and could now be very hard to beat. Martin Dematteis over takes Filimon Abraham to move into second place in the World Cup ranking, while both Hanna and Bernard Dematteis grabbed some crucial points to put them into contention for a podium place in the final ranking.
Round 5 will be at Sierre Zinal in Switzerland on August 11th.
Link to results: Results Snowdon International
Link to preliminary ranking for the World Cup and results from the previous 3 rounds: preliminary results
This is an edited version of the race report written by Alberto Stretti and Jonathan Wyatt of the WMRA, reproduced with permission.
Photos copyright WMRA, M. Gulberti, Coluccia's Brothers