On Sunday it's one of the most iconic mountain races in the world – Sierre Zinal. Some top Brits will be competing in this race that's a who's who of mountain running.
The first Sierre Zinal race took place in 1974 so this is a race with a rich history. It's known as the race of five 4000ers. Fortunately you don't have to summit five 4000 metre peaks, but they are all visible from the course (Weisshorn, Zinalrothorn, Obergabelhorn, Matterhorn and Dent Blanche. It's a 31k race with 2000m of ascent, and it's essentially one enormous climb from the start at Sierre to the high point on the course at Nava. Then just when you think the worst is over, there's a huge, quad-killing descent to the finish at Zinal.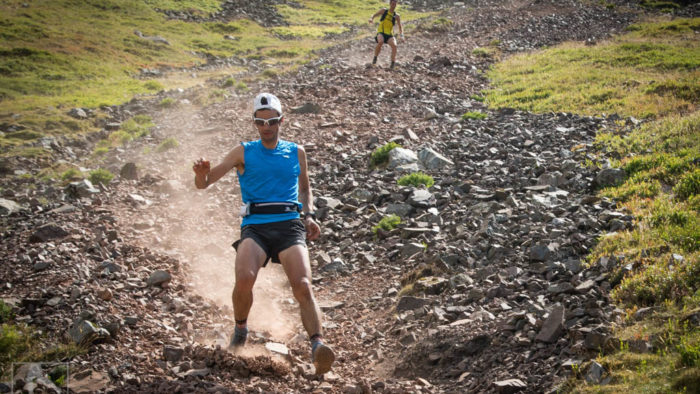 The field is really strong again this year. With five wins already under his belt and seemingly in incredible form after his injury lay-off, you can't bet against Kilian Jornet. Mimmi Kotka must be a one of the favourites for the women's race, but could it be too short for her? Previous winners Stevie Kremer, Lucy Murigi, Marco de Gasperi and Marc Lauenstein are also running. Other favourites include Thibault Baronian, Max King, Ruth Croft, Eli Gordon, Megan Kimmell, the list is pretty endless.
But we have some great British hopes there too this year. Holly Page (in the header image above) is having a fantastic year, including finishing 9th at the Trail World Champs, and could do really well. It'll be really interesting to see how Sarah Tunstall, World Mountain Running Championships bronze medalist who was recently second at Zermatt Marathon, gets on. Robbie Simpson is our biggest hope for the men's race, having finished 2nd last year. Ben Riddell is also one to watch.
One thing's for sure – it's going to be an epic race to follow if you're a fan of mountain running. And fingers crossed that we will see some Brits on the podiums.
Find out more about the race here: www.sierre-zinal.com