The Scott Snowdonia Trail Marathon has been growing in popularity for the four years it's been running and this year's event was the biggest so far. There are now four distances at this event: a 10k, half marathon, marathon, and new for this year, an ultra!
These are tough races on very challenging routes. For example, the half has 4,088 feet of ascent and the marathon 5,256 and both include ascents of Snowdon. But the near perfect weather conditions and dry ground at this year's event, combined with the ever more competitive field made up of runners from 40 countries meant that records fell at all the distances.
There was a lot of interest in the brand new ultra this year, which was 60k and had 7,257 feet of ascent. I asked the organisers why they'd decided to add the ultra. "We added the ultra for two main reasons. Runner demand, and we knew that the beautiful Cwm Pennant where we took the route was inaccessible from the event village within the confines of a marathon. Ultra running is on the rise as athletes look for challenges above marathon distance and the proof was in the pudding when the ultra sold out in 3 days. The feedback has been great with runners absolutely loving the new course, and we expect it to sell out again on 23rd July when entries re-open as it is limited to just 250 entries." So you'd best get in there early if you fancy this race next year.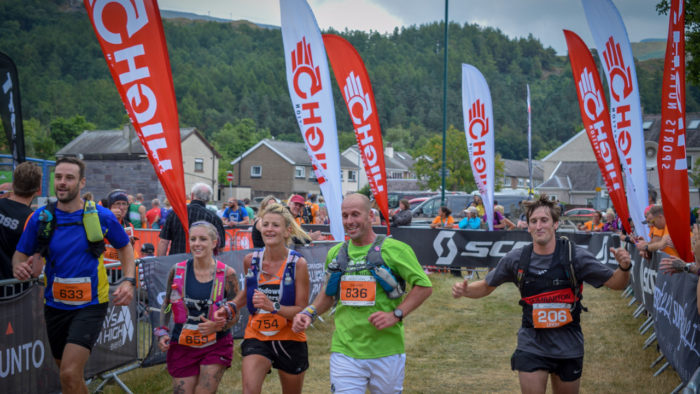 With more and more runners in the beautiful environment of Snowdonia National Park every year – there were around 2000 runners in this year's events – I was interested to know how the organisers make sure that their event leaves no trace. They told me, "At Always Aim High, we pride ourselves on delivering fantastic races in beautiful places so its key to us that we look after the locations we use to protect our environment for all for the future. We have a strict littering policy, which sees offenders banned from all future events and we sweep all courses for litter post event. We always leave our locations cleaner than we find them and ensure that gates are closed, landowners notified and the community engaged. This all adds up, to help us get so many marshals to protect not only our runners but the environment too. Our Final Instructions document is pretty comprehensive and our safety brief covers all the dynamic changes to the course that occur due to weather and access. We're involved in a number of footpath maintenance schemes, pumping funds back into Snowdonia's trails, and with the economic benefit of holding events in the Park, we're pretty sure that we do more good for the mountains than bad."
And although the weather conditions were about as close to perfect as they could have wished for, they also make sure that safety measures are in place for those times when the weather isn't so good. "Operating running races in mountain areas is dangerous. Fact. To operate safety we ensure our routes are well maintained, way marked and heavily marshalled. On the day a huge team of over 150 marshals, mountain leaders, Mountain Rescue Teams, radio operators and first aid providers cover the entire routes to ensure we can react fast to any incidents or injuries. It's quite a big operation with almost 100 miles of different courses, but it ensures we can deal with most things instantaneously."
One of Always Aim High Events' objectives is to get runners to make their races a firm fixture in their calendar every year, to get "people coming back year on year and bringing their friends to enjoy our fantastic landscape we have here in Snowdonia". They certainly show off the landscape well with their route choices and their commitment to the environment and to the safety of runners should secure the longevity of their races. Will you put one of these races on your running bucket list?
They seem to be succeeding in growing their races, with runners coming back again year after year. What sets their events apart? "Trail running in the UK is undeniably growing, but so are the events on offer. Our policy is to provide the best events, with the best support and most exciting atmosphere. The Snowdonia Trail Marathon encapsulates this. The course is challenging but achievable and the spectators drive the athletes on at their lowest points. Our insole partner Superfeet EU have given us 20,000 cowbells this season so there's a brilliant atmosphere at the events that draws people back year upon year. My favourite piece of feedback this year came from a lady who described the race as 'Brutally beautiful and beautifully brutal!'. I think this sums it up pretty well. It's a race that everyone has to do at least once!"
It sounds like a winning combination: challenging courses in a beautiful place and supporters with cowbells!
Find out more about the Scott Snowdonia Trail Marathon here.
All results available at ​www.chiptimes.biz