All runners have their list of must do running races they want to do before they hang up their trainers. A lot of the same races crop up again and again in these lists – UTMB, world marathon majors, Marathon des Sables – so we thought we'd ask some of our contributors what races they would love to do. Here's what they came up with.
Berghaus Dragon's Back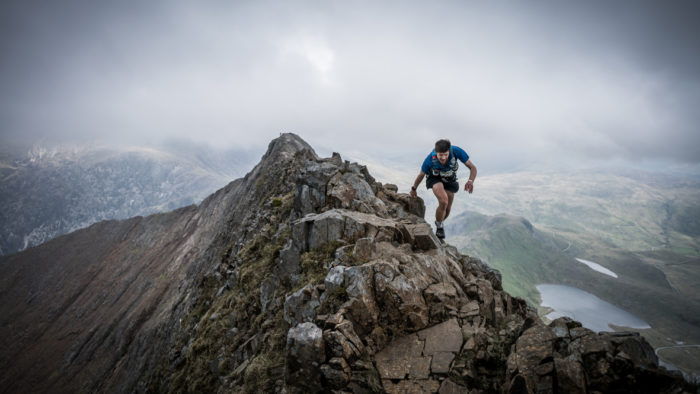 Rob Neal, ultra runner and member of the RAF orienteering team, says that his ultimate must-do race is 'the Dragon's Back. For me it is the definition of an iconic race; it has an unique history of being held so infrequently, it is notoriously difficult and it has defeated some of the best runners in the world. I have spent some time running in north Wales so I know how difficult it is to move across that terrain quickly. I think that no matter how much I trained for it I still wouldn't be sure of completing it and that is why it is so appealing to me to try!'.
The Berghaus Dragon's Back Race takes place biannually, with the next race taking place in May 2019. It was initially run only once in 1992 but then Shane Ohly of Ourea Events resurrected it in 2012 and it's since become even more legendary. The race covers 315km of rugged Welsh mountains with 15,500m of ascent over 5 days. To be eligible to enter you must sign a disclaimer confirming that you have enough relevant mountain experience and the organisers recommend that you have experience of: ultra running in a mountain environment, multiday racing and mountain marathon events.
[ad]
Lakeland 100 or West Highland Way
Cat Simpson from, team Centurion, Mountain Fuel and Beta Running,  would opt for the Lakeland 100 or the West Highland Way Race. She says 'it might seem a bit boring to pick UK races out of a vast selection of global events, but both are trail races in absolutely stunning locations. Both are iconic in their own right and relatively low key races in places I'd love to see a bit more of.' One of the things that particularly appeals to Cat about the Lakeland 100 is that 'the route is self-navigating and, while is by no means a piece of cake, doesn't go over the high passes in the Lake District, so is manageable for a southern softie like me.' Cat is being a bit modest here as, while being undoubtedly southern, she is the women's record holder for the Grand Union Canal Race, a 145 mile race, so is definitely not soft.
The Montane Lakeland 100 takes place every July in Coniston and has around 6300m of ascent. Competitors head out into the night at 6pm, so all will spend a night in the fells. As the cut-off is 40 hours some will be out there for two nights. The route starts in Coniston and then does a clockwise loop, taking in Dunnerdale fells, Eskdale, Wasdale and Buttermere, Keswick, Matterdale, Haweswater, Kentmere, Ambleside and Elterwater and back to Coniston. A real tour of the Lake District.
The West Highland Way Race takes place every June and is a 95 mile race with around 4500m of ascent. Runners start at Milngavie and finish at Fort William with a time limit of 35 hours.
Ultra Tour Monte Rosa
Pip Haylett, ultra runner, goes for Ultra Tour Monte Rosa as his must do race.  'Sure, there are plenty of others out there – Tor Des Geants etc that have more history, are potentially harder etc – but there is something about this one that just grabs me.' Part of Pip's reasoning is that if it's designed by Lizzy Hawker it's got to be good! 'Quoting from the website… '"This is the race I would have loved to run," says 5x UTMB winner Lizzy Hawker. High passes, technical trails, gorgeous scenery, big challenge'.
Pip says 'As a long time admirer of Lizzy and her achievements, this endorsement is enough for me.  Having run in a lot of places, I suspect Lizzy knows a good trail when she sees one. And it does sound incredible.  I love running in the alps, I love the look of the route, the challenging terrain, the alpine scenery… I spent a lot of summers as a kid walking in the Alps, so being able to go back and run through the hills is really very appealing to me.  Along with the sense of adventure, the self sufficiency and awe inspiring nature of this type of running – it's quite special for a boy who lives in the flats of Oxfordshire.'
The Ultra Tour Monte Rosa takes place each September. It's 170k long and has 11,300m of ascent around the Monte Rosa massif. The cut-off is 60 hours, which is enough to make most runners gulp!
Trofeo Kima or Barkley Marathons
Paul Bradford, owner of Race Easy training camps for running, swimming, adventure racing and biking, opted for Trofeo Kima or The Barkley Marathons – the race that eats its young!' as his must do races. He chose Trofeo Kima 'as it's the sky race all other sky races have copied i.e. Glencoe Skyline et al' and the Barkley Marathons 'because it is nails and I'm looking for a race that sows a seed of doubt… 2018 the year the race won!. Trofeo Kima appeals to my sense of trail running history and fast and light alpinism, it is part of the canon! The Berkley Marathons is exactly the type of esoteric 'road less travelled' nonsense that appeals to my vain attempts to be different.'
Trofeo Kima takes place each August in Val Masino, Italy. It's 52k long with 4,200m of ascent, with 7 passes over 2500m. Entrants must have skyrunning experience because of the highly technical nature of the course.
The Barkley Marathons like to maintain an air of mystery about the entry process so we'll leave it up to you to research it!
Western States or Hardrock 100
Damian Hall, top 10 finisher at MIUT and Lavaredo, who has run for GB in the Trail World Championships, goes for two classic US hundred mile races as his must dos – Western States and Hardrock 100. 'Western States is the original 100-mile trail race. So it's about the history, prestige, having a really competitive field and getting fried like an egg in this canyons. I think I'd enjoy the Hardrock 100 course even more, but it's nigh on impossible to get into. I love a good 100, me.'. But Damian has his race priorities sorted: 'All that said, if I did get into either race and they clashed with Tough Mudder Colchester, I'd have to say no thanks. #TMCFTW'.
Western States takes place each June in Squaw Valley, California. Runners will ascend 5,500m and descend 7,000m over the 100 mile course. You have to have run one of their qualifying races before you can be entered into the lottery for the 369 spots available in the race. in 2018 there 4909 entrants into the lottery. So think rocking horse sh*t.
Hardrock 100 takes place in southern Colorado each July. It has just over 10,000m of ascent and runners will be at over 3,700m at 13 points on the course! There are only 140 places in the race and entrants need to have run a qualifying race, demonstrating relevant mountain experience and enter a lottery. Again, not easy to get into, which is partly why we want to do these races so much!
As for me, I'd have to go for Tor Des Geants. Our contributor Natalie White ran it in 2016 and wrote about her experience here.