Camille Herron has revealed the training secret which resulted in her breaking the women's record at Spartathlon in Greece.
The American ultrarunner finished third overall in the 153-mile event between Athens and Sparta, stopping the clock in 22:35:31.
The 41-year-old also broke the 48-hour distance record earlier this year, completing a 435.336km run during a two-day event in Australia.
Chilled build-up
Herron suffered a setback to her season in June when she failed to finish the Western States 100. She also pulled out of the Comrades Marathon and dropped out of the Leadville 100 to give her body a break.
The four-time IAU International Ultra Runner of the Year revealed that she was working through perimenopause while preparing for Spartathlon.
"My training for Spartathlon was one of my most chill buildups," she wrote on social media.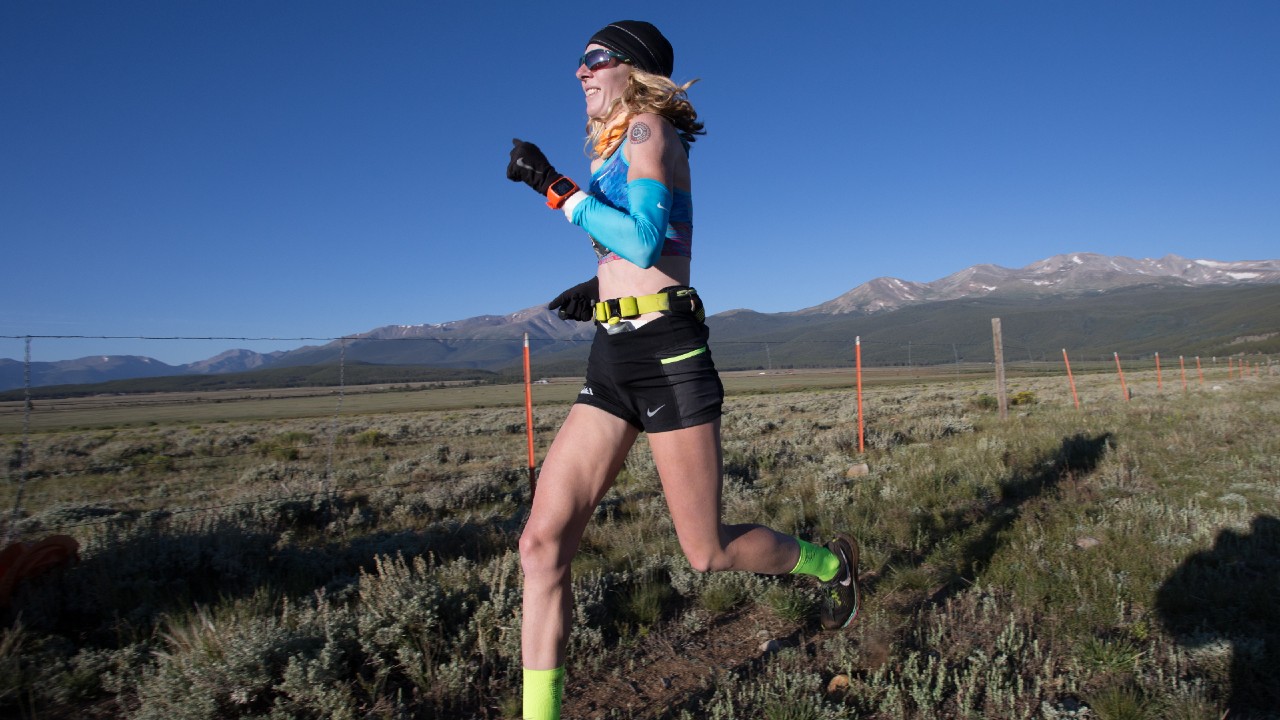 "Working through the perimenopause symptoms, I focused on getting myself back to feeling good most of the time.
"We vacationed, travelled, ran at cool spots, trails, and I put together 10 weeks between 100-117 miles per week (11-13 runs per week).
"This is lower than what I normally put in, but I felt good.
"I finally was able to put in consistent quality work too.
"Feeling good, rested, and healthy going into a race is totally under-appreciated! I had full confidence and trust that the block of consistent, cumulative volume would give me the endurance and strength to go the gruelling 246km/152+ miles."
Short sessions
The gruelling Spartathlon course features 3,201 metres of elevation gain and finishes in front of the statue of King Leonidas in Sparta.
Herron used her years of experience to pace her effort perfectly and took two hours off the previous women's course record of 24:48:18, set by Patrycja Bereznowska in 2017.
The American revealed that her training was targeted through short sessions, despite the 153-mile event distance.
"My longest training run for this training block was two hours," added Herron. "Most days were double runs of 90min-2hrs/50-60 min.
"I got in some strong workouts, but I kept everything pretty conservative.
"I did my usual Mt Scott run a little further out this time (16 days pre-race)."
Pulling back the reins
Herron adopted a measured approach to Spartathlon – both in her training and it the race itself – and says the performance further boosted her confidence as a runner entering her 40s.
"I went into Spartathlon feeling strong, springy, and very well rested. I think it paid off huge for the final 1/3 of the race," she added.
"Even my recovery has been great and fast. No one doing what we do has a problem putting in the work.
"It took confidence, trust, and wisdom for me to pull back the reigns and go into a beastly race like Spartathlon knowing I was prepared. I'm really liking my 40s and giving myself a bit of grace!"