In just the last few weeks inov-8 ambassadors have set a new FKT (TBC) for the Paddy Buckley Round (Damian Hall), completed a double Paddy Buckley Round (it could only be Nicky Spinks) and broken the record for summiting all 214 Wainwrights (Paul Tierney). It's been a busy time. But now we hear that another inov-8 ambassador is about to set off on an incredible challenge. British runner Kristian Morgan is going to try to set a new world record for running the Appalachian Trail. All 2,189 miles of it.
When he sets off on July 1st he will be following in the footsteps of thousands who hike this iconic trail, which is apparently the longest hiking trail in the world. However, most of these people do it over the course of months. In order to break the highly sought-after speed record Kristian will need to complete it in under 41 days, 7 hours and 39 minutes. To do this he needs to average around 55 miles per day.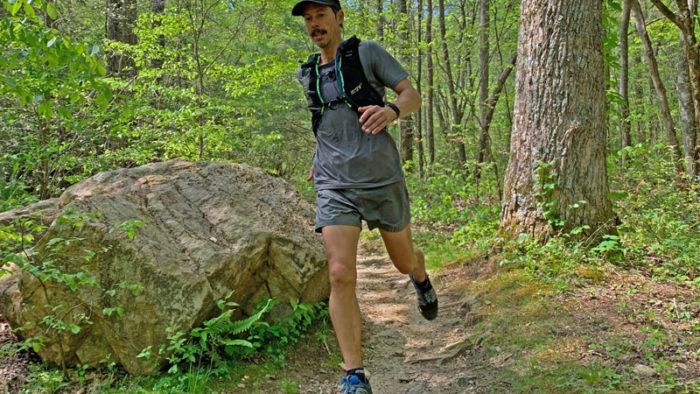 The record is currently held by Belgian Karel Sabbe, who set it in 2018. However, over the years it's been hotly contested by some of the greatest ultra runners in the world. Famously, Karl Meltzer had 3 attempts at breaking the record, in 2008, when he finished it a week over the record, in 2014, when he failed to finish, then in 2016 when he finally broke it. The 2016 attempt is immortalised in a Netflix film 'Karl Meltzer: Made to be Broken' which gives you a hard-hitting insight into what mental and physical lengths you have to go to, to break a record like this.
Scott Jurek also held the record for a year before Meltzer, having completed the challenge against all odds after picking up injuries early on. Despite his amazing record as an ultra runner (7 back-to-back victories at Western States for instance) he called the Appalachian Trail 'the hardest thing I have ever done'.
Kristian has spent time out on the Appalachian Trail in preparation for the attempt, and he supported Karel Sabbe when he set the record last year.
Running northbound from Georgia to Maine on the Eastern side of the USA, Kristian will pass through 14 states and be supported throughout by his mum and cousin, who will drive ahead and set up overnight camps at scheduled stops.
"I decided long ago that I wanted to live a life rich in experiences over possessions, and I can think of no better experience than running the AT. It's going to be the adventure of a lifetime," said Kristian, who has run 120+ marathons and ultramarathon events.
"I supported Karel when he set the record last year, spending 15 days on the trail with him. I also spent another 5 days on the trail earlier this year. I feel all this experience, coupled with the help I've had in planning from AT veterans, stands me in good stead to have a go at the world record."
Living out of a camper van in the heart of London for the last eight years and working as a self-employed ultramarathon coach, Kristian has done most of his training in and around England's capital city, often running 100+ repetitions of a small hill near Crystal Palace.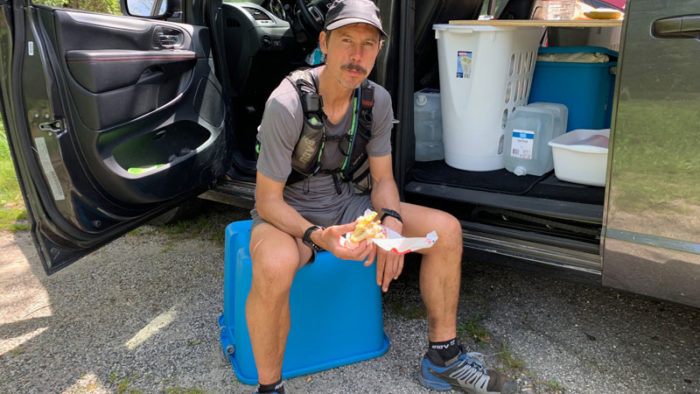 He added: "Life on the AT will be very different to life in London, but I can't wait to get going. I'll start running at 4am each day in the dark and push on until reaching the overnight camp. I'm really looking forward to the peace and tranquillity, but less so the prospect of encountering bears and snakes. Meeting a bear in the dark is my biggest fear!"
Fortunately, Kristian has been able to gain advice on his attempt from legends like Jurek and Meltzer, plus invaluable support from Warren Doyle – a man who has thru-hiked the AT 18 times.
Lee Procter, inov-8 Global Communications & Ambassadors Manager, said: "We were looking for the ultimate in tough trail running challenges to test our new graphene footwear when Kristian approached us about a world record attempt on the Appalachian Trail. It quickly became the perfect fit.
"The AT mountain terrain is notoriously tough on shoes, with the rough ground shredding outsoles and most runners using 10 pairs or more. Our pioneering rubber outsoles infused with graphene – the world's strongest material – will give Kristian the toughest grip and the best chance at achieving his goals in fewer pairs of shoes."
Kristian will wear the soon-to-be-released inov-8 TRAILROC G 280 shoes and/or the popular ROCLITE G 275.
You can follow Kristian's progress on his AT world record attempt via this live tracker map. There will be updates throughout on inov-8's Facebook, Instagram and Twitter pages.