James Nobles has won the Northern Traverse in impressive style in what he had told us beforehand was "by far the furthest I've attempted to go in one hit."
Winner of the Dragon's Back last year, this was a relative voyage into the unknown at a non-stop 186 miles (300km), with his previous longest of around 70 miles for the Paddy Buckley Round.
But the Senior Research Fellow from Leeds Beckett University took it in his stride as he forged clear on the coast-to-coast route from St Bees on the west to Robin Hood's Bay on the east.
In the women's race, Lizzie Faithfull-Davies was a dominant winner as she reached the finish in 58:23:44 to also cross the line in eighth overall.
How the men's race panned out
The front runners had been close-up in the first half of the race, with six reaching Shap in quick succession on Saturday night around 13 hours into the event.
Lee Parker was first there but would soon take the decision to retire, leaving Nobles, Richard Lazenby, Robin Carter, Paul Tierney and Robert Barnes to forge on.
Tierney would exit at Kirkby Stephen, while a leg injury forced out Lazenby by Richmond.
Barnes kept going but dropped out of contention, so for much of the second day, it turned into an absorbing battle between Nobles and Carter as they made their way across the the North Yorkshire Moors.
By the final checkpoint at Hawsker, Nobles was just over half an hour ahead and he maintained that to reach the finish in 47 hours, 14 minutes and 45 seconds, just under three hours outside last year's course record of Kim Collison (44:24:30).
Carter took second place in 47:46:48, with just under an hour back to Barnes who rounded out the podium in third.
And there was a notable finish for Eoin Keith in seventh, who we chatted to in the build up and was competing in the event just a couple of weeks after the iconic Barkley Marathons.
What's next for Nobles?
When we spoke to him on the eve of the race, Nobles told us: "Who knows, I might not be cut out for the single stage long distance stuff – the Northern Traverse will give an indication of that!"
Everyone now knows the answer and one potential target in the future for him could be the Spine Race.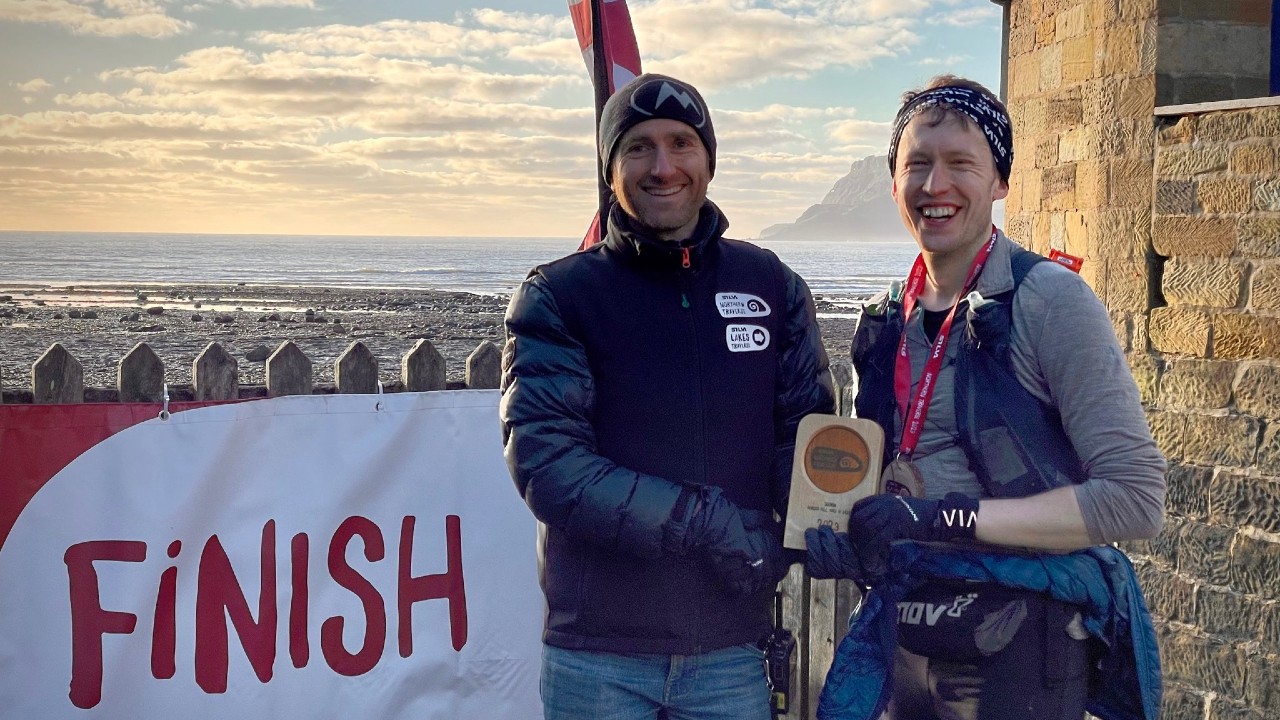 Faithfull-Davies a class apart
The women's race was more clearcut with Faithfull-Davies in front the whole way as she finished over two hours clear of her nearest rival.
There were times when Nikki Sommers looked a threat but during the second night (Sunday into Monday) was when Faithfull-Davies really took charge.
Third in last year's Winter Spine Race and second in the Summer version, this was Faithfull-Davies' first big-race victory.
Speaking afterwards to race organisers Ourea Events she admitted she didn't realise she was in the lead until Shap, explaining: "I was just running my own race. I didn't know where I was for ages. I assumed there were loads more people in front. Nikki and Emily [Mills] were quite close to me at the time. I knew they were there but I didn't know who else might be in front.
When asked what kept her going she added: "Lots of things actually – I think enjoying the route.
"The first night going over Patterdale, I ended up being in a group with some of the Lakes Traverse. It was really nice to be in a group and help everyone off that bit.
"It's also either catching up with someone who's in front of you or keeping going because you know someone's behind you."
Northern Traverse Results, Saturday April 1, 168 miles / 300km
MEN
James Nobles (GBR) – 47:14:45
Robin Carter (GBR) – 47:46:48
Robert Barnes (GBR) – 48:37:21
Mark Potts (GBR) – 51:15:04
David Hanna (GBR) – 52:47:29
WOMEN
Lizzie Faithfull-Davies (GBR) – 58:23:44
Nikki Sommers (GBR) – 60:46:12
Emily Mills (GBR) – 68:36:54
Kirsty Reade (GBR) – 73:36:01
Sarah Kirsty Williams (GBR) – 75:14:49