In 2006 the CCC became the second race to be added to the UTMB race roster. Over the last 12 years it's become the glamourous younger sister of the big race, often attracting big names wanting a fast race. It's also a race which many runners use as a stepping stone to the UTMB itself because the route is essentially the last 100k of the big race. However, it certainly isn't to be underestimated.
The CCC starts with a 10k long section which is essentially one massive 1,200m climb up to Tete de la Tranche. So immediately you start to wonder what you've let yourself in for. Then there are some beautifully runnable parts, which lull you into a false sense of security. But then comes the climb up Grand Col Ferret, which has broken many a runner. But you've made it to Switzerland.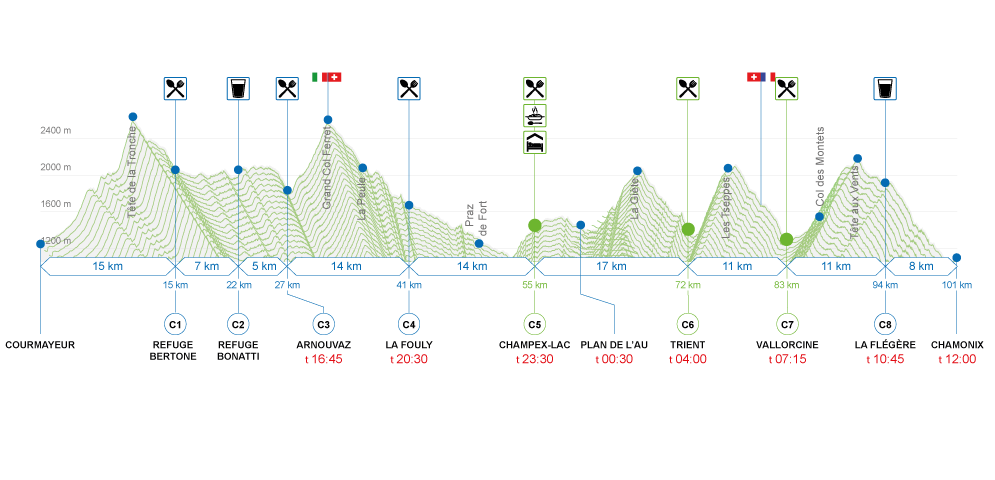 The big downhill down to La Peule and Praz de Fort will mostly likely start to take its toll on your quads. But you'll be making good time and the big mid-way aid point at Champex Lac will give you a huge boost. Just those last 3 summits to conquer now and oh boy, is Tete aux Vents a sting in the tail. But at least you're back in the right country now and Chamonix will come into view (though never seem to get any closer on the last, never-ending downhill). Just that wobbly legged sprint finish to negotiate now.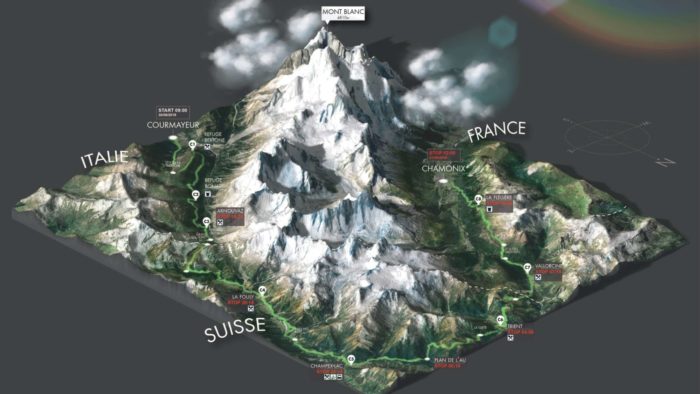 The favourites for the 2019 CCC
Memorably last year we had a British winner in the men's race – Tom Evans. He isn't returning to defend it this year (he was planning to run the TDS but decided against it in the end). But the competition in both fields this year should be pretty exciting.
The women's race in particular this year is absolutely stacked! There are some really strong women from the US, including Brittany Peterson, who just finished 2nd in Western States, Keely Henninger, who was 4th at the CCC last year and Kelly Woolf, who won Lavaredo last year and was 5th at last year's CCC (and is still only 25!). This year's Penyagolosa winner Gemma Arenas of Spain will be competing, as will Lucy Bartholomew of Australia, who was 3rd at last year's Western States and recently finished 2nd at Ultra Trail Australia. Emile Forsberg is also continuing her return after having a baby and it'll be great to see her back.
There are a couple of British women to watch in the CCC too. Holly Page is returning from injury but in recent weeks has finished 2nd at the Hamperokken Skyrace and 8th at Sierre Zinal. It'll be really interesting to see how she gets on at her first CCC. Anna-Marie Watson is also running and she already has a number of Ultra Trail World Tour top 10 finishes to her name, including a win at Oman by UTMB and a 7th place at the UTMB. She recently finished 8th at Lavaredo, so should be one to watch.
The men's race has some really strong US runners too, such as Cody Reed, who's one of the Coconino Cowboys and finished 2nd at Tarawera this year and top 10 at Western States last year, and Mario Mendoza, who was 6th at the World Trail Champs last year. Luis Alberto Hernando must be favourite, having finished on pretty much every podium there is. Marco de Gasperi was 4th last year – can he improve on that this year? Cristofer Clemente has a long string of consistent results to his name, including a 3rd at Transgrancanaria this year and a 2nd place at the Trail World Champs last year. And Jia-Shing Shen will definitely be one to watch after just placing 2nd at Lavaredo and winning the Hong Kong 100 earlier this year.
The depth in the women's and men's fields this year is incredible, so it's going to be a very exciting year for the CCC.