It was the IAU World 24 Hour Championships in Albi at the weekend and while GB athletes performed strongly, the standout headline was Camille Herron's (USA) new world record, while Aleksandr Sorokin (LTU) took the win for the men. The standard of competition was probably the highest ever known at the event. John Pares, GB Team Manager, gave us this update on the weekend. 
The championships included more countries and the highest number of athletes of any previous event. Whether it was the course, the weather or the depth of competition, the weekend saw an astonishing 30 new national and age group records.
The two winners started the race in emphatic fashion, although Herron's unbelievable start made Sorokin look unusually conservative. While Herron led from the beginning, Sorokin was only sixth after the first hour. Both avoided the expected decline as the hours took their toll and finished strong enough to win by clear margins.
The British are often a medal threat at these championships , but the extremely high overall standard in both male and female fields meant that the individual and team podium positions were not forthcoming. It was, however, a successful weekend. Overall the men's team were 6th out of 33 teams competing and women 5th out of 27 teams.
Jess Baker (227.558km) repeated her performance from Belfast to be the highest placed British female athlete in 16th. She was backed up in the team results by an outstanding debut from Cat Simpson (23rd with 220.301km) and an impressive 27th from Wendy Whearity (217.174km). Ali Young (211.113km) and Sarah Morwood (186.169km) completed the women's team.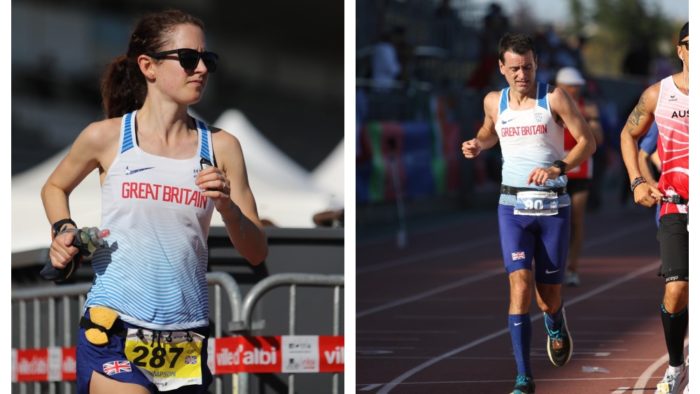 Paul Maskell (251.261km) also had an impressive debut as the first British man in 15th place. Experienced GB athletes James Stewart (17th with 250.696km) and Dan Lawson (23rd with 244.732km) were the other two team counters.
A good indicator of the standard is that GB has never had three athletes over 240km without medalling at previous championships. Team stalwart Steve Holyoak once again delivered a strong performance and debutants Grant MacDonald and Mike Stocks completed the men's team.
GB team manager John Pares said, "I was incredibly impressed by the gutsy performances of the athletes. 24 Hour racing is a war of attrition and we have never had 100% of our athletes on track at the end. These totals would have been rewarded with medals in any other championship. It shows how the standard is rising in the world of ultra-running, but also that the British standards are rising with it."
Paul Maskell, first GB man said, "For a first-time GB athlete I was blown away by the team atmosphere in what is normally an individual event. The crew support behind the scenes was phenomenal. I'm looking forward to building on this performance and helping the team win medals at future championships."
Jess Baker, first GB woman said, "I always run my own race but it was great to share the track with such high calibre athletes and to see Camille smash her own world record. It's always so inspirational to see my fellow athletes, often against great adversity, pushing themselves to new limits."
Women
1. Camille Herron (USA) 270.116km
2. Nele Alder-Baerens (GER) 254.288km
3. Patrycja Berenznowska (POL) 247.724km
16. Jess Baker (GBR) 227.558km
23. Cat Simpson (GBR) 220.301
27. Wendy Whearity (GBR) 217.174km
33. Ali Young (GBR) 211.113
66. Sarah Morwood (GBR) 186.169km
Men
1. Aleksandr Sorokin (LTU) 278.973km
2. Tamas Bodis (HUN) 276.222km
3. Olivier Leblond (USA) 275.485km
15. Paul Maskell (GBR) 251.261km
17. James Stewart (GBR) 250.696km
23. Dan Lawson (GBR) 244.732km
35. Steve Holyoak (GBR) 234.590km
43. Grant MacDonald (GBR) 227.734km
71. Michael Stocks (GBR) 209.145km
Links to full provisional results HERE.
Images copyright Norbert Mihalik