Czech pair Hana Švestková Stružková and Matěj Zima emerged triumphant as the Valsir Mountain Running World Cup headed to Jankse Lazne in the Czech Republic for the Krkonossky Half Marathon.
The ski town in the Giant Mountains played host to the World Mountain Running Association's (WMRA) third Silver Label race of 2022, following Seven Sisters Skyline in May and last month's One Hundred Douro-Paiva.
As it did in 2021, the 22km, 1,220m+ race, from Colonnade Square in the town centre to the forest trails around the peak of Černá hora and back again, also hosted the Czech long distance mountain running championship.
Course-record display
With last year's Czech long distance champion Barbora Macurová unable to start due to illness, it was Švestková Stružková who stepped up to claim the vacant title.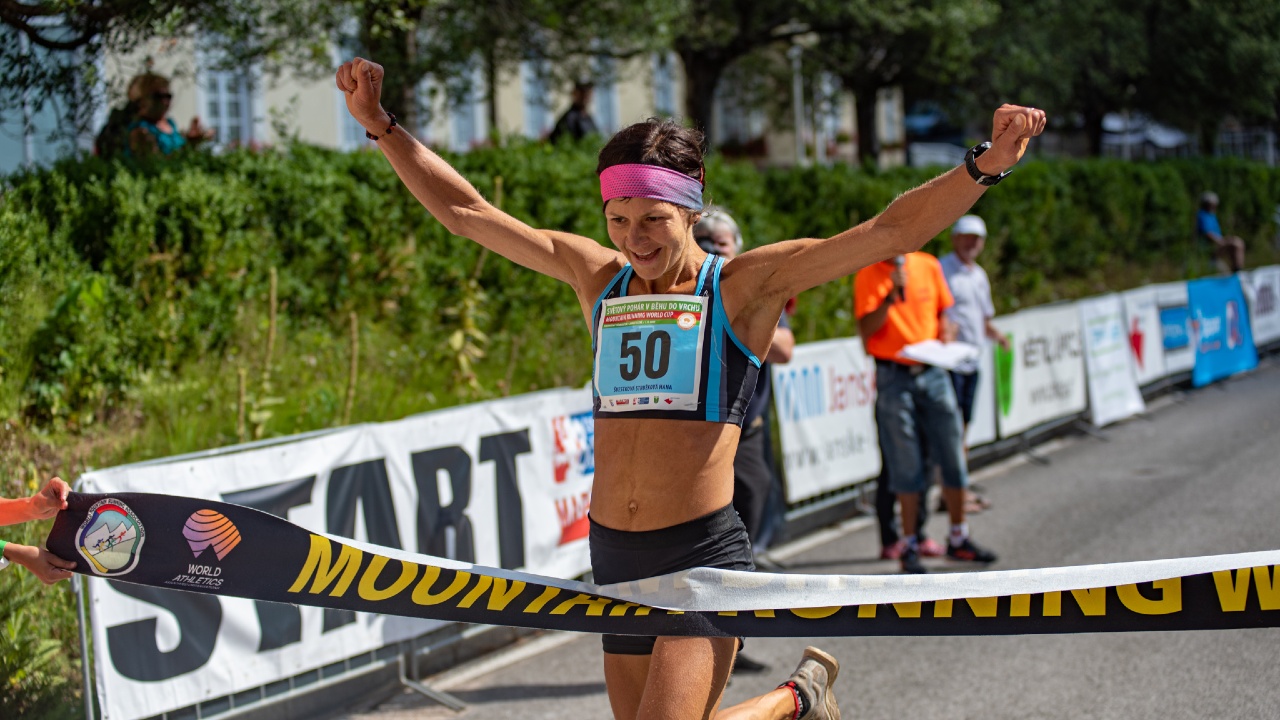 She came into the race with good recent form; third at the Czech Up and Down Championships in June and 10th at the European Championships in July. But her run here was a step up from either of those performances, posting a time of 1:47:58, over two minutes faster than last year's winner Joyce Njeru.
Barbora Jíšová, a strong championship performer on the track for a number of years but a debutant in mountain running, also eclipsed Njeru's time from 2021, coming into Colonnade Square in 1:29:32 to take second place.
Gabriela Veigertová was the best placed of last year's returning runners, taking almost four minutes off her 2021 time to move from fourth and onto the final spot on the podium. 
Zima a surprise winner
In the men's race there was disappointment for Marek Chrascina. The multiple-time Czech champion and World Championship medallist in 2019 was unable to finish, not yet fully recovered from the injury which kept him out of the European Championships.
In a field full of athletes with huge numbers of championship medals across a range of disciplines, it was a relative newcomer who prevailed.
Matěj Zima, fresh from a period of training at altitude in Livigno, Italy, took the win in 1:34:06. After sixth and eighth places at the national short course races in the last two years, the 24-year-old found himself on the top step of his first championship podium.
By contrast, second place went to a seasoned campaigner; Vit Pavlišta's silver medal is the 34th national medal in his collection, across road, track, cross country and mountain running. Third place, exactly one minute further back, was Viktor Šinágl in 1:36:00.
The Valsir Mountain Running World Cup continues this weekend as elite athletes from around the world descend on the Swiss canton of Valais for the race of the five 4,000s, Sierre-Zinal.