This weekend it's one of the highlights of the running calendar – it's Skyline Scotland. And this year the addition of three new races, as well as a packed schedule of events over the weekend will make it the biggest ever!
There are now seven races in total throughout the weekend. There's the old favourites:
Glen Coe Skyline (52k with 4,750m of ascent)
Mamores VK (the UK's only vertical kilometre over the course of 5km)
Ben Nevis Ultra (51k with 3787m of ascent)
Ring of Steall Skyrace (29k with 2,500m of ascent with some exposed scrambling)
And for the first time this year there are three new (slightly more forgiving but still tough) trail races:
the 5k Grey Mare's Trail Race
the 10k Loch Eilde Mòr Trail Race
the 18k Three Mealls Trail Race
You can track the progress of the runners on the Ben Nevis Ultra (Friday), Ring of Steall Skyrace (Saturday) and  Glen Coe Skyline (Sunday). You can find the information and links to track them HERE.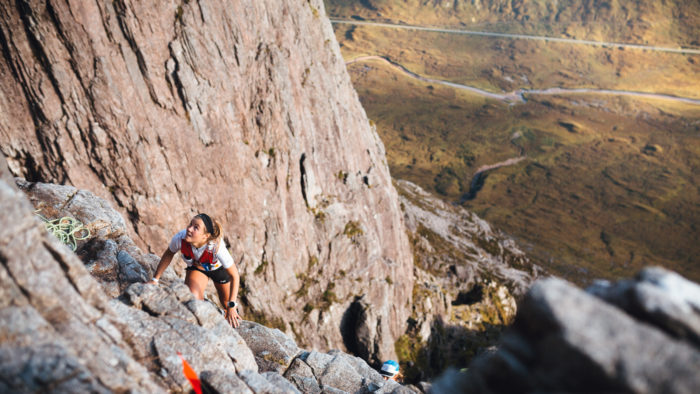 The Ring of Steall Skyrace is the final race in this season's Golden Trails Series and the competition will be fierce in the men's and women's races. You can read a preview of who to look out for (and more about the Golden Trails Series and final HERE.
As well as a full weekend of racing this year Skyline Scotland will present their first 'Skyline Sessions'. These are Q+A sessions with athletes and adventurers. It will feature current leader in the WMRA World Cup, Sarah McCormack, 2018 Skyrunning World Champion Holly Page, Wainwrights record holder Paul Tierney and Ramsay Round record holder Es Tresidder, among many others over the course of three days.
The event village promises to be buzzing all weekend, with outdoor brands exhibiting, a big screen following all the action and, of course, an exciting finish line to monitor all weekend! We will be there and we'll bring you all the news next week!
Find full information on their website at www.skylinescotland.com/
Header image copyright No Limits Photography