After the huge success of RunFestRun in 2019, Virgin Radio DJ Chris Evans will host an even bigger event in May 2020 and tickets go on sale today!
Chris Evans today launches early bird tickets for the next stop on the RunFestRun tour at Windsor Great Park 22nd-24th May 2020. The three-day running and music festival returns after a successful launch in 2019 to a larger venue in Royal Grounds. The new venue will play host to thousands of families and runners from all over the country looking to take part in the huge variety of running events from a half marathon to an immersive family fancy dress run, before entertaining away from the track with exciting music acts and world-famous speakers.
Chris Evans was delighted with how the first event went and can't wait to bring the event to Windsor. He said on his Virgin Radio Breakfast Show:
"RunFestRun last year was off the charts, it was so good and completely different to any event I've ever been to before. We can't wait to bring the event to Windsor Great Park, we've had all the permissions, so now it's really on! Our team captains Colin Jackson, Paula Radcliffe, Steve Cram and Natasha Evans are all confirmed to be returning to the event to lead their teams and cheer everyone on."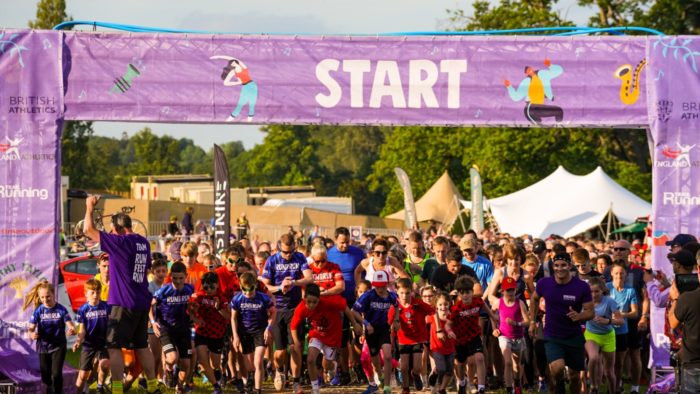 Early bird tickets for the event are available from September 25th – October 31st 2019 on the RunFestRun website.
A full weekend pass including camping costs £140 for adults, or £65 for children (aged 7-17) and just £10 for little ones 6 and under. Alternatively, a family pass for 2 adults and 2 children is available for £350.
Day tickets for adults (from £40) and children (from £20) will also be available across Friday, Saturday and Sunday.
Paula Radcliffe said, "It's such an inspirational weekend and I can't wait for next year's event. There really is something for everyone, it was a pure joy to see so many happy faces and so many children enjoying running last year".
Vassos Alexander, co-host of RunFestRun added, "We're so excited to announce plans for Windsor, it's the next stop on our running tour. The first event was beyond everyone's wildest dreams, three shiny happy days with everyone going home with a great big grin on their face."
With a line-up of speakers, well-known bands and DJs to be announced, the three-day camping festival will include even more running routes, bringing back the sold-out night-time run and an even more magical family fun run.
For more information on the event, visit www.runfestrun.co.uk