Annie Hughes has produced a string of impressive 100-mile performances over recent years but she will be stepping into the unknown at Hardrock 100.
The American has earned a reputation as a long-distance, high altitude specialist and will need to call on all her ultra experience when she takes on a route through the San Juan Mountains that peaks at 4,048ft.
Hughes clinched high-profile wins in 2021 when she won the Leadville Trail and Moab 240, and carried that form into the next year as she triumphed at Cocodona, High Lonesome 100 and Run Rabbit Run.
100-mile mastery
She added another significant 100-mile podium when she claimed third at Canyons Endurance Runs by UTMB in April, having won the Behind the Rocks Ultra for a second time in March.
The Hardrock 100, however, remains Hughes' "biggest goal of the season" and her preparation for the Silverton race featured a last-gasp decision to run at the Bighorn Trail Run 50-miler.
"Bighorn 50 weekend brought so much joy and confidence that I didn't expect at [that] point in my training build for Hardrock 100," she wrote on Instagram after last month's race.
"When [Olga King] suggested signing up for this 50 miler so last minute, I wasn't sure how my body would respond, especially after such a slow recovery from Canyons 100, but it truly exceeded my expectations.
"Looking forward to more high vistas and hard training to fill my heart with in these final weeks before Hardrock."
In those final weeks, Hughes has headed out to the San Juan Mountains to finalise her build-up and scope out the Hardrock 100 course, which she admitted was "a bit more snowy than expected".
San Juan prep
"I'm so thankful for the opportunity to play long and hard in these mountains during my peak week of Hardrock 100 training," she said in recent post.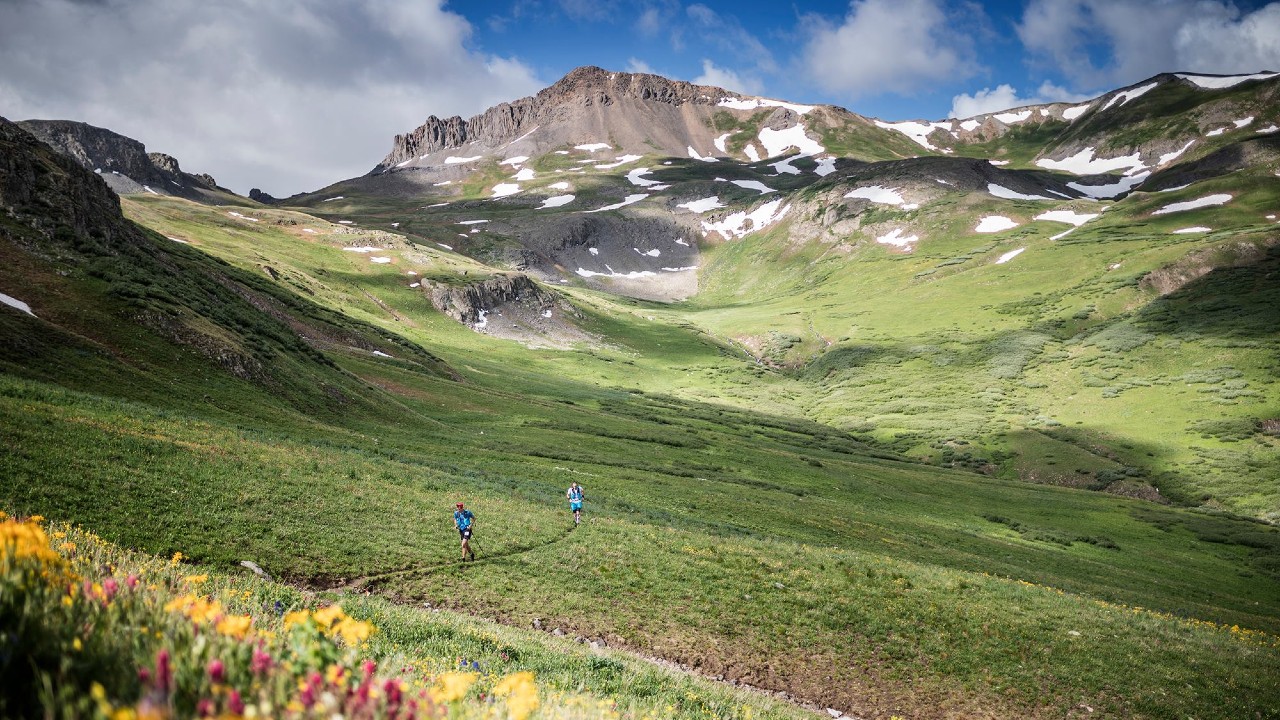 "There wasn't quite as much 'running' as there was hiking/climbing/glissading due to the snow.
"But, there was lots of time on feet, incredible views, yummy food, hours chatting at the coffee shop, solo adventure days, as well as shared mountain experiences with friends (and dogos)!
"It couldn't have been a better week in these dreamy mountains.
"I got to see most of the Hardrock 100 course sections that I hadn't yet seen, and am still having to pinch myself that I actually get to come back here in a couple weeks to run the Hardrock 100.
"Can't wait for this adventure!"
Hughes will be up against a stellar women's field at Hardrock 100, with Courtney Dauwalter gunning for further history in 2023 after her Western States win last month.