UPDATE: Since the end of stage four, Rachid El Morabity has been handed a three-hour time-penalty for "anomalies" discovered during a bag check.
Ragna Debats' dream of winning a second women's title at the Marathon des Sables is all but over after injury on the brutal 90km fourth stage saw her fall down the rankings.
The new leader of the women's race is French woman Maryline Nakache, who has a half hour lead on second-place Aziza El Amrany.
At the front of the men's field things remained the same, with Mohamed El Morabity leading his brother and nine-time champion Rachid El Morabity, who will have to overcome a three minute gap if he is to clinch a record-equalling tenth Marathon des Sables title.
You can catch all the latest updates on the Marathon des Sables HERE.
Heartbreak for Debats
Stage four was the longest of the race, forcing runners to contend with 90km through the Sahara desert with a number of sandy sections also posing a challenge. Following today's long distance leg, tomorrow will be a rest day for competitors.
But that has come too late for former race leader Ragna Debats, for whom a second victory is not to be in the 37th edition of the Marathon des Sables.
Reportedly suffering from a leg injury and stomach problems, she was unable to keep up her pace. She forced herself to finish stage four, but now sits tenth on a total time of 31:49:49 having finished early this morning.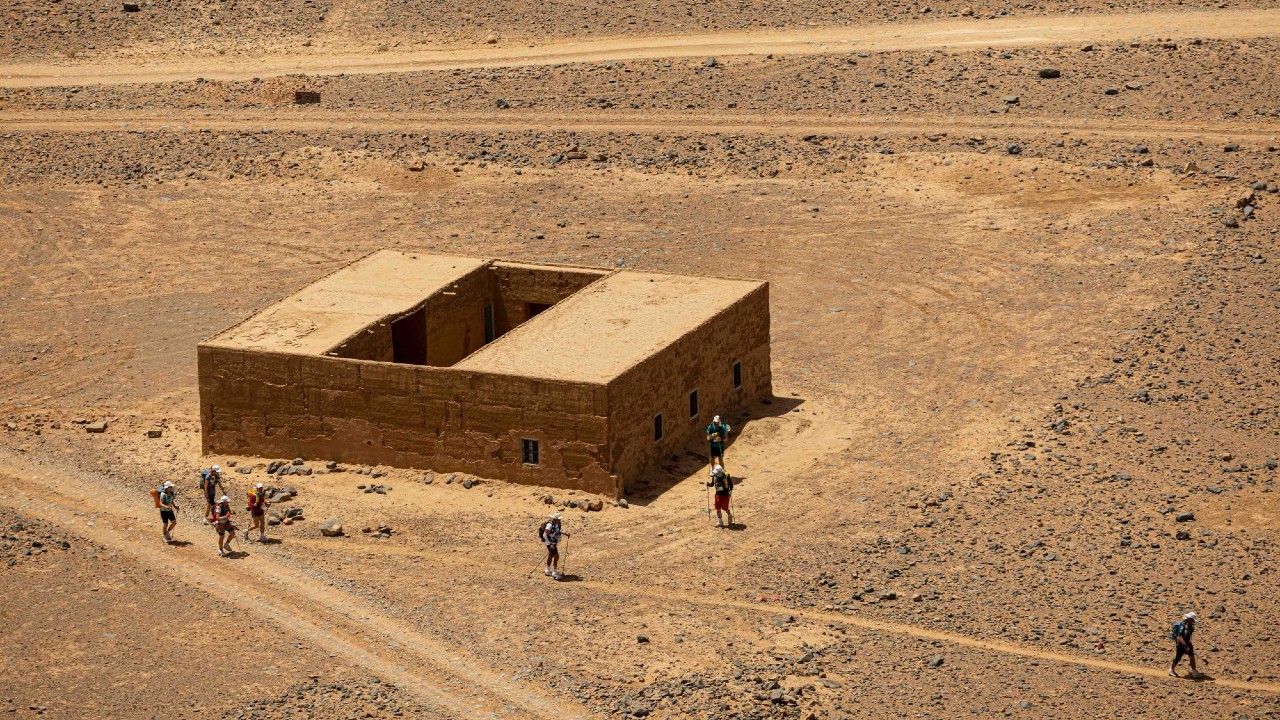 In her place, Maryline Nakache has emerged as the leader with a total time after stage four of 22:44:13.
She ran a 11:50:04 across Wednesday's 90km, but her lead over formerly third, now second placed Aziza El Amrany has somewhat decreased with the Moroccan now just over 30 minutes behind the French runner.
From fifth place, Japanese runner Tomomi Bitoh shot up into third in the Marathon des Sables on the back of her 90km run – a 12:43:03.
She is a good way behind El Amrany, with 25:06:14 on the clock, but has over an hour on Switzerland's Corina Sommer in fourth.
British runner Jodie Moss, who spoke to us about an injury scare heading into the race, has withdrawn, with fellow Brits Catherine Young and Victoria Duncan remaining in the top ten. The leading US runner is Paola Gamboa who sits 17th in the women's field.
Will brother Mohamed deny Rachid?
After Mohamed El Morabity took the Marathon des Sables lead on stage three, there might have been some expectation that older brother Rachid El Morabity would strike back across the longest distance segment of race, but that was not to be.
Moahmed El Morabity completed the 90km stage in a time of 8:14:39, adding a handful of seconds to his lead over brother Rachid who completed the stage in 08:14:58.
His brother, meanwhile, has three minutes to make up and will have to put in the work over the final two stages if he wishes to claim an elusive tenth Marathon des Sables title – a feat only Lahcen Ahansal has achieved.
The tightness at the top sets up a grandstand final two days, with Rachid knowing he will have to break away from his brother on Friday or Saturday in order to chase him down.
Azil Yachou remains in place to preserve an all-Moroccan top three at the Marathon des Sables, but he will also fancy himself for the title, finishing stage four narrowly behind Rachid El Morabity on total time. He ran an 08:14:45 in the fourth stage.
Frenchman Mathieu Blanchard remains fourth but is now nearly an hour and 40 minutes behind Yachou with the front three further pulling away from the rest of the pack.
Blake Ragland is the leading US runner in the Marathon des Sables, sitting 30th in the overall field with a total race time of 25:44:25. Ahead of him in 22nd is the leading Brit in the men's race , Robert Fiford.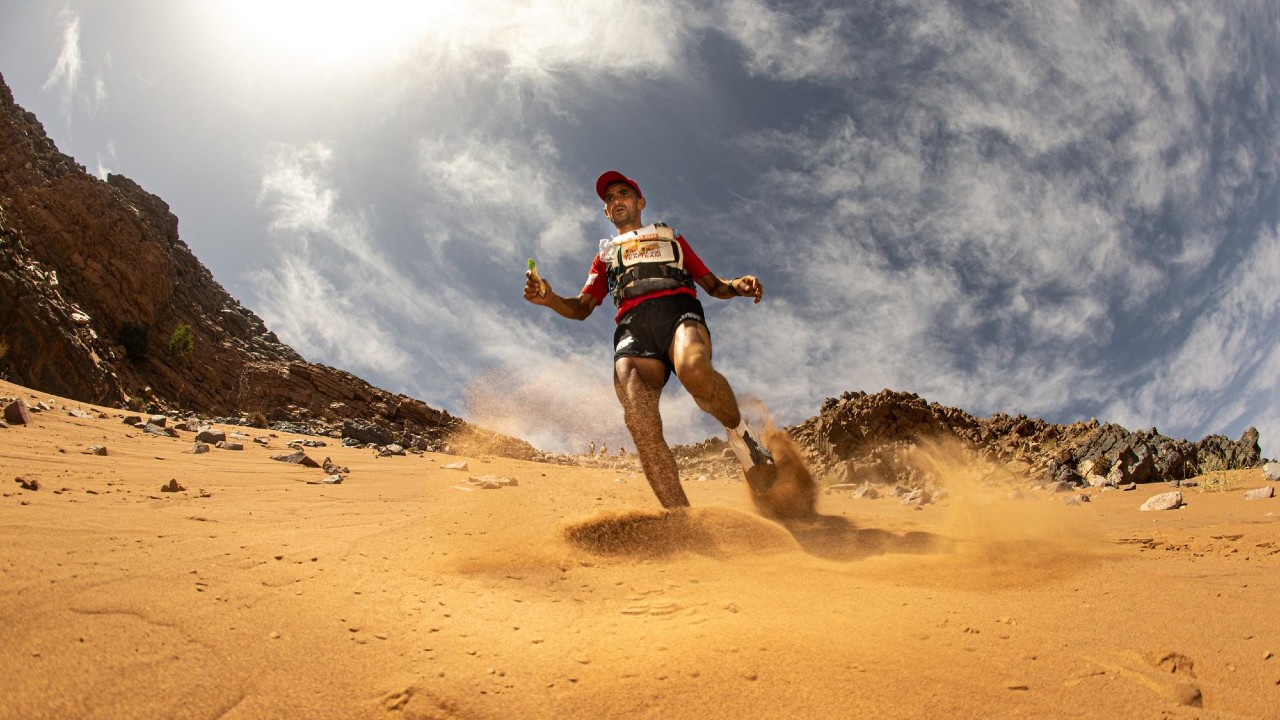 Standings after stage four
Men:
Mohamed El Morabity (MOR) – 16:01:20
Aziz Yachou (MOR) – 16:05:32
Mathieu Blanchard (FRA) – 17:44:45
Vasilii Kortykin (RUS) – 19:00:32
Rachid El Morabity (MOR) – 19:04:37*
Il Yass Zouhry (FRA) – 19:26:43
Pierre Meslet (FRA) – 19:41:56
Hamid Yachou (MOR) – 19:52:55
Geoffrey Plisson (FRA) – 20:12:49
Erik Clavery (FRA) – 20:18:11
*three-hour time penalty applied
Women:
Maryline Nakache (FRA) – 22:44:13
Aziza El Amrany (MOR) – 23:17:04
Tomomi Bitoh (JPN) – 25:06:14
Corina Sommer (SWI) – 26:18:40
Elise Delannoy (FRA) – 28:04:40
Catherine Young (GB) – 28:44:04
Victoria Duncan (GB) – 28:54:51
Ester Alves (POR) – 31:28:22
Pauline Aso (FRA) – 31:49:11
Ragna Debats (NED) – 31:49:49