You wait ages for a new ultra in the Lakes to come along, then two come along at once! Last weekend saw the inaugural LAP on the Saturday and the new Ambleside Trail 60 on the Sunday. I wonder if anybody did both.
The Brathay Trust, who organise the Windermere Marathon among other local events, and The Climbers Shop in Ambleside were behind Ambleside Trail 60. It was devised to celebrate the anniversary of The Climbers Shop which opened in the town 60 years ago.
The event, which attracted 230 entries, started in Ambleside's Rothay Park on Sunday 8 September. Runners followed a trail through Loughrigg, Tarn Hows, the Langdales, Langstrath and Gibson Knott, totalling 60k of distance and 2100m of ascent. The latter two places feature in the opening credits of the BBC's Countryfile programme.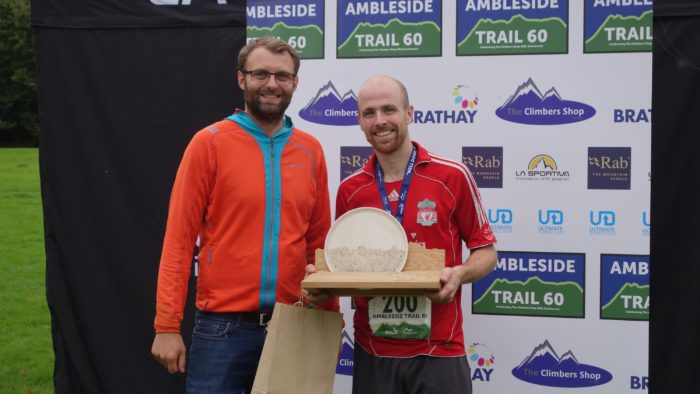 Winner of the men's race was Andy Wilkin in 6:38:38. The first woman to finish was Helm Hill Runner Claire Wilson in 7:48:51 (pictured in the header image – copyright Brathay Challenges). Both received trophies made by local artists Ian Childs and Miles Moore. The last runner crossed the line in 13:39:49.
Over 50 volunteers were on hand to help with registration and provide encouragement and sustenance at four checkpoints where breakfast, lunch and tea were provided by Salutation Hotel, Chesters and the Rattle Gill Café.
Funds raised from the event will support the charity's Young Minds Matter appeal which provides targeted programmes for young people struggling with mental health difficulties.
Commenting on the event, race director Scott Umpleby said:
"It's been a brilliant effort by lots of people to host a truly fabulous event, without this sort of support it wouldn't be possible. And we've been rewarded by some great feedback from the runners, some coming from as far away as Monaco to run this new race.
"We're now planning next year's event which will take place on Sunday 13th September", added Scott.
The Ambleside Trail 60 was part of a series of events held over the weekend, including Q&A sessions with kit suppliers, workshops run by local physio', running guides, coaches and navigation specialists. On Saturday evening fell running legend Joss Naylor MBE, Patron of Brathay's 10 marathons in 10 days challenge, gave a talk about the role Frank Davies, founder of The Climbers Shop, played in 1971 which helped him set a still unbroken Three Peaks Record.
The weekend was also made possible by support from Rab, La Sportiva, Ultimate Direction, Hawkshead Brewery and new company VOOM Nutrition (their bars are well worth checking out – see our review). It definitely sounds like a race to add to your calendar for next year! Find more information at https://www.brathaychallenges.com/events/running/ambleside-trail-60