The GOAT that is Kilian Jornet claimed a famous fourth victory in a dramatic Ultra Trail du Mont Blanc in a sensational course record time of 19:49:30, the first person to go under 20 hours in the sport's biggest race.
And there was drama too in a rollercoaster women's event as Katie Schide (USA) and Marianne Hogan (CAN) had a no-holds-barred battle, with the former taking charge when it mattered and registering an emphatic success.
Spaniard Jornet, who last won the race back in 2011, had been a doubt to even take part after announcing in the build-up that he had tested positive for Covid, despite being asymptomatic.
Thankfully he was able to make the startline and what followed was an exhibition performance – though for a while it looked as if Jim Walmsley was poised to post a first American win.
Walmsley had dominated until Champex-Lac before sending out distress signs, at which point he was overhauled by Jornet and Mathieu Blanchard (FRA) who would both go on to break the 20-hour mark.
And Britain's Tom Evans crowned a remarkable comeback from injury by taking a perfectly-paced third place just a year after knee surgery.
In the women's race both Schide and Hogan had sizeable leads at different points but it was the American who emerged triumphant, eventually winning by over an hour.
Men – Jornet a class apart, again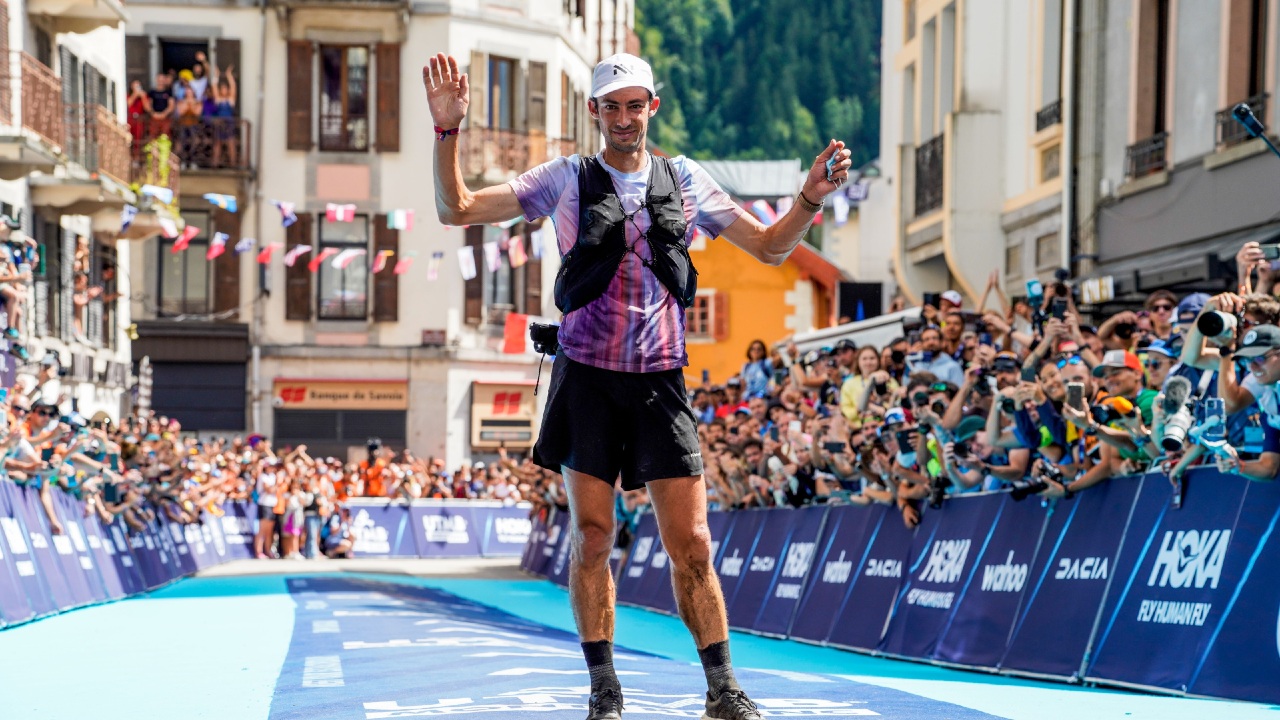 The early pace was set by 2019 winner Pau Capell (ESP) – the previous course record holder with his 20:19:07 – who moved in front in the first few kilometres before he and Jornet started to trade the lead.
But it didn't take long for Walmsley, who has geared his whole season to a first UTMB success including relocating to the French Alps, to move to the head of affairs.
He was first to Saint-Gervais after 22km, though in truth there was virtually nothing between the top 10.
It was nip and tuck for a good while after that, Jornet nudging just ahead by La Balme after 40km but as night fell it had turned into what seemed a duel between two greats of the sport as Jornet and Walmsley ran together, now over 10 minutes clear of the rest.
In the early hours of Saturday morning they were still alongside each other when leaving Courmayeur, but then Walmsley suddenly opened up a five-minute advantage.
He dominated all the way to Champex-Lac but that was where the whole complexion of the race changed as he slowed right up as Jornet and the charging Blanchard powered past.
Walmsley was now in no man's land in third, with compatriot Zach Miller and former army officer Evans – who had run together virtually throughout – beginning to close.
No one was finishing stronger than Evans, who first broke clear of Miller and then set his sights on Walmsley, who he would overtake late on.
Meanwhile up front there was little between the top two until Vallorcine where Jornet started to assert and it meant he was a couple of minutes to the good beginning the final climb.
Jornet had extended that by the top and the scenes from then onwards were reminiscent of an iconic Tour de France stage, with huge crowds cheering him on all the way into Chamonix.
At the final checkpoint at La Flégère, Jornet's lead was over seven minutes and – fans apart – he was in splendid isolation during the final 6.4km section as he headed to a thunderous reception from a crowd appreciative of a performance for the ages.
It comes soon after he broke the course record at Hardrock 100, a remarkable double.
Blanchard too lost little in defeat as he closed to just over five minutes at the line and also went well under 20 hours.
It was more than half an hour back to Evans in an impressive third, and he had a similar margin in hand over Walmsley in fourth.
Women – Schide sees off Hogan
There was a see-saw North American battle in the women's race – with US star Katie Schide eventually emerging a clear-cut winner.
She had opened up a lead of nearly three minutes over Marianne Hogan (CAN) by the Col de Voza after 13km and there was daylight back to the rest too.
And that set the tone – Schide was five minutes clear by Saint-Gervais (22km) and that was up to 15 minutes by La Balme.
Indeed, by the time Schide was heading to Refuge Bertone, Hogan was only just reaching Courmayeur.
But then something remarkable started to happen. Hogan flew through Courmayer and, not long after, that big gap had all but evaporated on the Grand Col Ferret where the lead would change hands.
But that was far from the end of the story.
It was Schide who this time overturned a significant deficit. By Trient she was back in front and from that point onwards never threatened.
Speaking afterwards, she played up the impact of some 'magic cheese' at a feed station but it was far more about her own grit and determination.
Her advantage was more than 45 minutes by the time she exited Vallorcine, meaning she was able to let her victory sink in on the run down to Chamonix.
And that had gone out to well over an hour by the finish, with compatriot Kaytlyn Gerbin rounding out the podium in third.
UTMB Results
Friday / Saturday August 26 / 27 , 2022 – 170km
Men
1. Kilian Jornet (ESP) – 19:49:30
2. Mathieu Blanchard (FRA) – 19:54:50
3. Tom Evans (GBR) – 20:34:35
4. Jim Walmsley (USA) – 21:12:12
5. Zach Miller (USA) – 21:27:50
Women
1. Katie Schide (USA) – 23:15:12
2. Marianne Hogan (CAN) – 24:31:22
3. Kaytlyn Gerbin (USA) – 25:07:44
4. Jocelyne Pauly (FRA) – 26:13:58
5. Eszter Csillag (HUN) – 26:32:39