With the UTMB just 3 weeks away we're going to start previewing the races. We will take a look at the routes for each race, the key British hopes and the main competition. The first race to kick off, on Wednesday 28th August at 4am, is the TDS. This race has seen some big changes this year and it's going to be really interesting to see how runners fare on the new route.
A not inconsiderable 23 kilometres has been added to the route by adding in a section through the Beaufortain Massif. This has moved the big mid-race aid station from Cormet de Roselend to Beaufort (which may be important info for spectators) and it's also added a whopping 1,800m of ascent to an already tough course. See full information on the new route and elevation HERE.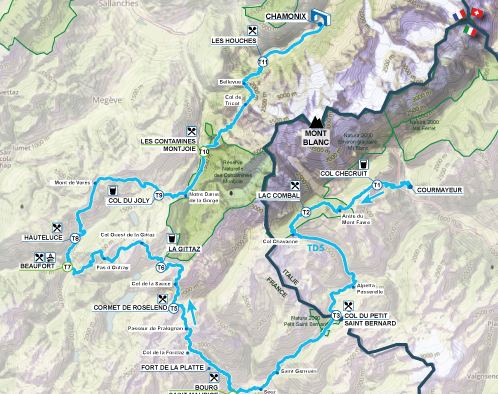 The TDS has always been seen as the wilder, more off the beaten track UTMB race and the changes should emphasise this. Some runners who've done both the UTMB and TDS say that they found the TDS harder and this new course will no doubt bring the two races closer together in terms of difficulty. In fact the cut-off for the TDS has been increased to 42 hours (from 34) so that's only a few hours less than UTMB. And there's not much in it between them now for elevation and distance.
The favourites for the 2019 TDS
There's a really interesting line-up this year and with it being a new course and a slight unknown it's hard to say who the favourites are. The one big favourite was Tom Evans, after winning the CCC last year and finishing in 3rd at Western States this year in what was his first 100 miler. However, he's now decided not to race as he backed off training to recover after Western States and didn't want to rush into another big race. He will be back next year!
The key competition may come from Dmitry Mityaev (second in Transvulcania this year and third in last year's TDS), Ludovic Pommeret (third in the 2017 CCC), Pablo Villa Gonzales (second at this year's Transgrancanaria and DNFd the TDS last year so may have unfinished business), and Tofol Castaner (won the CCC in 2012, 2nd at 2014 UTMB and 4th at last year's TDS).
The women's race should also be really interesting. Audrey Tanguy will be back to defend her title from last year and she seems to be in form as she finished second at Lavaredo this year. But, the runner who beat her at Lavaredo – Kathrin Gotz – will also be there! She also won the Eiger 101 a couple of weeks ago and she too DNFd last year's TDS and could have a score to settle. Hillary Allen will also be running, and it'll be great to see how she does. Having successfully come back from her horrific injuries at Tromso in 2017, she then suffered another setback with a broken ankle at the start of this year. But she's such a tough competitor, proven by the face she just went back to race Tromso, and could well be up there.
A runner to watch in the women's race is New Zealand born but GB dwelling Sophie Grant, who through the mathematical vagaries of ITRA points isn't listed as an elite, but is a 5 time finisher of the UTMB, usually hovering close to the top 10. In recent months she's finished 9th at Lavaredo and won the Lakes Sky Ultra for the second year in a row. The other British female runner to watch is Anna Troup, who just won the Lakeland 100 and has run the TDS and UTMB before.
The TDS has steadily grown in popularity over the years and the new extended route could entice more runners looking to take on a big adventure. Find out more about the race HERE and follow it live from 4am on Wednesday 28th August HERE.